NHS staff share fears of Conservative general election victory using #PublicDuty hashtag
Doctors, nurses and other hospital workers took to social media to warn about a Tory win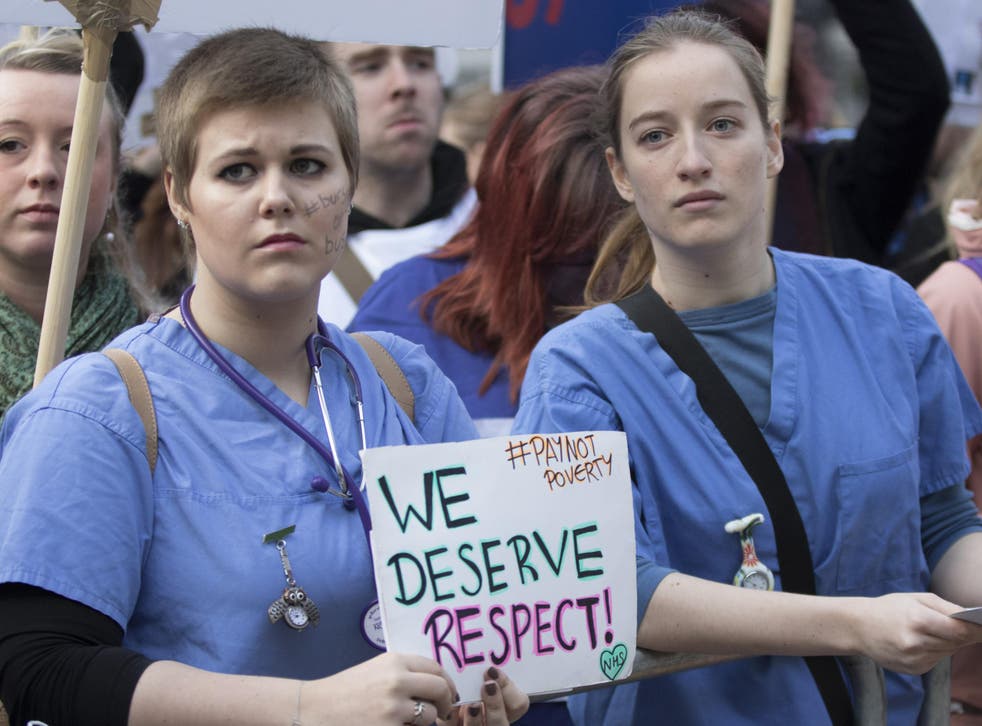 The polls may have them ahead, but hundreds of hard-pressed NHS workers have issued a hard-hitting warning against voting Conservative.
Taking to social media, doctors, nurses and other public sector workers have shared their belief that the NHS is not safe in Tory hands, using the hashtag #PublicDuty.
One from Dr John Pike, said: "As a GP, I have a #publicduty to inform you that the Tories will destroy the #NHS beyond repair if re-elected."
Julia Telfer added: "As a nurse, it is my #publicduty to inform you that your taxes are being used to fund profiteering contracts for private providers."
And Dr Simone Barton said: "As a NHS Consultant I have a #publicduty to protect our much-loved NHS from further damage by this Tory government."
Many of the healthcare professionals tweeting shared links to videos or statistics to support their views.
Other public sector employees including teachers and social workers also used the hasthtag to issue their own warnings, although the main focus of the tweets and Facebook posts remained the NHS.
During the final session of Prime Minister's Questions before the country goes to the polls on 8 June, Theresa May and Labour leader Jeremy Corbyn clashed over their views on the NHS.
Mr Corbyn drew attention to the plight of a pensioner, who he said had told him she was "scared at the thought of going into hospital."
He read out the words of a woman called Sybil, who had told him: "I'm 88 and have had a wonderful service from the National Health Service. But, nowadays I'm scared at the thought of going into hospital, with more people waiting on trolleys in corridors, more delayed discharges, thanks to the Tory cuts."
Mr Corbyn asked: "Isn't Sybil right to be frightened about the future of the NHS as long as this Government remains in office?"
Ms May responded by saying the NHS is treating more patients than ever and was bolstered by "more doctors, more nurses, more midwives, more GPs and record levels of funding."
The Labour leader also highlighted the party's pledge to scrap a pay cap for nurses and introduce new laws to guarantee a safe staffing levels.
Jon Ashworth, Labour's shadow health secretary, said the policy would be funded by reversing the Conservatives's cuts to corporation tax.
Speaking on BBC's Radio 4 Today programme, he said: "This election is all about Theresa May saying 'trust her, trust her' – well, first or all we know she lied about whether she was going to have a general election or not, but also she's being dishonest about whether she's given the NHS the money it asked for.
"One of her first acts as Prime Minister was to get into a very unseemly public spat with Simon Stevens, the chief executive of the NHS who pointed out that the Government has not given the NHS the money it asked for. A Labour government will give the NHS it needs."
Health Secretary Jeremy Hunt has claimed an extra £10 billion is going into the Health Service, but this claim has been disputed by NHS boss Simon Stevens and the Conservative-led Health Select Committee, which found the true investment figure to be around a third of that, at £3.5 billion.
Lib Dem shadow health secretary Norman Lamb said Labour's policy was a "shambles" and that the money had already been spent "ten times over".
Join our new commenting forum
Join thought-provoking conversations, follow other Independent readers and see their replies