Nigel Farage says the UK is heading for recession regardless of Brexit
'Our growth forecasts are down... everyone forgets that sterling is in a bear market, declining since July 2014,' insists Ukip leader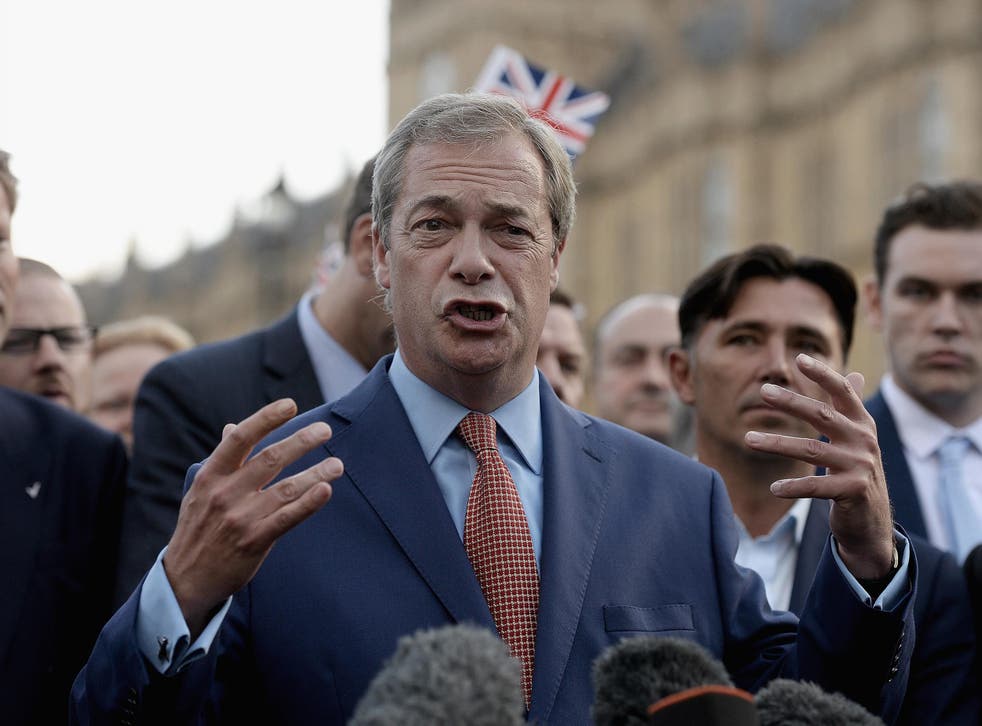 Nigel Farage has said Britain is progressing towards a "mild" recession, but insisted it is not because the UK voted to leave the European Union.
In the wake of the shock EU referendum results, hundreds of billions were wiped off the value of global stocks and the pound plunged to its lowest level against the dollar in more than 30 years.
Follow the latest live updates
But the Ukip leader told the Sunday Telegraph: "There's nothing new here.
"I think we are going into a mild recession anyway, completely regardless of Brexit.
"Our growth forecasts are down. Our public sector borrowing is still not under control at all, and everyone forgets that sterling is in a bear market, declining since July 2014."
Mr Farage gave a timescale of two years before the UK might benefit from the "increased global opportunities" he claimed Brexit would bring.
The Ukip leader had conceded defeat minutes after the polls closed on Thursday, before it became apparent the UK had voted to leave the EU as results came in during the early hours of the morning.
Brexit reactions – in pictures

Show all 10
"I can barely take it in really," Mr Farage said.
"I know it's happened. But as I watched it at 2am, half past two, three, half past three, and started to realise it was actually going to happen, I just couldn't believe it."
The Ukip leader said the contributions of high-profile Conservatives Boris Johnson and Michael Gove to the Leave campaign were "vital" to the result.
Mr Farage said he now empathised with David Cameron, who announced his resignation as Prime Minister shortly after the result.
"I have – on a personal level – some sympathy for him," he said.
Join our new commenting forum
Join thought-provoking conversations, follow other Independent readers and see their replies