Lesbian woman from Nigeria attempts suicide shortly before Home Office tries to deport her
Exclusive: Nneka Obazee overdosed on pain medication after finding out she was being returned to her home country of Nigeria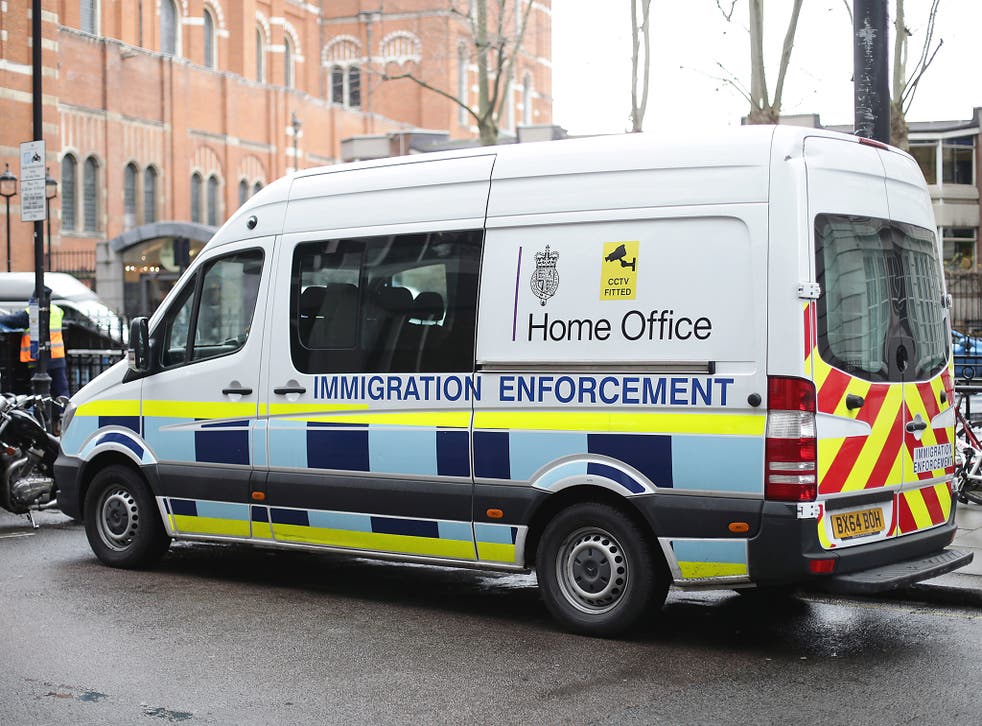 A lesbian asylum seeker attempted to take her own life in order to stop herself being deported from the UK.
Nneka Obazee, 34, was meant to be flown on a charter flight to her home country of Nigeria but she overdosed on pain medication which led to her hospitalisation, according to activist group Lesbians and Gays Support the Migrants.
Ms Obazee was set to be deported back to her home country along with her 19-year-old stepson on an 11pm flight on Wednesday. Despite fearing for her life, causing outrage from the LGBTQ community.
"When Nneka was made aware that she would be returned to Nigeria she was so frightened that she attempted suicide and took an overdose which demonstrates how dire the situation would be for her if she was returned to Nigeria" a spokesperson for LGSM, who are in direct contact with Ms Obazee, told The Independent.
Her step-son was deported and is now arriving in Nigeria without his mother or a support network.
Ms Obazee came to the UK in March 2013 on a visit with her abusive husband and stepson and took the opportunity to run away for him while in the UK. It was only once in the country that she says she felt she was able to reveal her sexuality.
For the past four years Nneka has been living in Manchester and is an active member of the city's LGBT+ community and a grass roots LGBT asylum group.
Ms Obazee has had her case rejected by the Home Office and failed two appeals tribunals. She is currently undergoing a judicial review.
"Sexual identity is a very difficult thing to have to 'prove', not least when it has been the cause of significant trauma in the past," LGBTIQ specialist senior caseworker at Asylum Aid, Rajiv Bera, told The Independent.
Mr Bera added that he continually represents people who have exhausted their refugee status determination and appeals process without success but "with adequate representation and proper support, the same people have gone on to eventually win their cases."
It is also not uncommon for the same LGBTQ+ asylum seekers to suffer from mental health problems:
UK news in pictures

Show all 50
"By the time they are recognised as refugees, they have experienced the effects of disbelief, destitution and detention, often at a huge cost to their mental health" he said.
Ms Obazee has experienced severe mental health issues, including depression according to LGSM, which she says have been exacerbated by the asylum process. The group have said that since being detained her mental health has worsened and she has suffered a nervous breakdown which has included thoughts of suicide.
Last year a report by LGBT charity STONEWALL and UK Lesbian and Gay Immigration Group found that UK detention centres were poorly equipped to deal with the needs of LGBTQ+ asylum seekers.
It detailed how LGBT detainees were denied access to HIV and anti-depression medication as well as being bullied, harassed or physically attacked by other detainees, and victims said they did not feel protected by detention staff.
Stansted Airport runway closed after activists stage protest against Home Office deportation flight
Leila Zadeh, director of UKLGIG, told The Independent that the organisation was concerned about Ms Obazee's deportation: "We are concerned that too often people's sexuality is disbelieved and asylum claims incorrectly refused. It's also concerning that somebody can be removed from the country when there is a judicial review outstanding."
A spokesperson for Lesbians and Gays Support the Migrants told The Independent: "Only two months ago we joyfully celebrated with our friend Nneka at London LGBT+ Pride and now all we can do is watch powerlessly as she is railroaded through an unjust and inhumane immigration system to face certain danger in Nigeria."
In 2013 Nigeria made same-sex marriage illegal and according to a report from Human Rights Watch the law is "used by some police officers and members of the public to legitimise abuses against LGBT people".
Anti-gay laws in Nigeria can lead to punishments including 14 years in prison to death by stoning and LGBTQ people are frequently faced with violence due to their orientation and gender identity.
Ms Obazee is currently in Yarls Wood.
A spokesperson for the Home Office told The Independent: "We do not routinely comment on operational activity."
Register for free to continue reading
Registration is a free and easy way to support our truly independent journalism
By registering, you will also enjoy limited access to Premium articles, exclusive newsletters, commenting, and virtual events with our leading journalists
Already have an account? sign in
Register for free to continue reading
Registration is a free and easy way to support our truly independent journalism
By registering, you will also enjoy limited access to Premium articles, exclusive newsletters, commenting, and virtual events with our leading journalists
Already have an account? sign in
Join our new commenting forum
Join thought-provoking conversations, follow other Independent readers and see their replies