Council becomes first in UK to ban unstunned halal meat for schools, in move branded 'Islamophobic'
Muslim leaders claim decision was not made for animal welfare and will not reduce stress and suffering at slaughter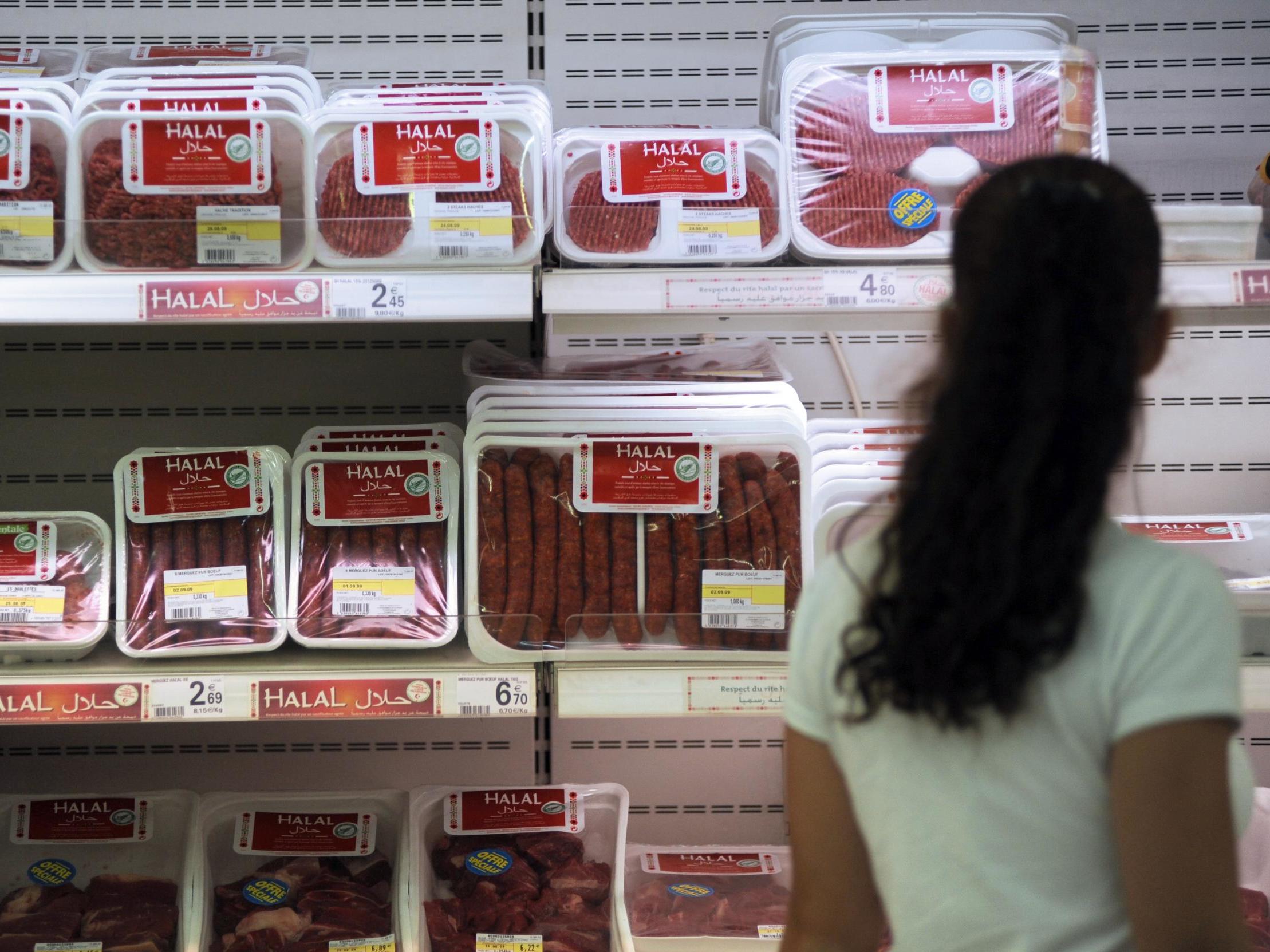 Lancashire council has voted to stop supplying schools with halal meat from animals killed without being stunned, in a move described as "discriminatory and Islamophobic" by Muslim leaders.
It is believed to be the first local authority in the UK to rule that meat supplied to pupils in its schools must be from animals that have been stunned before slaughter.
The Lancashire Council of Mosques strongly objected when the council proposed the step last year.
Under UK law, farm animals must be stunned before slaughter - although there are religious exemption for Jews and Muslims.
But councillors in Lancashire argued that slaughtering animals without stunning them beforehand caused "unnecessary stress and suffering" to cattle, sheep and goats.
The council held a public consultation in which two-thirds of 8,500 respondents (65 per cent) strongly disagreed with the proposal and a third (33 per cent) strongly agreed.
But yesterday councillors decided to press ahead with avoiding unstunned meat when the contract with its halal supplier is renewed.
Abdul Hamid Qureshi, chief executive of the Lancashire Council of Mosques (LCM), condemned the decision as "undemocratic and hugely discriminatory".
He said the group was angry and upset, and members would consider a judicial review and exploring independent catering services.
"This is dictatorial – two-thirds of the people surveyed said they did not want a ban. It doesn't matter what people say – the council leader had made up his mind," he said. He claimed the decision was based not on animal welfare grounds but was being used as "a political whip to kick people, especially Muslims and Jews".
The Lancashire Council of Mosques says halal means animal slaughter processes "must avoid all forms of stunning and the animal must be alive prior to slaughter". The rules add:
The slaughterman must personally invoke the name of Allah prior to every slaughter
The slaughterman must conduct the slaughter manually and swiftly with a sharp knife
The slaughterman must sever at least three of the four arteries
Geoff Driver, leader of Lancashire council, said there was "much debate about what constitutes halal" and noted that in some countries "all animals must be stunned before slaughter".
A council spokesman said the move was not a "ban" because schools were free to stop using its catering service, and that its decision was based entirely on animal-welfare grounds.
Asked why the decision was made in the face of opposition from two in three respondents, he said the consultation was not about whether to implement the move but about the effect it would have.
Mr Driver said: "We accept that a small number of schools may choose to use different suppliers for halal meat.
"However, we hope that people understand how the council has arrived at this decision, which has been taken solely on the grounds of animal welfare with due consideration for the impacts outlined in the responses to the consultation.
"We would like to work with the Lancashire Council of Mosques to ensure that the meals we supply to the affected schools in future provide a range of nutritious options which satisfy students' dietary requirements and are acceptable to LCM, parents and governors."
He added: "The contract becoming due for renewal has given us the opportunity to consider the animal welfare issues surrounding the supply of halal meat, and on this basis the cabinet has voted to support the council's previous resolution not to supply unstunned meat, other than poultry, to our schools."
The council spokesman said: "We have excluded the stunning of poultry because it [stunning] can kill the bird before it can be humanely slaughtered according to halal and kosher requirements."
Mr Qureshi said they had offered to sit with council leaders to debate stunning processes - but said his group was not prepared to compromise on its no-stun position.
He added that stunning animals was "unhygienic" as blood is believed to carry disease so should be drained from a carcass.
The Humanists UK group strongly backed the council's move, pointing out that polling by the British Veterinary Association revealed that 64 per cent of vets believed that welfare at the time of slaughter, specifically a requirement for stunning, should be a priority.
The most controversial animal killings
Show all 6
In response to the consultation, the group said: "By providing non-stunned meat in its schools, Lancashire county council is arguably acting as an accessory to a breach of the law since the exemption from the requirement for animals to be stunned is explicitly only 'for the food of Jews' or 'for the food of Muslims'," and some meat would be eaten by children not from these groups.
The policy begins at the start of the new school term in September.
Dr Nick Palmer, of Compassion in World Farming, said: "We fully recognise the importance of religious communities being able to practice their religion - this a central value of our society. However, this is balanced by the need to avoid slaughtering animals in ways that modern science has shown to entail great suffering.
"Lancashire county council is introducing not a ban on halal meat, but a ban on unstunned halal meat. We believe there should be no exemptions, and the law should be changed to require all animals to be effectively stunned before slaughter, regardless of the slaughter method that is then used."
Join our commenting forum
Join thought-provoking conversations, follow other Independent readers and see their replies