Noel Conway: Terminally ill man urges MPs to legalise assisted suicide after losing court battle
'Under the UK constitutional arrangements, only parliament could change this law,' Supreme Court rules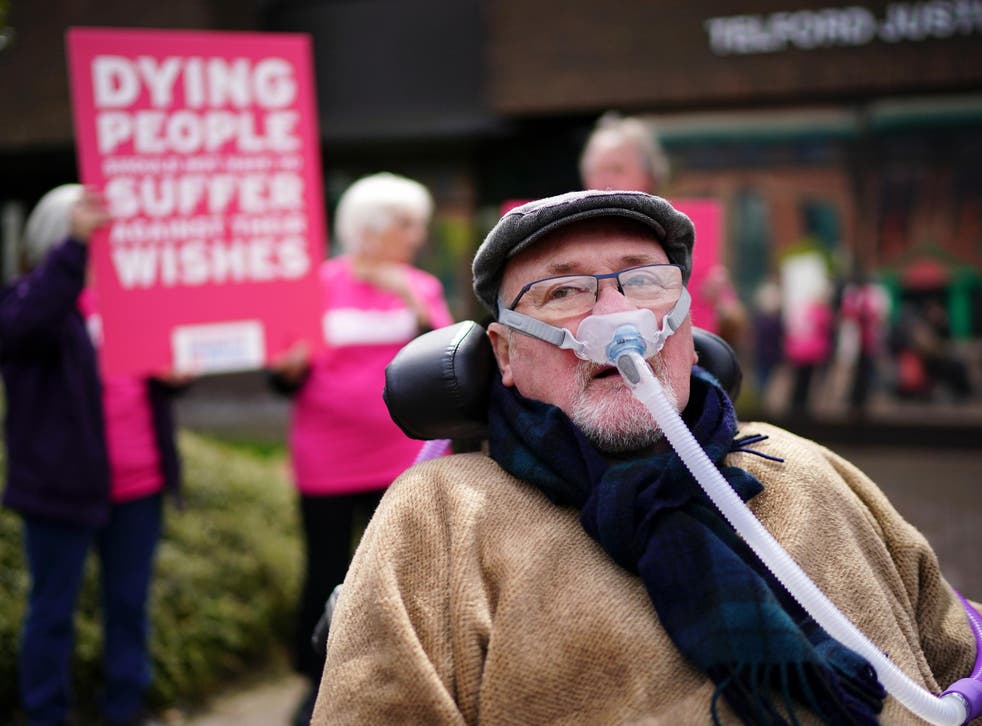 A terminally ill man has called on the government to make assisted suicide legal after losing the final stage of his court battle.
Noel Conway, 68, who suffers from a form of motor neurone disease, was refused legal permission to take his fight to decide how his life ends to the Supreme Court.
Three judges, including Supreme Court president Baroness Hale, rejected his attempt to appeal against an earlier ruling in his case against laws that prevent him from being helped to die.
"Ultimately the question for this panel is whether the prospects of Mr Conway's succeeding in his claim before this court are sufficient to justify our giving him permission to pursue it, with all that that would entail for him, for his family, for those on all sides of this multi-faceted debate, for the general public and for this court," they said on Tuesday.
"Not without some reluctance, it has been concluded that in this case those prospects are not sufficient to justify giving permission to appeal."
The decision marks the last stage of Mr Conway's long-running court battle to be given legal assistance from a medical professional to end his own life.
He sought permission to take the step when he has less than six months left to live and still has mental capacity. But under UK law anyone who helps him die could face up to 14 years in prison.
Judges said the issue was one of "transcendent public importance" that "touches us all", agreeing that the blanket ban on assisting suicide interfered with the right to respect for private life.
Protests over assisted dying
"But justifications have been put forward to support a hard and fast rule – the protection of weak and vulnerable people from insidious pressures, respect for the sanctity of all human life, and the preservation of trust and confidence in the medical profession," they added.
"Under the UK constitutional arrangements, only parliament could change this law."
Mr Conway previously said he felt "entombed" by amyotrophic lateral sclerosis, a form of motor neurone disease, which he was diagnosed with several years ago.
He said the Supreme Court's decision was "extremely disappointing" and called on MPs to step in to change the law.
"Dying people like me cannot wait years for another case to be heard," Mr Conway added.
"All I want is the option to die peacefully, with dignity, on my own terms, and I know that the majority of the public are behind me. It is downright cruel to continue to deny me and other terminally ill people this right.
"This is the end of the road for my case, so we must now turn our attention back to parliament. I hope that MPs will listen to the vast majority of their constituents and give people like me a say over our deaths."
Mr Conway added: "I have no choice over whether I die; my illness means I will die anyway. The only option I currently have is to remove my ventilator and effectively suffocate to death under sedation. To me this is not acceptable, and for many other dying people this choice is not available at all."
He lost a Court of Appeal challenge in June against an earlier High Court rejection of his case that the ban on assisted dying was an unjustified interference with his human rights.
Mr Conway, whose case was supported by the campaign group Dignity in Dying, was too unwell to travel to the Supreme Court in London for the latest stage.
UK news in pictures

Show all 50
He is now dependent on a ventilator for up to 23 hours a day and only has movement in his right hand, head and neck.
During a Supreme Court hearing last week, Mr Conway's lawyers said he was particularly fearful he would experience a "drowning" sensation that he currently feels when his ventilation is removed temporarily, and worries he would not be able to hear his family or feel their touch while sedated.
His solicitor Yogi Amin, a partner at Irwin Mitchell, said Mr Conway had proposed a new legal framework for terminally ill people with "robust safeguards".
"This would be in place of the current blanket ban on assisted dying," he added. "The world has changed phenomenally in the past few decades with many medical advances but the law on assisted dying for those who are terminally ill hasn't changed for more than 50 years."
Submissions had been made throughout the case by submissions campaign groups Care Not Killing and Not Dead Yet UK.
Humanists UK, who supported Mr Conway, said their campaigning for the right to assisted dying would continue.
Sarah Wootton, chief executive of Dignity in Dying, called the Supreme Court's decision "a grave injustice for dying people across the country".
She said the UK was being "left behind" by other countries on assisted dying and called current laws "outdated, unclear and unsafe".
"They allow assisted dying for those who can afford it or who are well enough to travel to Switzerland, but deny choice to the many more who want to die in their own homes, with their friends and family around them," Ms Wootton said.
"We will now turn our attention back to parliament and demonstrate to our MPs the strength of feeling on assisted dying."
Join our new commenting forum
Join thought-provoking conversations, follow other Independent readers and see their replies