North Yorkshire fracking vote: Council approves fracking in Ryedale
The North Yorkshire County Council planning committee voted seven to four in favour of an application by UK firm Third Energy to frack for shale gas near the village of Kirby Misperton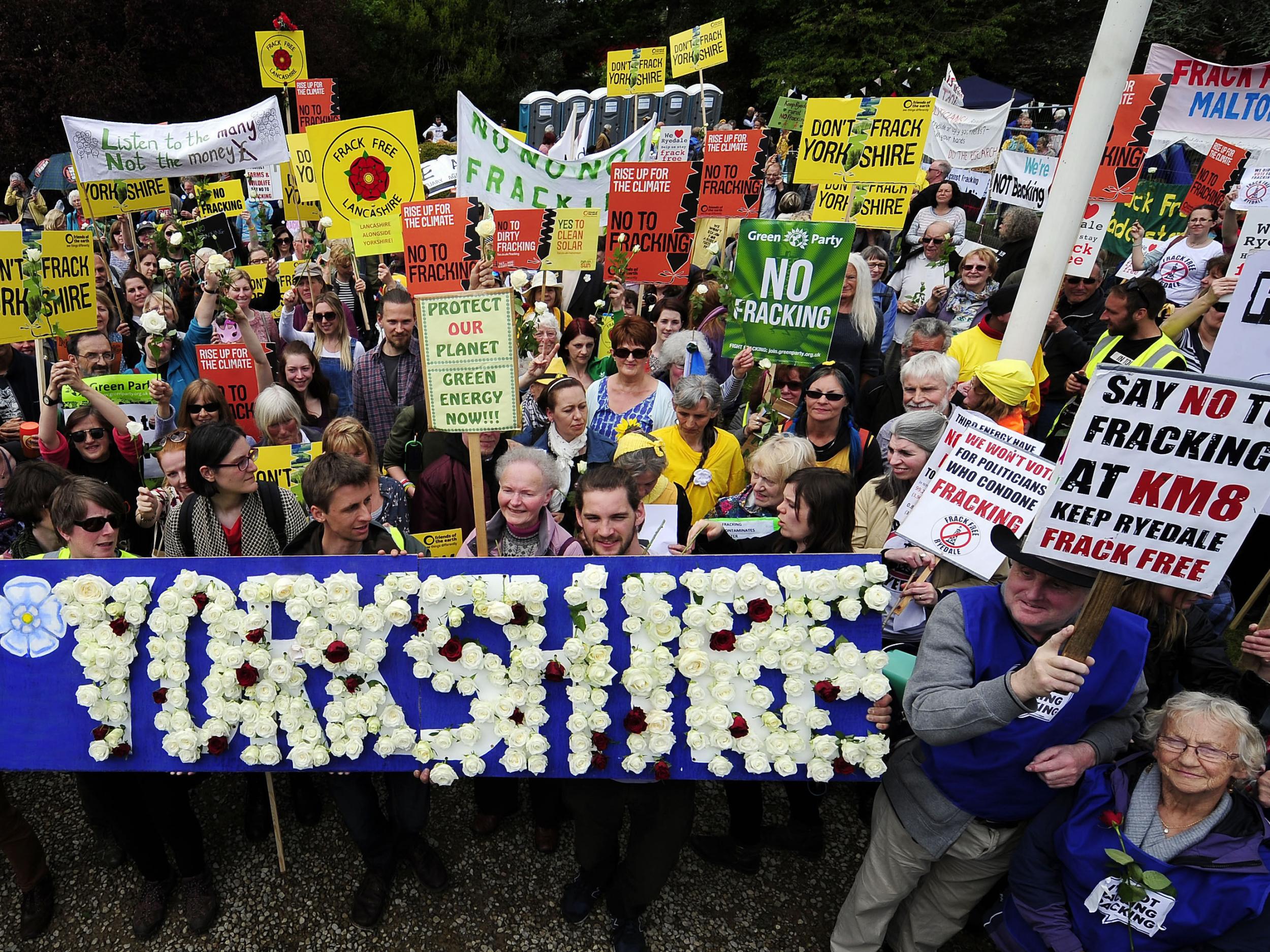 Councillors have approved an application to carry out fracking in England for the first time in five years.
The North Yorkshire County Council planning committee voted seven to four in favour of an application by UK firm Third Energy to frack for shale gas near the village of Kirby Misperton, North Yorkshire.
The application is the first to be approved in the UK since 2011, when tests on the Fylde coast, Lancashire, were found to have been a probable cause of minor earthquakes in the area.
The application was passed despite the presence of hundreds of protestors, who gathered outside County Hall in Northallerton throughout the hearing which began on Friday.
Vicky Perkin, a council planning officer, told the committee there had been 4,375 letters of objection and 36 of support for the application.
The hearing began with Peter Sowray, the planning committee chairman, admitting: "This is by far the most controversial application we have ever had to deal with."
North Yorkshire council's chief executive Richard Flinton said on Monday: "This has been a very difficult decision for the council to make and we know it is a difficult decision for the people of this county.
"We are proud of our beautiful county which attracts so many visitors and maintains a thriving tourism industry. We have no intention of jeopardising those qualities and our rural industries and livelihoods.
"For that reason the planning conditions must be fully discharged and monitored. In this case there has already been drilling for gas on this site over many years."
The result was greeted with boos and jeers from demonstrators, who shouted "shame on you" and "you will held be held accountable".
Jeremy Buckingham shows a river on fire
One protestor said: "We know fracking carries serious risk to local people, our health and water. This decision is not in our name."
Following the result, North Yorkshire Police tweeted a warning saying they would "not tolerate unlawful behaviour linked to the #nyshale protest".
The force later issued a statement praising the protestors, saying: "The atmosphere largely remained good natured while North Yorkshire County Council and North Yorkshire Police facilitated lawful protest. No arrests have been made."
The decision has been called a "travesty" by environmental campaign group Friends of the Earth.
Simon Bowens, Yorkshire and Humber campaigner for Friends of the Earth, said: "This is an absolute travesty of a decision but the battle is very far from over.
"Today 7 out of 11 North Yorkshire county councillors voted to approve this fracking application in Ryedale, ignoring the objection of Ryedale District Council itself, as well as thousands of local residents and businesses.
"Despite this decision, public support for fracking is plummeting as Wales, Scotland and countries across Europe have suspended it. The risks to people's health and the environment are unacceptable and we will fight on."
The plan, which had previously been recommended for approval, will utilise a two-mile deep well drilled in 2013, over which a 120ft-high drilling rig will be established.
In response to the decision, Councillor Andrew Cooper, Green Party Energy Spokesperson, said: "North Yorkshire County Council has let down the people of Kirby Misperton by passing this application for fracking today.
"The Green Party will continue to stand by local communities under threat from fracking operations and we will strongly oppose any attempts by central government to impose fracking against the will of local people."
Daisy Sands, Greenpeace's head of energy campaign, said: "Given the pro-fracking bias from central government, there was an air of inevitability about this bitterly disappointing decision.
"It is striking that the overwhelming number of speakers giving evidence at the two-day hearing were against fracking and Ryedale Parish Council voted against fracking at its back door, but North Yorkshire Council has overlooked this and the many, many concerns that were raised locally."
Dozens of speakers attended the meeting outlining concerns over the hydraulic fracturing technique. Objectors raised fears about the environment, safety issues, increased traffic, the effect on the landscape, health and the potentially negative impact on the area's tourism.
However, supporters - including experts in areas such as noise, water, ecology and landscape - addressed or dismissed the concerns, making statements in support of the application.
Rasik Valand, chief executive of Third Energy, said: "If our application is successful, we will see it as a huge responsibility to deliver on our promises, not a victory. Promises to you, the local people."
He added that work would not start at the site for "months and months" and would initially be an "exploration phase".
Asked if this was a precedent for the approval of further fracking applications, he said: "We don't look upon it like that. We are a local company, we see ourselves as a local company. For us, this is about testing what's in our local area."
Vivienne Westwood joins anti-fracking protest camp
Show all 8
The planning officers' report said: "It should also be noted that there is national policy support for the development of a shale gas industry in this country and this is an important material consideration."
The Government has said it is going "all out for shale" to boost energy security and the economy.
Following the decision Energy Minister Andrea Leadsom said in a statement: "This decision has been made by the local council. We're very clear that fracking is a fantastic opportunity. It's good for jobs, the economy and strengthens our energy security.
"We already have tough regulation in place to ensure that fracking is safe. We are now looking forward to the safe exploration of shale gas beginning and finding out just how much of this home grown energy supply is available to power our homes and businesses."
Opponents, however, fear fracking - in which liquid is pumped deep underground at high pressure to fracture rock and release gas - can cause problems including water contamination, earthquakes and noise and traffic pollution.
Environmentalists have also raised concerns that pursuing new sources of gad - a fossil fuel - is not compatible with efforts to tackle climate change.
Additional reporting by Press Association
Join our commenting forum
Join thought-provoking conversations, follow other Independent readers and see their replies