Northampton Clown is unmasked as student and film maker Alex Powell
The Northampton University student has said he will continue to appear as the clown despite death threats
Nick Renaud-Komiya
Monday 14 October 2013 12:45 Comments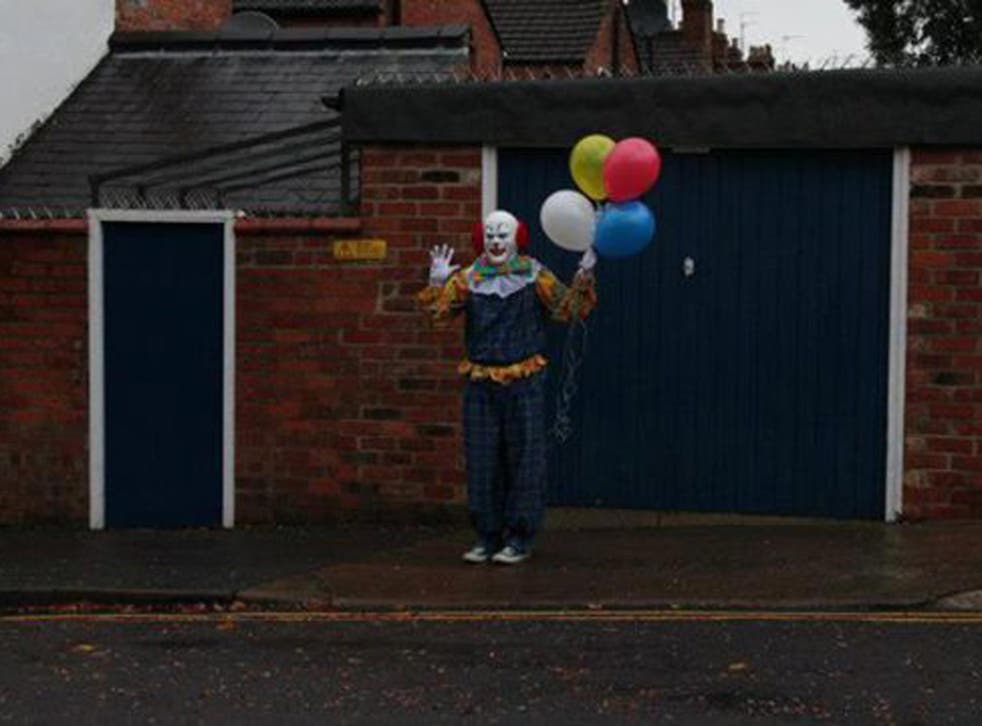 The identity of the Northampton Clown, whose creepy appearances on the streets of Northampton have made him an online sensation, has been revealed.
The man behind the mask is Alex Powell, a 22-year-old Northampton University student and film maker.
Dressing like Steven King's character Pennywise from the horror movie It, Powell first appeared around the town on Friday 13 September. The clown has been spotted stood still, holding balloons and waving at scared passers by.
He has aroused interest around the world, with his 'performances', appearing on TV news programmes in the US, Australia, India, Canada and Japan.
Journalists from across Europe have tried to unmask the sinister joker, with one couple from the US even coming to the town to try to meet him.
He finally was tracked down by reporters from the Sunday People newspaper. Following a tip off, a photographer from the paper captured him with fellow film maker Elliot Simpson and Luke Ubanski, who is behind the Spot Northampton Clown Facebook page, walking into a flat in regular clothes.
He was then seen to emerge dressed in the clown suit with his accomplices who then took photos of him in a deserted car park.
When approached by reporters he initially denied that he was the clown but admitted to being the man behind the mask when confronted with the photos.
He said, "OK, I am the clown but I've been trying to keep it as ­mysterious as possible. To be discreet so people didn't find out.
"[The] pictures are from the day I went to meet a little girl who only has six months to live.
"Her mum messaged me saying she really wants to meet you before she dies. I took a picture with her and gave her a clown teddy and stuff.
Powell told the newspaper that not everyone had seen the funny side to his alter ego.
"On Facebook I've had over a thousand death threats. It was just a bit of fun at first and a lot of people seem to enjoy it but it gets a bit hard sometimes with the death threats."
Powell, who grew up in Paignton, Torbay, said a man had threatened to knife him at Sixfields, Northampton Town FC's ground.
"I swear he had a knife and told me he would stab me if there were not so many people around."
He insisted the death threats would not put him off dressing as the clown before adding, "I had a call last night from someone who knew my name and asked if I was the clown and said if they saw me they would run me over."
Register for free to continue reading
Registration is a free and easy way to support our truly independent journalism
By registering, you will also enjoy limited access to Premium articles, exclusive newsletters, commenting, and virtual events with our leading journalists
Already have an account? sign in
Join our new commenting forum
Join thought-provoking conversations, follow other Independent readers and see their replies