Thousands of refugees become targets for smugglers in northern France a year on from Jungle closure
Dozens of displaced families wait for their chance to be smuggled to Britain by criminals, while desperate teenagers who can't pay are lured into exploitation and debt bondage on arrival in UK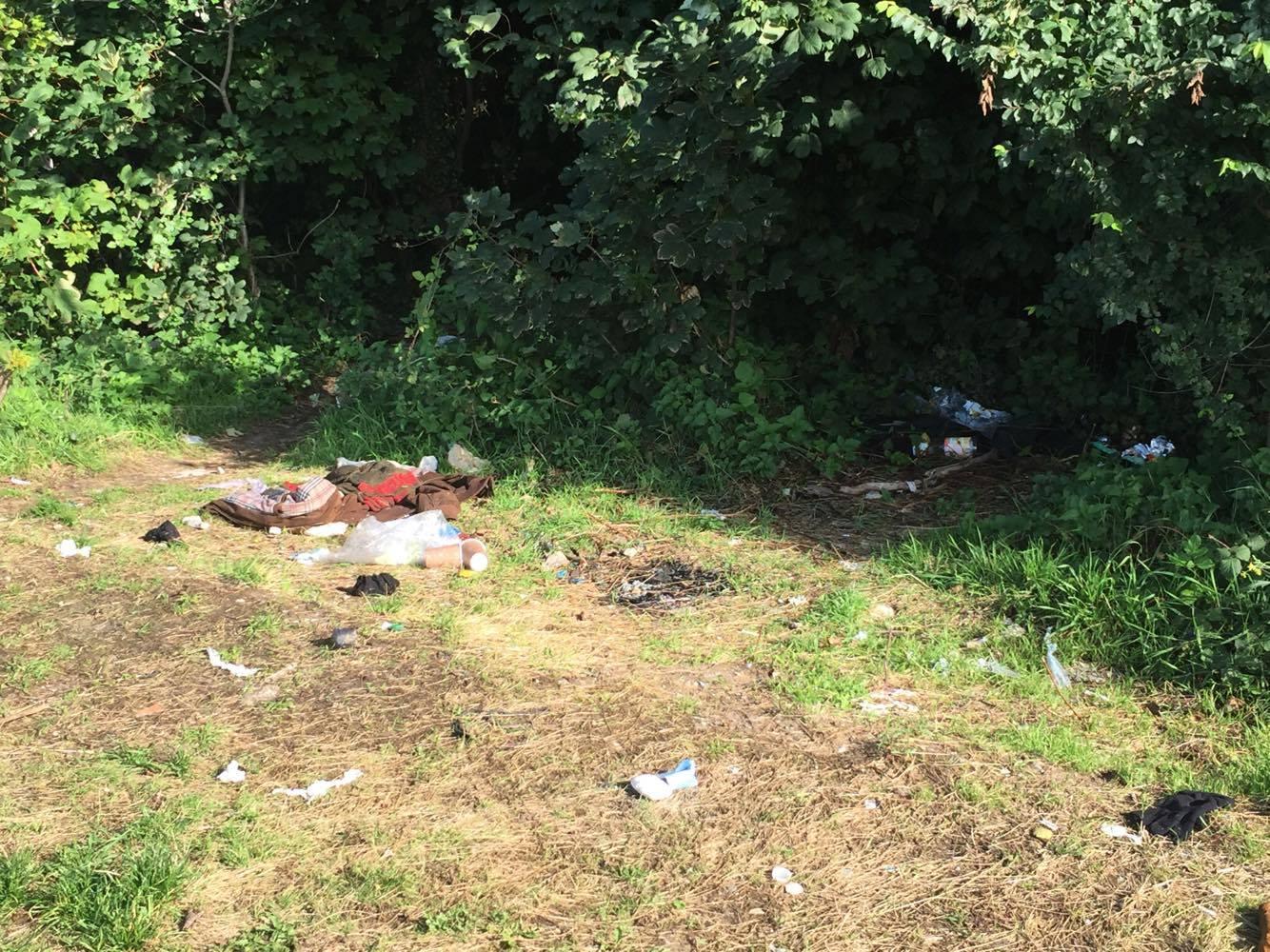 In the shadow of what was once the notorious Calais Jungle thousands of refugees have become living targets for smugglers and human traffickers as their plight becomes increasingly perilous.
A year on from the demolition of the shantytown, dozens of displaced families are sleeping rough in woodland in the region waiting for their chance to be smuggled into Britain by criminals – often after paying extortionate amounts to guarantee their passage across the Channel.
Hundreds of lone teenagers who don't have the means to pay are meanwhile increasingly prone to exploitation at the hands of these gangs, who are promising them a free crossing in return for "work" upon arrival in the UK.
The refugees' desperation is exacerbated by the looming winter coupled with the dearth of any form of state or official aid. Since the UK Home Office ended funding for an anti-trafficking service in the region in April 2017, there has been no state agency tackling the problem, leaving the market "open" to criminals who wish to exploit refugees.
Official figures indicate the number of gangs targeting the refugees in the area since the Jungle was demolished has increased, with 20 smuggling networks having been dismantled by French police since the start of the year – matching the figure for the whole of 2016.
There were just over 8,000 refugees living in the Jungle before it was destroyed, and more than 10,000 at its peak. Following its closure people were transported away from the region to reception centres across France, but in the last 12 months the numbers have been slowly rising again. Between 1,500 and 2,000 refugees are currently sleeping rough in Calais and Dunkirk, according to charities on the ground.
Ari, a Kurdish Iraqi in his late thirties, fled religious persecution in Iraq with his wife and three young children in January after an attack by a terrorist group left his arm permanently damaged. They arrived in France in August after an eight-month journey through Turkey and Europe.
Sitting with his 11-month-old son on a patch of grass in Dunkirk, the former meat trader told The Independent he had paid £15,000 to a smuggler to get his family to the UK, where he said they hope to join his aunt and cousins – the only relatives they have outside Iraq.
Now he carries his phone at all times in case the smuggler calls, having identified a sleeping driver in a lorry, at which point Ari will take his family immediately to the location and make the dangerous attempt to board the vehicle without being heard.
"He says, 'come, come now', and I get my family up and we all get in," Ari explained. "We've tried many times but no luck. After one or two hours the driver wakes up. I'm hoping it will work eventually, because we have no other choice. Of course this is dangerous for my children, but I don't have any solution."
Several miles east in Calais, hundreds of teenagers and young people meander in a small field close to the now inaccessible land where the Jungle used to be. Late at night, they go to nearby parking lots to try to board lorries. But with smuggling gangs "controlling" many of these areas, they are exposed to increasing danger.
Rishal, 28 and one of the eldest of around 20 women and girls in the area, said her family has paid £10,000 to smugglers so far for her crossing from Eritrea to join her younger brother in Cardiff. She explained that now the money has run out, and she is trying to cross to the UK unassisted.
"I try often in the night, sometimes early in the morning. We try to get into lorries. Spending six hours in a truck is hard, and then you get out and you aren't in England," she said, rubbing the back of her neck. She explained that it is painful from the last attempt she made four days ago.
The Eritrean woman doesn't explicitly state the risk of traffickers, but she expresses her fear of Kurdish and Afghan men who often guard the lorry parking areas. "They are dangerous," she said. "They have knives. I don't like go near them."
Michael McHugh, of the Refugee Youth Service, a Calais-based charity that keeps records of children in the region, said refugees, particularly the younger ones, are being exploited by people smugglers.
"What we're becoming increasingly aware of is that young people are being exploited while on the move. They are being moved for the purpose of exploitation. The opportunities to cross the border have become more limited, and there's been an increase in prices – so smugglers by default are becoming traffickers. The market has opened up for it," he said.
"They'll say: 'I'll get you across and you don't have to pay now but I do have a friend that you could work for in the UK'. Children are becoming more desperate and susceptible. We've had many young people who we've believed are in the UK but who we now can't find."
The Refugee Youth Service refers any young person they suspect to have crossed to the Britain to a UK-based anti-trafficking agency. The charity has sent 22 referrals for minors since the beginning of August this year, of whom just seven have been located safely.
Mr McHugh said a lack of a joined-up approach between British and French authorities to track the youngsters, particularly since the Home Office cut funding for an anti-trafficking service in the region, means he and other volunteers feel increasingly helpless in their efforts to protect them from trafficking.
"We have young people who we are trying to engage with, and we can feel the presence of adult interference. This is what gets the alarm bells ringing, but we are powerless to do much about it," he added.
Hannah Stott, programme manager of the Barnardo's child trafficking advocacy, said her agency is working with dozens of young people in the UK who were brought from northern France to the UK by traffickers, who then use "sophisticated grooming techniques" to lure them into forced labour.
"They use coercion through threats of violence or whatever it might be to then lead onto that exploitation in France, on route and then when they arrive in the UK. They offer to get them to the UK for free, but then on arrival they have to pay back X amount of money – we're talking thousands or sometimes tens of thousands of dollars," she said.
"Many are experiencing labour exploitation, such as working in car washes, the construction industry and agriculture, with others victims to criminal exploitation, including being forced into petty crime and running drugs for highly organised criminal gangs."
Ms Stott said that along with high numbers of Vietnamese and Albanian child trafficking victims, whose plight is fairly well-documented, there has been a notable rise in the past year of young people from Sudan and Afghanistan – two of the most common nationalities sleeping rough in northern France.
When asked what the UK was doing to prevent child trafficking from northern France to the UK, a Home Office spokesman said: "We provided funding to [French organisation] France Terre d'Asile to help identify and protect victims of trafficking in the Calais camp, which was cleared in autumn 2016.
"The UK and France worked extremely closely to coordinate the clearance and ensure those in need of protection were moved to suitable facilities. We transferred over 900 unaccompanied asylum-seeking children to the UK from other European countries last year, including more than 750 from France as part of the UK's support for the Calais camp clearance.
"We continue to work closely with our French counterparts to target people traffickers and enhance security at the border."
Calais refugee camp evacuation
Show all 15
The local authority in Calais said border police in the region, supported by the Ocriest, the French agency responsible for tackling illegal immigration, were "fighting every day against the smuggling channels across coast".
"Since the beginning of 2017, the police have already dismantled 20 clandestine immigration networks, as much as throughout 2016. In addition, 15 investigations are currently under way, nine of which are related to the Calais region," a spokesperson said.
"The judicial authority imposes heavy penalties on smugglers."
Join our commenting forum
Join thought-provoking conversations, follow other Independent readers and see their replies