'Brave' Belfast woman forced to go to England for abortion launches bid to change law on human rights grounds
'Each time I re-live the trauma. I hope this will be the last time I have to go to court and prove that women like me should be able to access abortion services at home,' says Sarah Ewart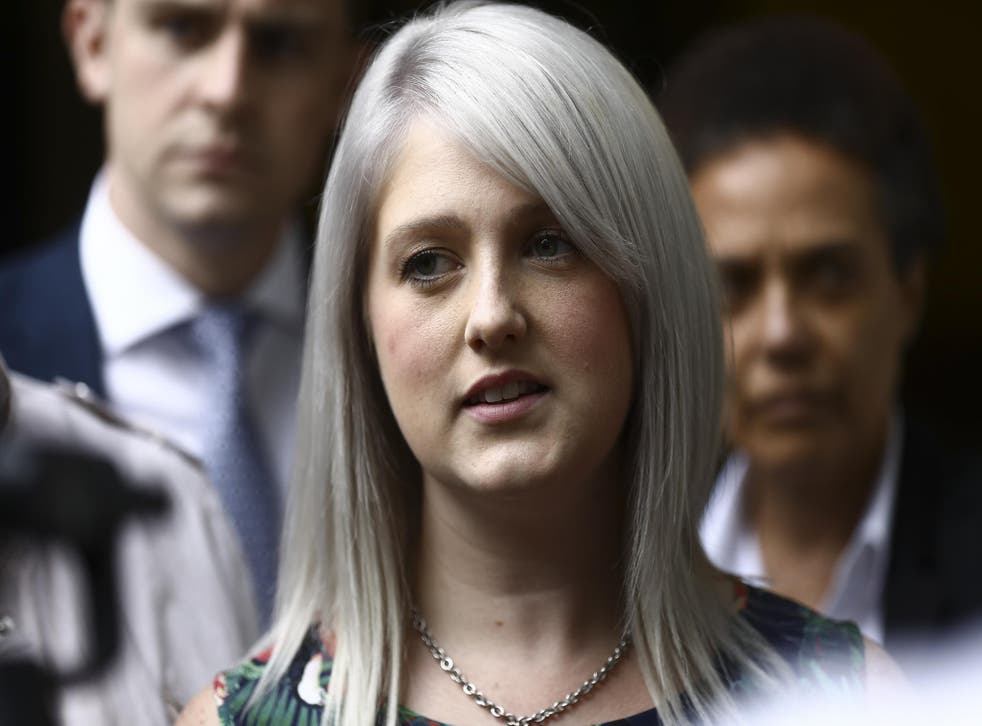 A landmark case in Belfast High Court could find Northern Ireland's abortion law in breach of the UK's human rights commitments, say experts.
Sarah Ewart, who was forced to travel to England for an abortion after being told her unborn child would not survive outside the womb, has launched a new case which starts on Wednesday.
The Supreme Court said in June that abortion laws in the north of the country are in breach of human rights legislation.
However, it also concluded that the Northern Ireland Human Rights Commission, which brought that case, did not have the power to bring forward proceedings because it was not a victim of any unlawful act.
This meant the court could not make a formal declaration that Northern Ireland's abortion laws are incompatible with the European Convention of Human Rights.
Northern Irish women protesting anti-abortion laws take illegal pills

Show all 8
Ms Ewart, supported by Amnesty International, has chosen to bring an individual case to the High Court in the hope a formal declaration can finally be made and Northern Ireland's strict abortion laws will be changed.
"Time and time again I've told my story to MPs, courtrooms and judges," Ms Ewart said.
"Each time I re-live the trauma. I hope this will be the last time I have to go to court and prove that women like me should be able to access abortion services at home, without being forced to travel. I hope this case can bring a ruling that helps end the suffering for us all."
Northern Ireland has a ban on abortions in almost all cases – even rape or incest.
The 1967 Abortion Act, which established legal abortion, has never applied in Northern Ireland. Terminations are only allowed in cases where the woman's life is in danger or there is a permanent or serious risk to her mental or physical health.
Grainne Teggart, Amnesty International's Northern Ireland campaign manager, said: "It is a damning indictment on the UK Government's failure to prioritise women's rights and healthcare that women like Sarah are forced through the ordeal of the courts to have their rights vindicated."
She commended Ms Ewart, 28, for "bravely" stepping up to be the person who takes the case to the court – saying the hearing marked a chance for an official judgment that Northern Ireland's abortion law breaches the UK's human rights obligations.
"It is a huge moment," she said. "People everywhere will have their fingers crossed with hope that the Belfast Court rules in favour of women's rights and reproductive freedom."
"Women in Northern Ireland cannot be left to suffer under one of the most oppressive and severe abortion laws in the world. This must be our time for change".
Activists will hold a banner outside the court which reads "Now #ItsTime for women of Northern Ireland". Theresa May has faced pressure to give MPs a free vote on the issue after abortion was legalised in the Republic of Ireland following a historic referendum last May.
Ms Ewart was forced to travel to England around five years ago for a termination after being told her pregnancy had a fatal foetal diagnosis. She has long campaigned for a change to NI's law in cases of fatal foetal abnormality.
The court case comes after MPs were told a 12-year-old rape victim in Northern Ireland was forced to travel to England under police escort for an abortion.
Dawn Purvis, former director of the Marie Stopes pregnancy advice service in Belfast, said an officer seized samples from the procedure as evidence.
It is unclear when the incident happened or whether the child, who was not identified, faced any action as a result.
Ms Purvis, a former Independent Unionist member of the Northern Ireland Assembly, appeared before the Commons Women and Equalities Committee on Friday during its hearing in Belfast on Northern Ireland's abortion law.
Official statistics show that twelve abortions were carried out in Northern Ireland last year. Amnesty International is calling for liberalisation of the stringent rules - saying more than 900 women travelled to England and Wales for the procedure during the same period.
Register for free to continue reading
Registration is a free and easy way to support our truly independent journalism
By registering, you will also enjoy limited access to Premium articles, exclusive newsletters, commenting, and virtual events with our leading journalists
Already have an account? sign in
Register for free to continue reading
Registration is a free and easy way to support our truly independent journalism
By registering, you will also enjoy limited access to Premium articles, exclusive newsletters, commenting, and virtual events with our leading journalists
Already have an account? sign in
Join our new commenting forum
Join thought-provoking conversations, follow other Independent readers and see their replies