Northern Ireland's same-sex marriage ban 'un-Christian', says church minister
Canon Charles Kenny said the UK country's laws on same-sex marriage are as unjust as the historical sectarian ban on Catholics and Protestants marrying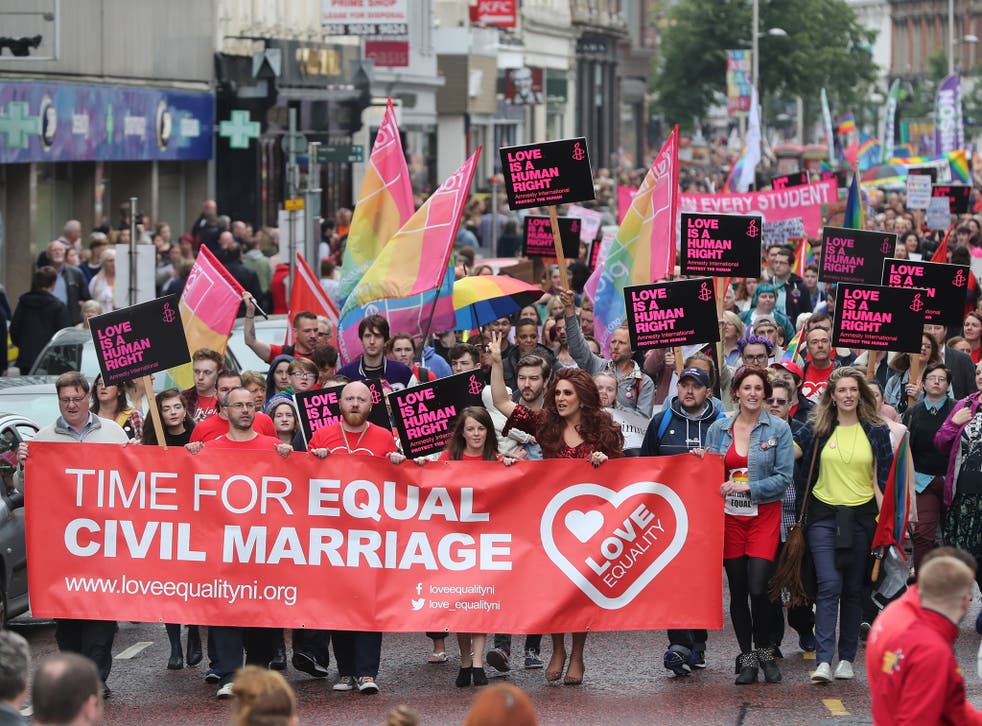 Northern Ireland's ban on same-sex marriage is "un-Christian", an Anglican minister has said at a marriage equality rally in Belfast attended by thousands.
Canon Charles Kenny, who has been a Church of Ireland priest for nearly half a century, said the UK country's laws on same-sex marriage are just as unjust and un-Christian as the historical sectarian ban on Catholics and Protestants marrying, The Guardian has reported.
The priest, joined by Methodist and Presbyterian ministers, joined protesters in calls for gay marriage to be made legal in Northern Ireland on Saturday.
Addressing the crowds on the steps of Anglican cathedral St Anne's, the church minister said: "There was lots of lobbying against mixed religious marriages and nowadays we are all embarrassed about that. And I think in the future, we will also be embarrassed about this ban on same sex marriage."
He added: "I grew up in the 1950s and I know what is was like. If I had had a girlfriend who was Catholic, for some people the sky would have fallen in. Thank goodness that kind of attitude doesn't happen often now so this current ban is comparable to those old sectarian attitudes."
Gay rights activists, trade unionists and civil servants turned out for a procession to Belfast's City Hall, waving rainbow flags and banners in support of same-sex marriage.
The demonstration was led by the Lord Mayor of Belfast Nuala McAllister, Northern Ireland-born The Fall actor Bronagh Waugh and The Rainbow Project director John O'Doherty.
Northern Ireland is the only part of the UK where same-sex couples cannot get married, despite the Republic voting gay marriage into law two years ago.
Five separate votes have been held on the issue in Stormont, the last of which saw a narrow vote in favour of marriage equality.
The Democratic Unionist Party (DUP) has ruled out any law change however, claiming it wants to defend the "traditional" definition of marriage.
Unitarian minister, Reverend Chris Hudson from All Souls Church in South Belfast also showed his support for same-sex marriage at the protest.
Rev Hudson said some ministers were strongly in favour of equal marriage – and that the current status quo prevented him from marrying a same-sex couple.
Thousands campaign for same-sex marriage in Northern Ireland
He appealed to the DUP not to block any bid to legalise it.
"I hope the next time round that the Holy Spirit will descend upon them and we will see that it is fair, that it functions well in every other part of the UK. Why should Northern Ireland be any different?"
Sinn Fein president Gerry Adams also attended the protest.
He said he does not expect a deal to restore power-sharing and cross-community government in Northern Ireland to be reached by Monday.
A number of deadlines have already been missed to restore multi-party devolved government in Northern Ireland and Mr Adams said: "The DUP are showing no urgency or no real inclination to deal with the rights-based issues which are the crux and the heart of these difficulties which we are talking here about."
UK news in pictures

Show all 50
In particular, he said those included demands for marriage equality, an Irish Language Act, a Bill of Rights, and dealing with the aftermath of decades of past violence.
The Government has extended talks until Monday, despite Stormont parties missing a deadline for Thursday.
"Unless they step-change I just cannot see ... and we told them this directly, how a deal can be put together by then," Mr Adams said.
Join our new commenting forum
Join thought-provoking conversations, follow other Independent readers and see their replies