Northern lights: Display of aurora borealis in Northumberland 'the best in years'
The stunning spectacle was visible to the naked eye for hours
Kashmira Gander
Wednesday 18 February 2015 00:07 Comments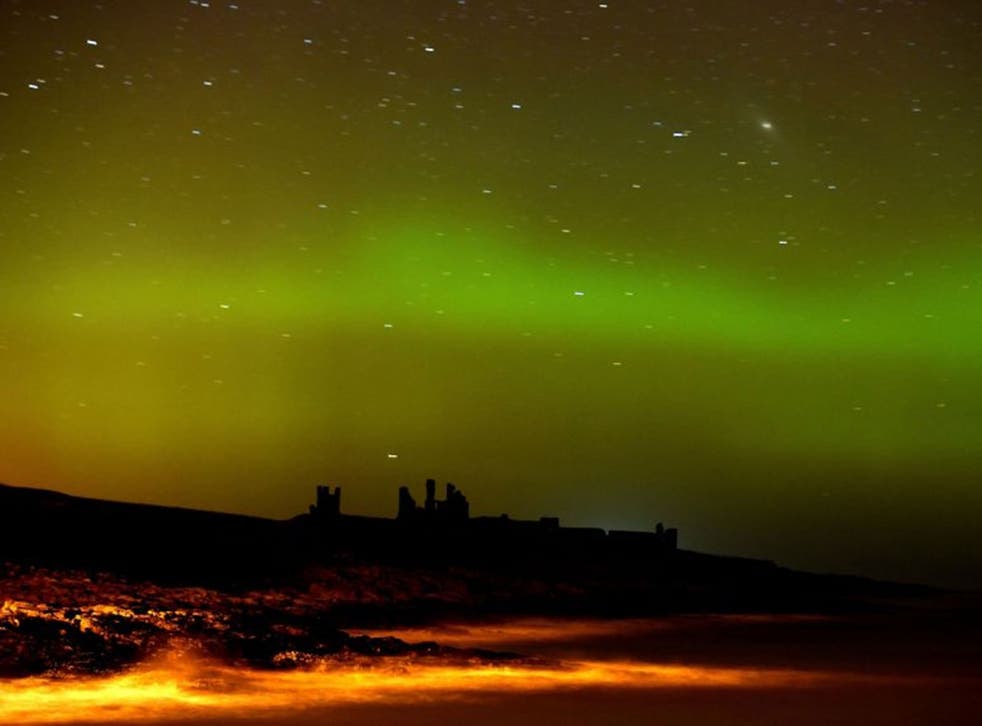 A display of Northern Lights over the Northumberland coast on Monday night have been acclaimed by sky watchers as the best for years.
Images of the stunning phenomenon above Dunstanburgh Castle show streaks of green, orange and yellow light dancing across the night sky.
The celestial show, also known as aurora borealis, was easily visible by the naked eye and lasted for several hours.
Excited staff at the Kielder Observatory, in Northumberland tweeted to its followers: "we had the best aurora display in years".
Press Association photographer and northern lights chaser Owen Humphreys, 42, travelled to see the display with his relative 16-year-old Matthew O'Connor, who is studying for a GCSE in photography.
He said: "We knew there was a 20 per cent chance of seeing the aurora but we went up to take pictures of the Milky Way.
"When it started it came out of the blue and instead of staying for three or four hours we were there for about seven.
"There was a small show around 10pm, then it got stronger after midnight and at 2am it went crazy. There were a lot of greens and some pink colours in the sky.
"There were swirling and dancing pillars of light going 100ft in the air. It was unreal and the best show I have seen for years."

Before the display can be seen by the naked eye, solar win blows electrons and protons from the Sun's atmosphere towards the Earth.
The natural wonder occurs when these charged particles collide in the Earth's atmosphere, and are most striking above the magnetic poles of the northern and southern hemispheres.
Northern lights from around the world

Show all 10
These particles are deflected by the Earth's magnetic field but as it is weaker at either pole, some particles enter the atmosphere and collide with gas particles.
Matt Robinson, a 29-year-old volunteer at Kielder Observatory, said the solar wind takes three days to reach Earth, so aurora watchers have some notice about when the lights might appear strongly.
He said: "It's hit and miss and you have to hope everything else works in your favour. You need clear skies, the Earth's magnetic field has to be pointing in the right direction... it's complicated but it is worth it when it comes off."
The spectacle is also best viewed away from the light pollution of the city or bright moonlight.
Mr Robinson added: "Unless it is a very strong storm, it is quite difficult to see in the city as the lights will drown it out."
In the southern hemisphere, they are known as the Aurora Australis and can often be mirror-like images that occur at the same time as in the north.
Additional reporting by PA
Register for free to continue reading
Registration is a free and easy way to support our truly independent journalism
By registering, you will also enjoy limited access to Premium articles, exclusive newsletters, commenting, and virtual events with our leading journalists
Already have an account? sign in
Join our new commenting forum
Join thought-provoking conversations, follow other Independent readers and see their replies