Notting Hill Carnival should be banned for police officer safety, suggests Met Police Federation
'What other event would be allowed to carry on regardless with so many police colleagues under attack?'
Samuel Osborne
Wednesday 30 August 2017 07:03 Comments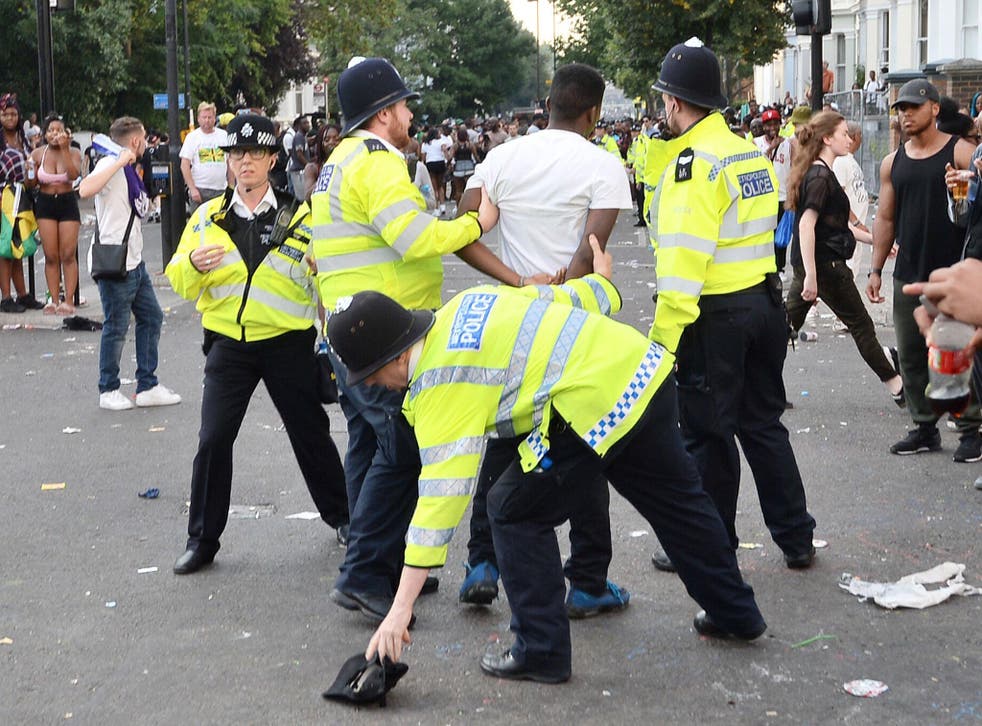 Notting Hill Carnival should be banned after the "disgrace" of police officers being attacked with blood and bottles, the chair of the Metropolitan Police Federation has suggested.
Ken Marsh, who leads the rank-and-file group, asked: "What other event would be allowed to carry on regardless with so many police colleagues under attack?"
The Bank Holiday weekend event in west London saw 31 police officers injured, with bottles and other objects thrown at them, blood spat at them and a potentially acidic substance thrown at them.
Mr Marsh said he suspected the true figure of officers injured on duty during the two-day carnival will end up being more than 28 - the number released by the Metropolitan Police before he made his comments.
Notting Hill Carnival: Tightened security and the Grenfell effect
In a statement, he said: "The Met have put out a statement saying 28 of our colleagues were injured over the weekend at the Notting Hill Carnival. As almost a matter of fact. As if this is the norm. As if this is acceptable.
"It is none of the above. It is a disgrace. Twenty-eight brave colleagues went to work this weekend and were attacked for just doing their job. This is not normal. This is not acceptable.
"There are now so many officers being injured every year at the carnival - with more than 40 last year and let's not forget that an officer was stabbed in 2015. What other event would be allowed to carry on regardless with so many police colleagues under attack?"
The Metropolitan Police Federation represents 32,000 officers in London.
UK news in pictures

Show all 50
Mr Marsh, who spent Monday at the carnival, said the Metropolitan Police has a responsibility to look after its officers.
"A huge number of officers are getting attacked every year at this event," he added.
"The service knows this is going to happen and send officers to this event knowing this is going to happen.
"Something needs to be done. We can't carry on like this."
Mr Marsh said he would be taking the issue up with every level of the Met and the London Mayor's Office.
"Enough is enough," he went on.
"Politicians and commanding officers are quick with their platitudes and praise for our members but what we want to see are tangible measures to reduce the number of officers under attack."
Some 313 arrests were carried out as of 10pm on Monday, the Metropolitan Police said, many relating to drugs and offensive weapons.
More than a third of the arrests - 112 - were for drugs offences, while there were 58 arrests for possession of an offensive weapon or knife/blade, 37 public order arrests and 17 common assault arrests.
Some 14 arrests for sexual offences were also carried out, while 17 arrests were made for assaults on police officers.
Police seized a number of knives and batons, CS spray and a hammer.
In another incident, three people reported "skin irritation" not thought to be serious, while two more were hurt in a subsequent stampede, when a "mild acidic liquid" was thrown over a number of people near Ladbroke Grove on Sunday evening.
No arrests have yet been made in connection with it.
So far, the number of arrests is lower than last year, when more than 450 people were arrested across the two days of festivities.
This year's carnival had a more sombre tone as respects were paid to those who died in the Grenfell Tower fire.
Dozens of white doves were released in an emotional opening ceremony on Sunday, while the colourful parade of floats and revellers halted for a minute's silence at 3pm on both days to remember those killed just a short distance away in June's deadly fire.
The Lancaster West estate, where the blackened shell of the tower stands, was fenced off from the main carnival procession out of respect for local residents and mourners.
Register for free to continue reading
Registration is a free and easy way to support our truly independent journalism
By registering, you will also enjoy limited access to Premium articles, exclusive newsletters, commenting, and virtual events with our leading journalists
Already have an account? sign in
Join our new commenting forum
Join thought-provoking conversations, follow other Independent readers and see their replies