Nuclear scare at Navy submarine base after 'unbelievable' failures
Double defects left vessels without vital sources of coolant for their reactors, despite earlier warnings and incidents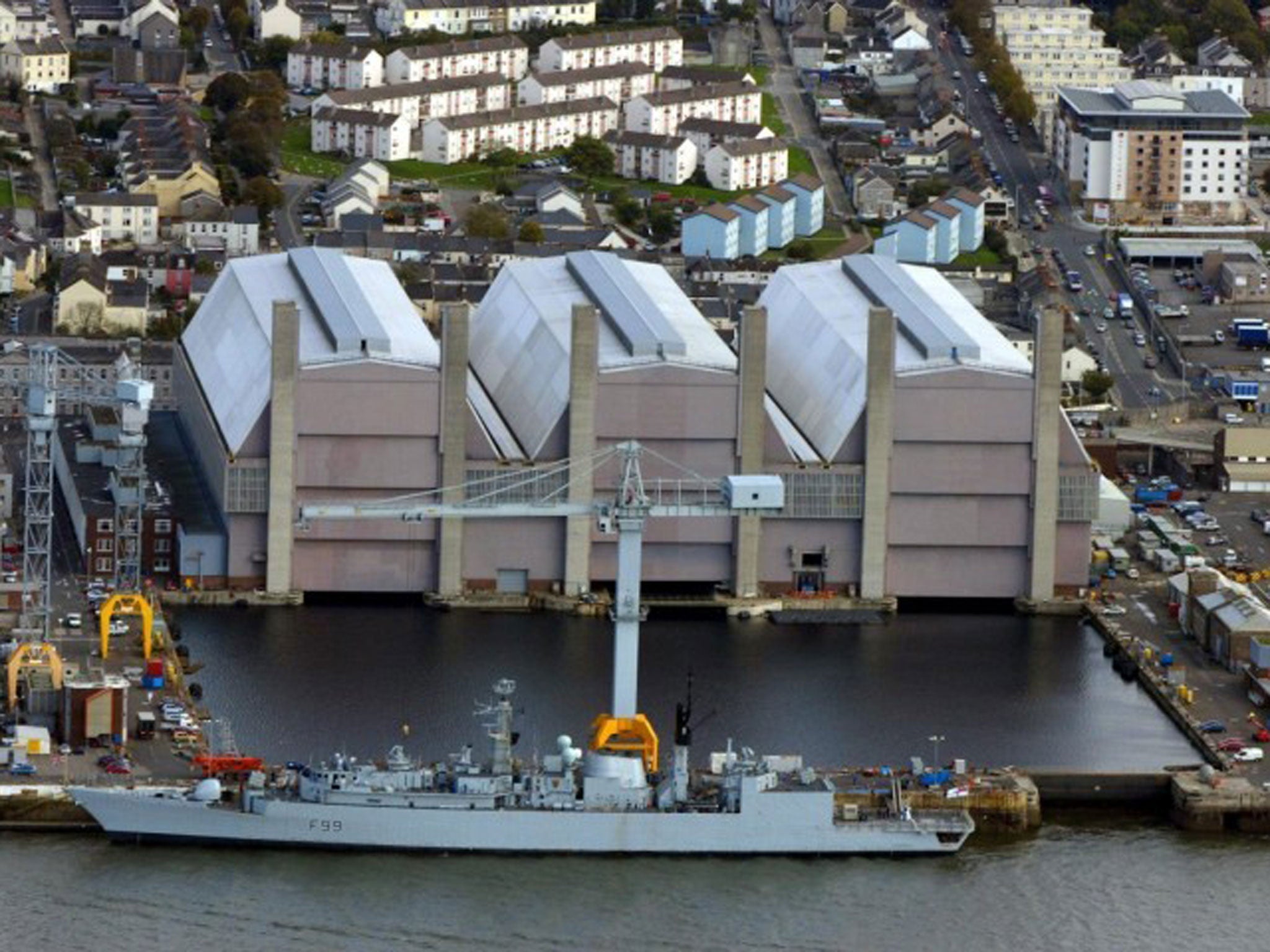 A major nuclear incident was narrowly averted at the heart of Britain's Royal Navy submarine fleet, The Independent on Sunday can reveal. The failure of both the primary and secondary power sources of coolant for nuclear reactors at the Devonport dockyard in Plymouth on 29 July last year followed warnings in previous years of just such a situation.
Experts yesterday compared the crisis at the naval base, operated by the Ministry of Defence and government engineering contractors Babcock Marine, with the Fukushima Daiichi power-station meltdown in Japan in 2011.
It came just four months after the Defence Secretary, Philip Hammond, announced that the base would "remain vital in the future".
The failure of the electric-power source for coolant to nuclear reactors and then the diesel back-up generators was revealed in a heavily redacted report from the Ministry of Defence's Site Event Report Committee (Serc).
Once a submarine arrives at the Devon base's specially designed Tidal X-Berths, it must be connected to coolant supplies to prevent its nuclear reactor overheating.
But last July a series of what were described as "unidentified defects" triggered the failures which meant that for more than 90 minutes, submarines were left without their main sources of coolant.
The IoS has learnt that there had been two previous electrical failures at Devonport, both formally investigated.
They were the loss of primary and alternative shore supply to the nuclear hunter/killer attack sub HMS Talent in 2009 and the loss of "AC shore supply" to the now decommissioned nuclear sub HMS Trafalgar in 2011, the Serc report said.
John Large, an independent nuclear adviser who led the team that conducted radiation analysis on the Russian Kursk submarine which sank in the Barents Sea in 2000, said: "It is unbelievable that this happened. It could have been very serious. Things like this shouldn't happen. It is a fundamental that these fail-safe requirements work. It had all the seriousness of a major meltdown – a major radioactive release."
Mr Large warned that if a submarine had recently entered the base when the failure occurred the situation could have been "dire" because of high heat levels in its reactor.
Babcock launched an internal investigation after the incident; this blamed the complete loss of power on a defect in the central nuclear switchboard. It said the defect had resulted in an "event with potential nuclear implications".
Among a number of "areas of concern" uncovered by the Babcock investigation was what was described as an "inability to learn from previous incidents and to implement the recommendations from previous event reports".
A subsequent review from the Base Nuclear Safety Organisation revealed the "unsuccessful connection of diesel generators" and questioned the "effectiveness of the maintenance methodology and its management", while advising Babcock to "address the shortfalls in their current maintenance regime".
Operated under extremely tight security and secrecy, the Devonport nuclear repair and refuelling facility was built to maintain the new Vanguard ballistic missile submarines and is also home to the Trafalgar- and Astute-class attack submarines – both powered by nuclear reactors.
Babcock, which is Britain's leading naval-support business and works with the MoD on a number of projects, admits that working with nuclear fuels will always carry a "small risk of a radiation emergency".
Its own "stress test" on Devonport safety, launched after the Fukushima disaster, said that in the event of the failure of both power supplies, heat levels in reactors could be controlled by emergency portable water pumps, and added that such a failure had occurred a "number of times" previously.
Caroline Lucas, the Green MP, said: "It's deeply worrying that a technical fault resulted in an event with potential nuclear implications. As long as we continue our obsession with nuclear – both in our defence system and in energy generation – there are going to be safety issues like this."
Ten days ago, the Office for Nuclear Regulation watchdog published details of an improvement notice it had served on Devonport on 16 July for three alleged breaches of health and safety legislation, and of Section 24 of the Nuclear Installations Act – regarding "operating instructions".
Kate Hudson, general secretary of the Campaign for Nuclear Disarmament, said: "Accidents such as the one highlighted in this report again show that a city-centre location is no place for nuclear submarines"
Babcock was unavailable for comment last night. But the conclusion of the MoD report said that while recognising organisations and individuals were "increasingly expected to deliver to tighter deadlines with limited resources", failures would be reported and learned from, to deliver a "safe product".
Join our commenting forum
Join thought-provoking conversations, follow other Independent readers and see their replies