Nurse Jacintha Saldanha who took a prank phone call at Duchess of Cambridge's hospital is found dead in suspected suicide
Jacintha Saldanha is understood to be the first person heard during the hoax call from presenters pretending to be the Queen
Cahal Milmo
,
Jeremy Laurance
Saturday 08 December 2012 01:00 Comments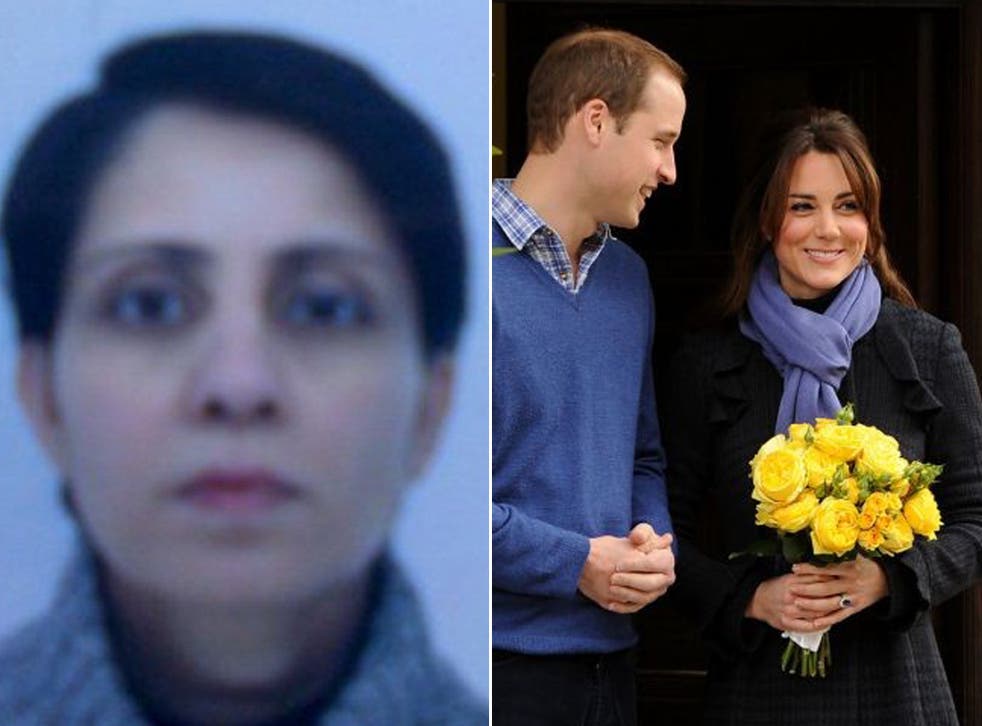 A nurse who was duped into transferring a prank call from two Australian radio presenters at the hospital treating the Duchess of Cambridge for severe morning sickness was found dead yesterday in a suspected suicide.
Jacintha Saldanha, 46, a nurse at the King Edward VII's Hospital in central London, answered the call at 5.30am on Tuesday from the Sydney-based 2Day FM station, whose DJs pretended to be the Queen and Prince Charles. Ms Saldanha put them through to a colleague who provided details of the Duchess's condition.
Ms Saldanha was found unconscious at a nurses' residence close to the private hospital in Marylebone at about 9.35am and despite the efforts of paramedics could not be revived. Police said the death was not being treated as suspicious, and a source said officers were investigating whether she had taken her own life. Mental health experts cautioned against any assumptions about factors contributing to her death. The nurse, a mother of two children, who started working at the hospital in 2008, is the first member of staff heard to answer on a recording of the hoax call from presenters Mel Greig and Michael Christian.
Ms Greig, seeking to impersonate the Queen, asked to be put through to "my grand-daughter", prompting Ms Saldanha to reply: "Oh yes, just hold on ma'am."
The hospital, which is rated as one of London's best private medical establishments and has a reputation for closely guarding the privacy of its patients, spoke of its shock and "very deep sadness" at the death of Ms Saldanha, whose partner and two sons live in Bristol. Her family said last night: "We as a family are deeply saddened by the loss of our beloved Jacintha."
In a statement, the hospital said: "She was an excellent nurse and well-respected and popular with all of her colleagues.
"We can confirm Jacintha was the victim of a hoax call to the hospital. The hospital had been supporting her throughout this difficult time."
Lord Glenarthur, the hospital's chairman, added: "This is a tragic event. Jacintha was a first-class nurse who cared diligently for hundreds of patients during her time with us."
The radio prank, which was pre-recorded and vetted by lawyers from the radio station before it was broadcast, was picked up by media worldwide and was acutely embarrassing for the hospital, which has a long history as the hospital of choice for the Royal Family.
In a statement earlier this week, the hospital's chief executive John Lofthouse condemned the prank, adding: "We take patient confidentiality extremely seriously and we are now reviewing our telephone protocols."
Mr Lofthouse added: "I think this whole thing is pretty deplorable; our nurses are caring, professional people trained to look after patients, not to cope with journalistic trickery of this sort."
The hospital offers its VIP patients private lines that are connected directly to their rooms, but the Australian DJs were able to reach the Duchess's personal nurse via the switchboard in an apparent breach of procedure.
It is understood that Ms Saldanha, who was registered to practice in Britain in July 2003, had not been disciplined or suspended by the hospital.
She answered the hospital's phone line in her role as duty nurse because there was no receptionist manning the switchboard at the time of the call.
St James's Palace said that neither Prince William and his wife nor any royal staff had complained to the hospital about the prank, adding that they had offered their "full and heartfelt support" to staff and to the nurses involved.
The couple, who had to announce that they were expecting their first child sooner than planned after Kate was admitted to hospital with acute morning sickness on Monday, said they were "deeply saddened" by Ms Saldanha's death. A spokesman at St James's Palace said: "Their Royal Highnesses were looked after so wonderfully well at all times by everybody at King Edward VII's Hospital, and their thoughts and prayers are with Jacintha Saldanha's family, friends and colleagues at this very sad time."
While little information about Ms Saldanha's mental health was available, nurses' leaders last night suggested that there could be a link between her death and the prank.
Dr Peter Carter, chief executive of the Royal College of Nursing, said: "It is deeply saddening that a simple human error due to a cruel hoax could lead to the death of a dedicated and caring member of the nursing profession."
In a statement, the ambulance service said: "We were called at 9.25am this morning to an address on Weymouth Street. We sent two ambulance crews and a duty officer. Sadly the patient, a woman, was dead at the scene."
The owners of the Sydney radio station said last night that the two presenters were "deeply shocked" at the nurse's death and had agreed to stop broadcasting until further notice.
The Samaritans can be contacted on 08457 90 90 90.
King Edward VII: The hospital where it happened
King Edward VII's Hospital, one of London's premier private hospitals, is used to hosting VIP patients for Rolls-Royce medical care in conditions of high security. It has at various times accommodated the Queen, Duke of Edinburgh and Prince of Wales as well as other members of the Royal Family.
It has 58 en-suite rooms with flatscreen televisions and wi-fi and three operating theatres. It boasts on its website of a "strong tradition of excellence in nursing" and says unlike many hospitals "most are permanently employed by us". It claims never to have had a case of the hospital infections MRSA or Clostridium difficile and has won awards for the cleanliness of its wards and standard of food hygiene. The hospital was founded in 1899 and started life in a house belonging to Agnes Keyser who, with her sister, nursed sick and wounded officers returning from the Boer War.
It continues to offer subsidised care to people in the services and their spouses: its full name is the King Edward VII 's Hospital Sister Agnes. It has been treating the Royal Family since it opened and its patron is the Queen.
Jeremy Laurance
Register for free to continue reading
Registration is a free and easy way to support our truly independent journalism
By registering, you will also enjoy limited access to Premium articles, exclusive newsletters, commenting, and virtual events with our leading journalists
Already have an account? sign in
Join our new commenting forum
Join thought-provoking conversations, follow other Independent readers and see their replies