One in nine nursing posts unfilled amid 'lethal cocktail' of rising demand and falling pay, professionals warn
Number of empty posts has doubled in recent years, figures show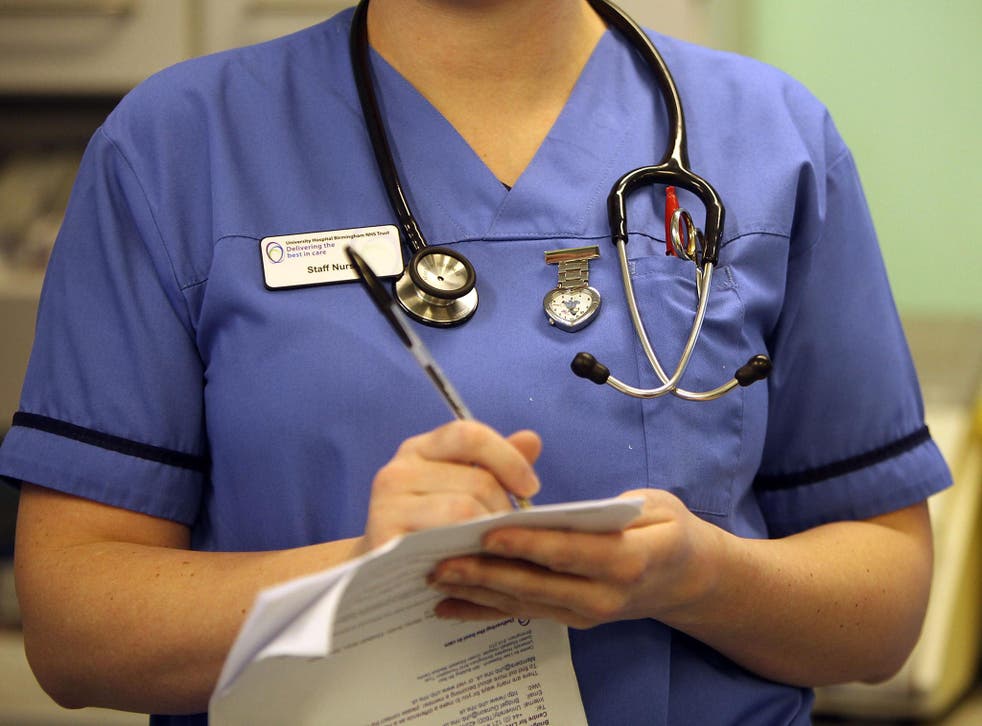 One in nine nursing posts in England is unfilled, figures have revealed, indicating that the number of vacancies has doubled over the past few years.
Two thirds of NHS hospital trusts in England planned for a greater proportion of nursing support staff last year than a year earlier, according to new data obtained by the Royal College of Nursing (RCN) from NHS trusts in England.
The startling figures, obtained through Freedom of Information rules, have prompted professionals to warn there is a "lethal cocktail" of rising demand and falling pay in the sector.
According to the RCN, they suggest care providers have increasingly hired fewer registered nursing staff, with the number of vacant nursing posts having doubled since 2013.
The College has subsequently warned the Government that safe staffing levels must be enshrined in law in order to ensure that nursing directors don't have to fight for funding.
Janet Davies, general secretary of the RCN, said the Government could be accused of offering "nursing on the cheap" in place of recruiting and retaining registered and experienced nurses.
She will tell the RCN's annual conference today (Sunday) in Liverpool: "A lethal cocktail of factors in the NHS has resulted in too few registered nurses and patient care is suffering.
"Pressure and demand has spiralled upwards at the very moment nurses' pay headed the other way. They stay behind after 12-hour shifts to give patients extra care and go home exhausted and sometimes in tears. Too many now feel no alternative but to leave nursing."
Ms Davies will add that future generations could be deterred from pursuing nursing as a career, and will urge the Government that it is vital to keep the experienced nurses currently working in the health service.
UK news in pictures

Show all 50
"There is no certainty about the next generation of UK nurses joining either – deterred by low pay, pressure and new training costs – so the Government desperately needs to keep the experienced ones we have," she will say.
"When finances are tight, nursing budgets are slashed and patients can pay the highest price. Hospitals are hiring unregistered staff and delegating jobs that should be done by trained nurses. The Government cannot allow nursing on the cheap.
"Ministers must draw a line under this false economy and address safe staffing levels in new legislation. Nursing directors should not have to fight for the funding."
It comes after it emerged earlier this week that NHS staff were leaving their posts to stack shelves in supermarkets because their pay was so low, with health service bosses saying a "significant" number of hospitals had reported lower-paid staff leaving to work outside the health service.
NHS Providers said a pay cap for NHS staff, which limits pay rises to one per cent a year until 2019, should be lifted as patient safety is being put at risk. The Labour Party said they would remove the pay rise limit, which this year amounted to a pay cut in real terms as inflation is at 2.3 per cent.
A report published earlier this month showed that nurses were having to use food banks due to a lack of income, which Prime Minister Theresa May claimed was due to "many complex reasons".
Join our new commenting forum
Join thought-provoking conversations, follow other Independent readers and see their replies