Official task force dedicated to tackling rogue landlords have never met, and don't plan to
Housing Minister Brandon Lewis also admitted that its predecessor group had only met three times since it was established in 2012
Oliver Wright
Friday 20 February 2015 22:23 Comments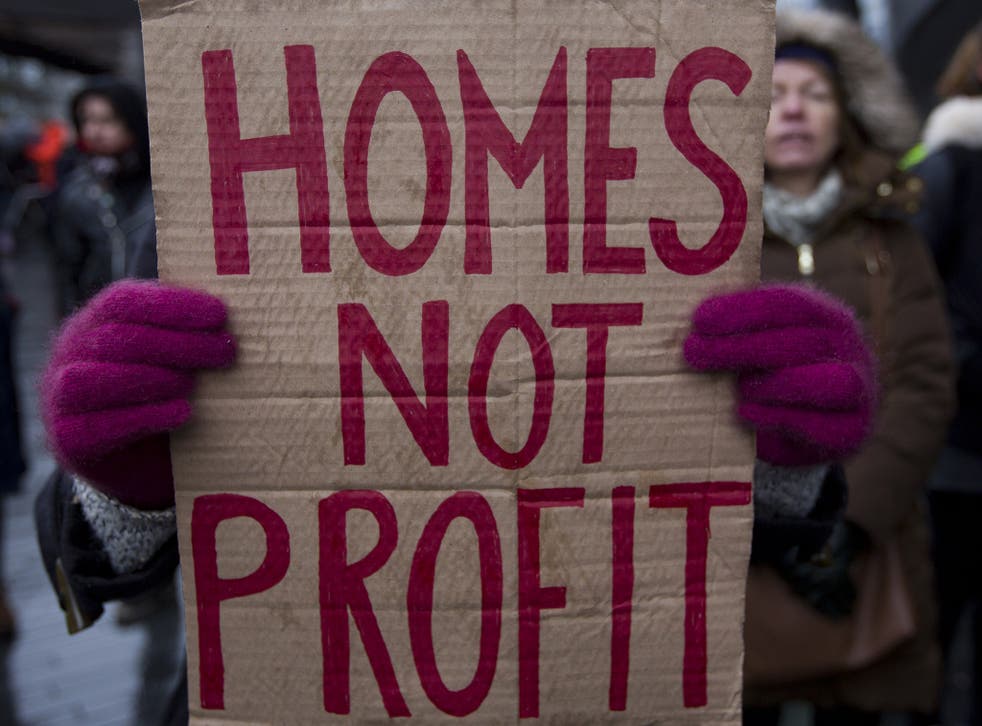 An official task force to tackle rogue landlords set up with great fanfare two years ago has not met once – and there is no plan for it to do so, ministers have admitted.
The Department of Communities and Local Government announced plans for an expanded cross-government team to help councils deal with problem landlords in 2013. It was, they said, designed to build on the work of a previous task force that had been established to tackle so-called "beds in sheds" rentals – where unscrupulous landlords were found to be illegally renting out outbuildings to migrant workers.
But in a parliamentary answer, Housing Minister Brandon Lewis has admitted that the new task force has not had a single meeting. Mr Lewis also admitted that its predecessor group had only met three times since it was established by the now Conservative Party chairman Grant Shapps in 2012.
The failure of the task force to meet is all the more surprising, given the enthusiasm of the Government's original announcement. It was supposed to hold a series of regular cross-Whitehall summits and include representatives from the police, the UK Border Agency, HMRC and local government.
Housing Minister Mark Prisk said at the time that he believed it was "unacceptable for rogue landlords" to "exploit vulnerable people and force their tenants to live in overcrowded and squalid conditions". He said the Government would commit £3m to "take on the rogue operators" and added: "They will also have the backing of a cross-government task force which will address the barriers councils face in tackling this issue, so together we can end the illegal exploitation of vulnerable tenants, and bring a better future to communities across the country."
But asked how many times this task force had met since then, his successor, Brandon Lewis, told shadow Housing Minister Emma Reynolds: "The beds-in-sheds task force was a specific initiative in 2012 to 2013, to hold a set of summits to bring together councils and central government to ascertain best practice and barriers to be removed to help ensure coordinated action against illegal outbuildings.
"Summits took place on 27 November 2012, 30 April 2013 and 1 July 2013. It was not an ongoing working group."
Last night Ms Reynolds said: "This revelation shows that the Government pays lip service to tackling problems in the private rented sector but isn't committed to actually taking action.
Top 10 'most desirable' places to live in the UK - 2014

Show all 9
"Beds in sheds and rogue landlords are an ongoing problem, so it's incredible that the Government would announce the expansion of this task force, only to admit that since then the task force hasn't actually met and has no intention of doing so."
Ms Reynolds said if Labour was elected it would introduce three-year stable tenancies, put a ceiling on rent rises over the course of the contracts, ban letting agent fees on tenants, and drive up standards.
Case study: First we had bedbugs – then eviction
Mitchell Platt, 25, co-founder of Resident Review
I was renting a student property in Liverpool in 2010 and the landlord was also the letting agent.
After four or five nights, I woke up covered head to toe in bites. The place was infested with bedbugs and our agent wasn't interested at all – they told us to put up and shut up.
Our university has a housing body, which was someone to turn to but they couldn't really do anything to help because they weren't prepared to get into a legal battle.
After six weeks, the council called in pest control – who said the bugs would cost thousands to exterminate. The next day, we woke up to an eviction notice. We packed our bags and left because we felt a bit threatened. Either way, we didn't have a valid tenant agreement – we realised the landlord had never actually signed the contract.
I took the landlord to the small claims court – not an easy process. One of my housemates had paid a term's rent on top of our deposit.
The agent fought it until the last minute but finally settled out of court. We put the money towards making a website called Resident Review, a platform for tenants to review accommodation and get unbiased advice
Register for free to continue reading
Registration is a free and easy way to support our truly independent journalism
By registering, you will also enjoy limited access to Premium articles, exclusive newsletters, commenting, and virtual events with our leading journalists
Already have an account? sign in
Join our new commenting forum
Join thought-provoking conversations, follow other Independent readers and see their replies