Worth drinking to: UK's oldest landlady toasts 50 years at Manchester's legendary Peveril of the Peak pub
Nancy Swanick has been pulling pints in time-capsule-like Victorian boozer for half a century - and has some stories to tell...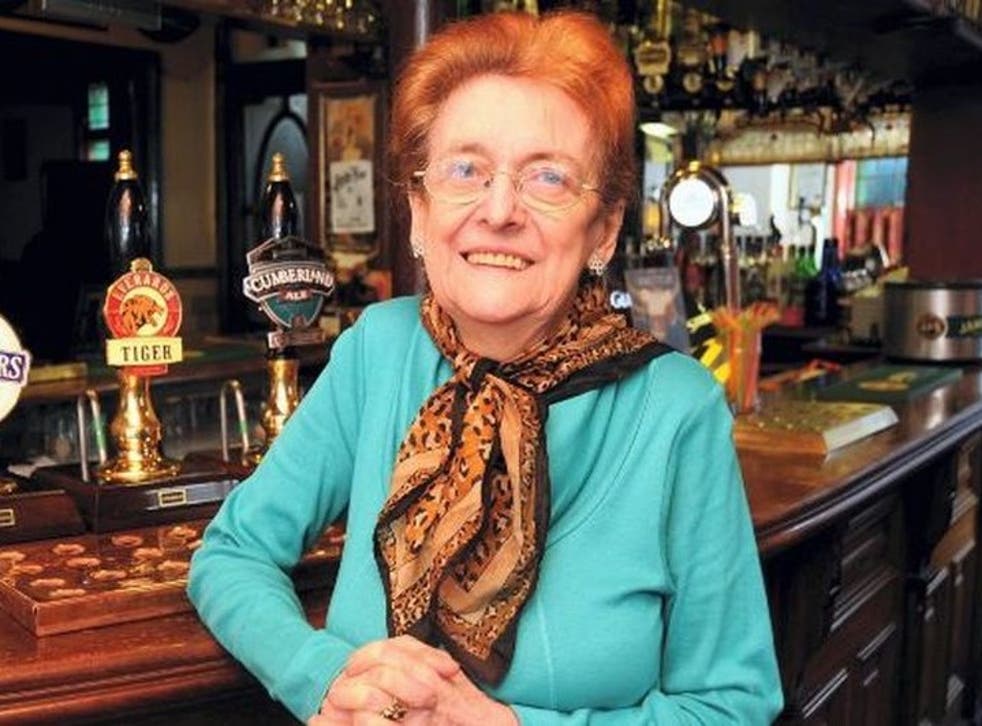 When Tommy Swanick first suggested to wife Nancy that they should take over the Peveril Of The Peak pub in Manchester, she told him – and imagine this in the accent of a no-nonsense County Donegal woman – no way, not a chance, over her dead body.
It was 1971 and the Victorian boozer (and one-time brothel) had something of a reputation. Textile warehouses and print works surrounded it. "You'd get lads coming in straight from work and not leaving until they'd spent their wages and had a punch up," remembers Nancy's son Maurice. "Mum told dad she wouldn't do it."
Fifty years on, Ms Swanick is, this weekend, toasting half a century in charge of what is now widely considered one of Manchester's great pubs.
Today, aged 91 and, with five great-grandchildren, she is thought to be both Britain's oldest and longest-serving landlady.
In her five decades here, the one-time mental health nurse has cleaned up its reputation, helped prevent city planners from knocking it down and brewery officials from turning it into a themed bar ("they wanted plastic palm trees"), and poured pints for everyone from Eric Cantona to the Gallagher brothers. All while raising her three sons, Paul, Thomas and Maurice, in the flat above.
So, the obvious first question: what changed her mind all those years ago? It was when Tommy first brought her to look at the place, she reckons: "A Sunday evening, I fell in love with it straight away."
The Pev – named after an 1823 novel by Sir Walter Scott – is, to be clear, no ordinary pub.
Stood in the city's historic Great Bridgewater Street, the surrounding neighbourhood has long changed since the days of those warehouses and factories. Today, glass skyscrapers tower above it. Within a five-minute walk there is a concert hall, a conference centre and couple of hotels. Apartment complexes are everywhere.
Yet amid the whirl of gentrification, this Grade II listed building – famously distinct because of its two-tone green exterior – stands out like an ode to another age. It looks like a time capsule and, to some extent, it is. Inside, the layout is thought to be much the same as when it opened in the 1820s – although, at some point, someone did add an indoor toilet. There's a central bar (with hatch), a snug, more stained glass than you could shake a china pint pot at and a room which, at one point, may have been for the wives and ladies. Think of George Orwell's Moon Under Water but with a whole host of Campaign for Real Ale awards to boot.
What a place to live.
"Aye", says Ms Swanick, sat in her armchair in her four-bedroom home above the bar. "I've certainly never been short of someone to have a yap with."
This is almost certainly true. It's barely after midday on Friday when The Independent arrives and every single outdoor table is already full. What's her secret to success? Not having any airs and graces, she reckons. Always being ready for a chat. Caring for your beer like you'd care "for a baby".
When she, Tommy and the three boys first moved here, they set about turning it around straight away.
They'd only had six months experience running another pub before but Tommy – a one-time foundry foreman who died of cancer in 1981 – said that, if anyone could get rid of the trouble-causers, it was his wife. "Mum's word tends to go," says Maurice, sat by her side. "I've seen her reduce grown men to boys being told off, 'How old are you? Would you behave like that in your own home?' So, it soon got around you didn't misbehave."
In those early years, some of the biggest customers were workers on their lunch. "They'd knock back three pints and a pie without blinking," says Maurice. "Then back for the afternoon shift."
These days, it's more of a mix: students, office workers, football fans, Saturday night regulars, and a smattering of tourists. In particular, they come from Scandinavia on stag parties, crawling around Manchester's real ale houses.
Eric Cantona came in a few times back when he played for Manchester United. He ended up taking on Maurice at table football once. Maurice won. By a quirk of fate, on Thursday, Eric was back. An advert for Euro 2021 featuring the mercurial Frenchman was being filmed at the pub. "He came in looking immaculate in his suit," says Maurice, himself a United fan. He didn't mention his table football defeat, mind.
Who else? Robbie Coltrane was a regular back when Cracker used to be filmed in the city. He'd phone up and ask if it was busy before heading in. Coronation Street once set a scene or two here. And Oasis had a photoshoot outside. This was just before their debut album was released. "Someone said they were going to be massive," says Maurice. "But this is Manchester – you get a lot of bands saying they're going to be massive."
For Ms Swanick - who moved to Manchester in 1950 - the real buzz comes not necessarily with celebrities but when she's reminded how much people love what she has created. Like the time last year a taxi driver dropped her off home and told her the fare was free for all the happy hours he'd spent there. Or, more recently, when she was getting her coronavirus jab.
"The nurse saw her address, the Peveril," explains Maurice, who was nine when the family moved into the flat and remains living (and working) here to this day. "She said, 'Is that your pub? I love it in there.' You never get tired of hearing that."
What else is she proud of? Seeing off the former brewery owners when, in the Nineties, they planned to strip out the place and turn it into a themed sports bar. "It would have been vandalism," she says. "I said: 'Not here, not if I have anything to do with it.'"
The brewery - wisely one feels - backed down. They paid for a refurbishment and restoration of its historic features instead.
But it's not all been plain sailing, of course.
Her eldest sons, Paul and Thomas, both died with cancer in quick succession in their 50s leaving her devastated. The last year, too, has been difficult. Financially, lockdown has not overly harmed the pub – which is owned by the Stonegate company – but both Maurice and his mother have found it difficult living over an empty boozer.
"Normally, even when you're not working, you'll be up here and you can hear all the life and the music downstairs," says Maurice. "I don't know if it sounds daft but you feel a real connection to the rest of the city in a place like this, you absorb its spirit. Then, to not have that, it's been eerie. It's been difficult to get our heads around."
Ms Swanick nods at this. Her severe arthritis means she hasn't yet been downstairs since the place reopened on Thursday. She'd been slowing down for some time already and says, while she will continue to oversee the business, she won't be behind the bar much from now on.
And yet still, even at 91, she's looking forward to the future.
There's to be a party later in the summer celebrating her 50 years in charge. And then? Although there's some debate over when exactly the Pev opened, the date of 1824 seems to have caught hold here. That means, in just three years, it will be the 200th anniversary.
"We'll have another party for that," smiles Ms Swanick. "To be sure, we'll celebrate that."
Register for free to continue reading
Registration is a free and easy way to support our truly independent journalism
By registering, you will also enjoy limited access to Premium articles, exclusive newsletters, commenting, and virtual events with our leading journalists
Already have an account? sign in
Register for free to continue reading
Registration is a free and easy way to support our truly independent journalism
By registering, you will also enjoy limited access to Premium articles, exclusive newsletters, commenting, and virtual events with our leading journalists
Already have an account? sign in
Join our new commenting forum
Join thought-provoking conversations, follow other Independent readers and see their replies