Olympic postboxes to stay gold, says Royal Mail
Alan Jones
Friday 02 November 2012 11:22 Comments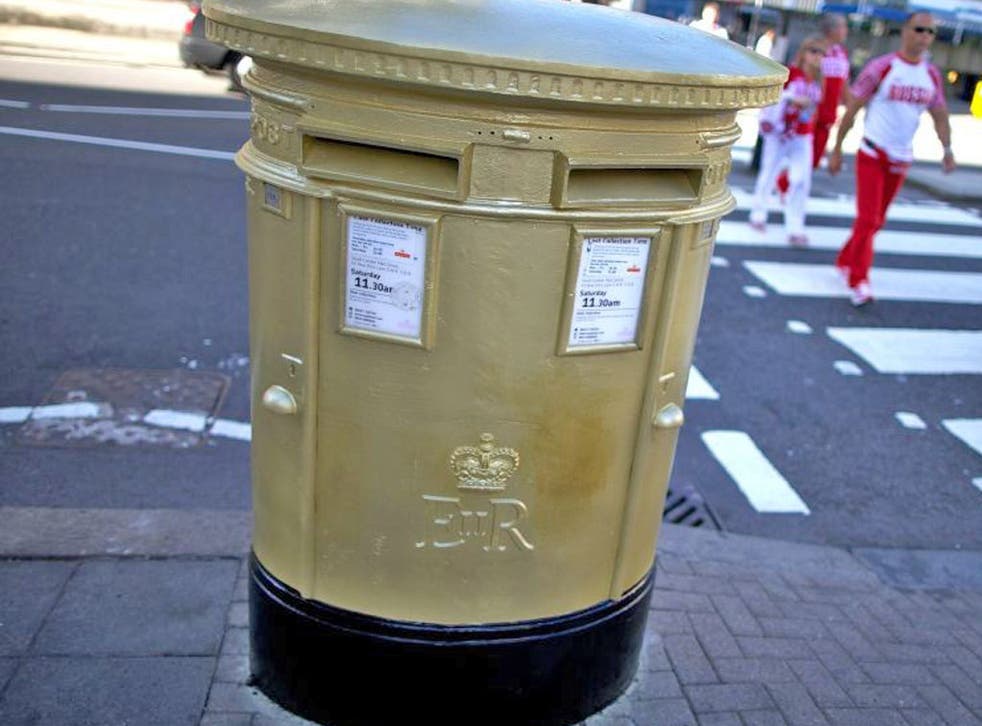 Royal Mail postboxes painted gold to celebrate Britain's Olympic winners will not be returned to red.
The company said 110 boxes painted gold across the UK will also have plaques attached, naming the successful athlete and their achievement.
The Royal Mail said it believed it was the first time it had permanently changed the colour of its distinctive red postboxes.
They were painted gold to mark gold medals won by Britons in the Olympics and Paralympics and have become "cherished local landmarks".
The most northerly is in Lossiemouth, in Moray, Scotland, to celebrate Heather Stanning's rowing victory with partner Helen Glover, who has a box painted gold in her honour in Penzance, Cornwall.
Royal Mail chief executive Moya Greene said: "We are delighted at the way people took to this simple idea.
"The gold postboxes gave communities even more opportunity to mark the successes of Team GB and Paralympics GB, and became a part of local celebrations of London 2012 across the UK. I am pleased to confirm that these postboxes will be kept gold permanently."
The gold-coloured postboxes are located in the home towns and cities of medal-winners.
Rower Tom James, who won a gold in the men's four at London 2012, said it is "fantastic" that his postbox in his hometown of Wrexham will stay gold forever.
He told the Press Association: "We train at Caversham and nobody really knows that we are there. It is quite an insular environment.
"For most of the Olympiad (the four-year build-up to the Games) nobody knows who we are necessarily.
"I think that this Olympics has seen an explosion of enthusiasm which, for us as athletes, is still something we are still trying to get to grips with.
"These boxes have been something that people are really proud of and look out for.
"The fact that it is staying gold forever is great because that is something that I will be able to show off when I have kids and hopefully grandkids.
"It is special. It has not sunk in."
PA
Register for free to continue reading
Registration is a free and easy way to support our truly independent journalism
By registering, you will also enjoy limited access to Premium articles, exclusive newsletters, commenting, and virtual events with our leading journalists
Already have an account? sign in
Join our new commenting forum
Join thought-provoking conversations, follow other Independent readers and see their replies