Only full skeleton retrieved from Battle of Waterloo in 200 years identified by historian after being found under car park
Historian says private from Hanover is rare find because Napoleonic war graves were raided by fertiliser companies so bones could be ground and spread on crop fields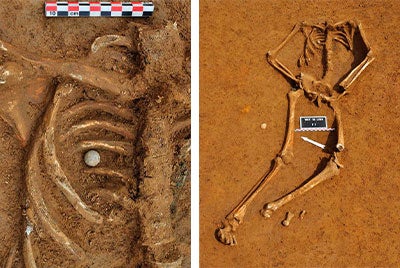 The 200-year-old skeleton found under a car park on the site of the Battle of Waterloo has been identified as a Hanoverian with a hunchback, fighting to liberate his homeland from Napoleonic occupation.
Military historian Gareth Glover believes the soldier to be Friedrich Brandt, 23, a private in the King's German Legion of George III, who was killed by a musket ball that was still lodged between his ribs when he was found in 2012.
Researchers identified a curvature of the spine but that didn't deter the man who Mr Glover believes was fighting for Britain to help liberate parts of his homeland that had been occupied by Napolean.
He said: 'He suffered from a curvature of the spine which meant he probably would have been rejected from any modern army in the world.'
Dominique Bosquet, an archaeologist working to recover the skeleton with the Walloon government in Belgium, said the find was 'unique'.
He told The Sunday Times: 'No other complete skeleton has been retrieved [from Waterloo] in 200 years.'
The soldier was unearthed in 2012 when a mechanical digger excavated an overspill car park near the Lion's Mound, a well-known area to those who have visited the historic battleground south of Brussels.
Tens of thousands of men were killed in the famous battle, 200 years ago on June 18, but Cardiff-based Mr Glover thinks he knows why it was such a rare find.
He said: 'Bone was considered a great fertiliser in the 1830s and 40s, so companies would raid former Napoleonic battlefields to collect the bodies of fallen soldiers and horses which would then be ground down and sold on to farmers.
'Dead bodies weren't thought of in the same way back then. Unless you were very wealthy, you were thrown in a mass grave and people didn't think much of it.
'It did eventually stop in the 1860s after a Yorkshire newspaper ran a campaign criticising farmers, highlighting that they were throwing the bodies of their relatives on the fields.'
The skeleton was found with a piece of wood bearing what was believed to be the initials CB, 20 coins in German and French money, believed to be equivalent to a month's wages, and an iron spoon, reports The Sunday Times.
Researchers concluded he was aged between 20 and 29 but tests on his uniform which the team at Waterloo had hoped would reveal which unit he was in failed to reveal the information they needed to identify him.
In an academic article due to be published next month, Bosquet writes that the Waterloo soldier will 'remain an anonymous victim of this bloody conflict', reports The Sunday Times.
Mr Glover might never have discovered the skeleton's identity had he relied on the initial evidence presented – a musket ball in his ribs, a box near the body with the initials 'CB' and some German coins in his pocket.
But when the archaeologists found an extremely faint 'F' before the 'CB', he began cross-referencing soldiers names against records showing which soldiers had fought in the battle.
There were only three German soldiers with those initials, all from Hanover, fighting for Wellington to liberate their country which had been invaded by Napolean in 1803. They were given barracks in Bexhill, East Sussex, by George III, who was also Governor of Hanover.
Mr Glover could discount one of the German soldier who had fought on a different part of the battlefield to where the skeleton was found. With a musket ball between the ribs, it's likely he would have died almost instantly so would not be found so far away from where he would have fought..
That left two on the death register with the initials FB, both on the second line battalion of the King's German Legion. Mr Glover then checked a different record, showing who received payment after the war. This revealed that an officer took the pay for one of the men who died from his injuries near Brussels nearly a month after the battle, leaving only Friedrich Brandt.
Mr Glover said: 'No-one can be 100% sure that the skeleton is Friedrich Brandt but with the information we have, this candidate is by far the most likely'.
Join our commenting forum
Join thought-provoking conversations, follow other Independent readers and see their replies