Operation Dib-dib-dib: how Nazis tried to infiltrate the Boy Scouts
National Archives reveal how MI5 was alarmed by Hitler Youth 'spyclists' surveying Britain's bridges and rivers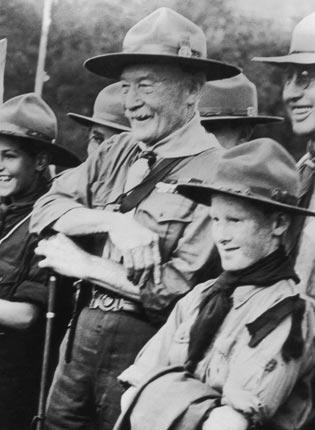 Lord Baden-Powell, the founder of the Boy Scouts, responded enthusiastically to a Nazi charm offensive aimed at aligning his movement with the Hitler Youth in the run-up to the Second World War, according to secret MI5 documents.
The colonial warrior, whose best-selling military training manuals started the Scouting phenomenon, was wined and dined by senior Hitler Youth figures and Joachim von Ribbentrop, the German ambassador to Britain, who made a lengthy plea in 1937 for the two organisations to be put in "closer touch".
The proposed alliance between the Scouts and the Hitler Youth, whose members were indoctrinated in anti-Semitism and told they would become "Aryan supermen", coincided with growing alarm in MI5 at a sudden influx of uniformed German youngsters taking part in pre-war cycling tours around Britain.
Amid newspaper warnings that the touring parties of Hitler Youth were "spyclists" gathering information on Britain's infrastructure, the head of the security service ordered police and Special Branch officers to report on the activities of the two-wheeled "fifth columnists" as they made their way around Britain from Surrey to Aberdeen and were treated to "sausage and mashed potato" suppers by Rotary Clubs and Scouts groups.
The documents, released by the National Archives in Kew, Surrey, reveal Baden-Powell's enthusiasm for the brown-shirted Hitler Youth during a visit to London by Hartmann Lauterbacher, the chief of staff of the Nazi organisation, in November 1937.
Noting approvingly that Lauterbacher, whose visit included tours of Eton and an Army physical training school, wanted to build strong ties between the British and German youth movements, Baden-Powell spoke in glowing terms of Von Ribbentrop, the senior Nazi who became the architect of Hitler's foreign policy. In an internal Scout Association memo obtained by MI5 about a dinner with Von Ribbentrop at the German embassy, Baden-Powell wrote: "I had a long talk with the Ambassador who was very insistent that true peace between the two nations will depend on the youth being brought up on friendly terms together in forgetfulness of past differences.
"He sees in the Scout Movement a very powerful agency for helping to bring this about if we can get into closer touch with the Jugend Movement in Germany. I told him that I was fully in favour of anything that would bring about a better understanding between our nations."
Baden-Powell, who later read Mein Kampf and praised it is as a "wonderful book", added that Von Ribbentrop had invited him to visit Hitler and he had lifted a ban on Scouts wearing their uniforms while visiting Germany in the hope that British youngsters would head off on visits to the Third Reich.
But in reality, the ageing Chief Scout, who died in 1941 aged 83, had fallen for an exercise in Nazi duplicity. While Von Ribbentrop was outwardly enthusiastic about an Anglo-German alliance, he had soured dramatically towards Britain and was privately advising Hitler of the inevitability of war with London. By the time of the outbreak of hostilities, Baden- Powell featured in the Black Book – the SS masterlist of people to be arrested if Germany successfully invaded Britain.
The documents show that while Baden-Powell was receptive to the overtures of the Nazis, MI5 felt obliged to investigate public concerns about the sudden appearance of Hitler Youth in the UK. Reports from Special Branch officers detail the movements of cycling parties in locations from Caernarfon to Spalding and Harwich to Aberdeen to assess whether they were on a clandestine intelligence operation.
Public suspicion was heightened when the magazine German Cyclist offered some advice on what its members might do while riding abroad.
It said: "Impress on your memory the roads and paths, villages and towns, outstanding church towers and other landmarks... Note the names, places, rivers, seas and mountains. Perhaps you may be able to utilise these some time for the benefit of the Fatherland.
"Should you come to a bridge which interests you, examine its construction and the materials used. Learn to measure and estimate the width of streams. Wade through fords so that you will be able to find them in the dark."
The secret files suggest that no evidence was found of espionage by the Hitler Youth but also record how the British government "strongly deprecated" any entente cordiale with the Scouts. An intelligence manual issued to MI5 and MI6 agents in 1944, warned: "The Hitler Youth is not a Boy Scout organisation. It is in no respect comparable to any organisation for young people known to the Western World.
"It is a compulsory Nazi formation, which has consciously sought to breed hate, treachery and cruelty in the mind and soul of every German child. It is, in the true sense of the word, 'education for death'."
The spy files: Other new revelations from Kew
Too drunk to be a threat to security
*Brendan Behan, the Irish playwright and some-time IRA activist, made no secret of his liking for a tipple. As he put it: "I only drink on two occasions – when I am thirsty and when I'm not."
According to his secret MI5 dossier, his opinion of himself as a drunk was shared by the British Security Service as it tracked his activities from an attempt to murder two Irish police officers at the age of 19 to his response a decade later when he was arrested at Newhaven docks that: "I will explain everything, but not now as I am suffering from a hangover".
The file released at the National Archives in Kew, west London, shows that MI5 officers reached the conclusion that the maverick Irish wit and raconteur was such a boozer that he was not a serious threat.
Behan, who died at the age of 41 and was best known for his play the The Quare Fellow and his book Borstal Boy, spent eight years in prison for a series of IRA attacks carried out when he was a young man, including an unauthorised solo mission to blow up Liverpool docks.
His record of violence meant MI5 watched him for the rest of his life even though he apparently halted his attacks in 1947.
But his personal file, which details how his post was intercepted and his phone calls tapped, shows that the Security Service quickly reached the conclusion that Behan's dissolute behaviour meant he was a danger only to himself.
One report, dated June 1956, stated: "The attached note on Brendan Behan may possibly be of interest. Source considers that as an individual he is too unstable and too drunken to be particularly dangerous."
Another document summarises a telephone call between Behan and Communist Party organiser Barbara Niven in August 1957 in which the playwright said he was "where he always was – he was not an English man, he was a communist; the comrades did not always agree with him". The MI5 officer noted: "I assumed from the above conversation that Brendan was either a little mad or drunk."
'A potential menace wherever she was'
*A glamorous suspected Nazi agent caused a scandal when she developed a "most undesirable familiarity" with British intelligence officers in wartime Cairo. One married officer asked Sophie Kukralova to be his wife and a second threatened to have her arrested as a spy unless she slept with him, according to declassified MI5 documents.
Kukralova was arrested and interned by the British in Palestine during the war after arousing suspicion for her close interest in military matters, unexplained wealth and claims of top-level links to the Nazi regime.
A March 1944 report to MI5 noted: "With her cosmopolitan and unscrupulous character, her interest in espionage, her unusual knowledge of armaments and military affairs, Sophie would, if released, be a potential menace to security wherever she was."
German documents uncovered by British intelligence after the war suggested that Kukralova was indeed a spy, codenamed R 37 49, who had planned to acquire a British passport so she could travel to Bombay to arrange contacts for another Nazi agent.
Join our commenting forum
Join thought-provoking conversations, follow other Independent readers and see their replies