London's Old Compton Street shows solidarity with Orlando shooting victims
Although they are separated by an ocean, Orlando's Pulse and the gay bars of London offer the same thing - a place to be yourself, and a safe haven - and thousands gathered to show it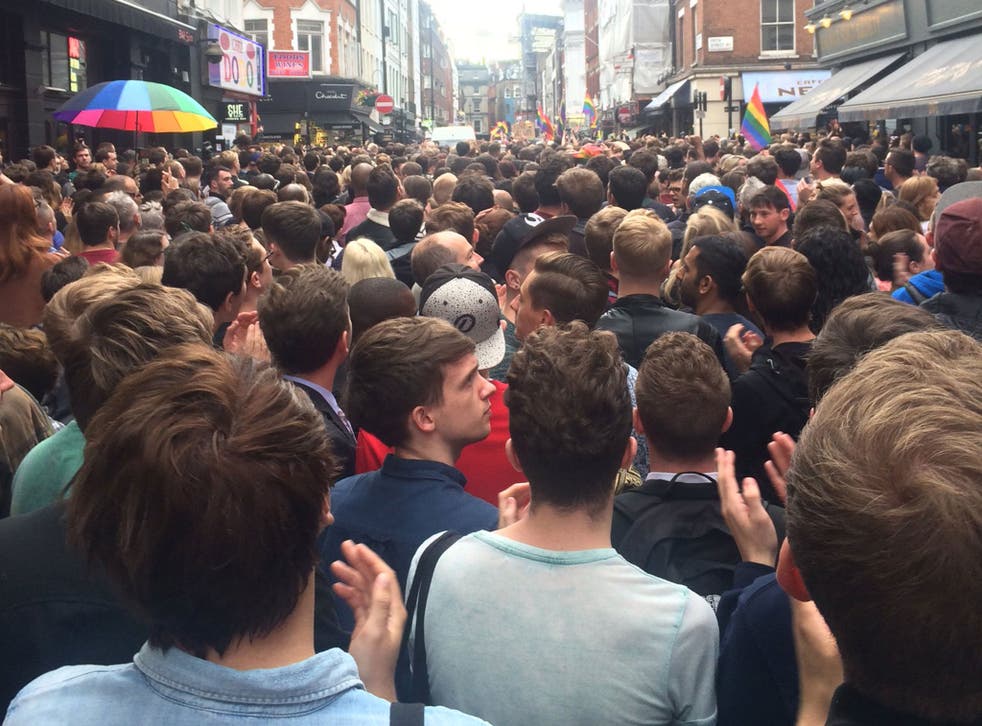 "It was absolutely beautiful," he says, "I felt my heart lifting. You didn't need to be afraid here. You could be accepted."
He met his boyfriend Neil – the first boyfriend he dared have – in this street, in one of the bars. Coming to London as a student 22 years ago, he had escaped what was then the hostility of post-Communist Poland.
"There," he says, "At that time, you always had to hide yourself. You felt like you were in some sort of cage. Here you could be free."
Vigil in Soho for victims of Orlando shooting
Small wonder, then, that for Mark and many of his friends, the gay bars of Old Compton Street and Soho can never be just bars.
"They are more than that," says Mark, 50 and now a lorry driver. "They are places of safety. They are like visiting family."
Small wonder, too, that the mass shooting at the Pulse bar in Florida has hit home so hard in Soho – to the point that at 7pm tonight they will hold hands along Old Compton Street in solidarity with the American venue and those who were murdered there.
"It's like losing someone from your family," says Mark. Because, although an ocean may have separated them, in the things that really matter, the Pulse and the gay bars of London are the same.
Jeremy Joseph, owner of G-A-Y, talks about Orlando mass shooting
Pulse was co-founded by Barbara Poma in honour of her older brother John, who died of Aids in 1991, with the name Pulse chosen to symbolise John's heartbeat. And honour him the club most certainly did. It became, in the words of Daniel Leon-Davis, who grew up 10 minutes away from the club and first visited it as a high school student, "a community centre. It was where you went to be yourself. To get away from hate. To be free".
In pictures: The victims of the Orlando shooting

Show all 44
"The first time I ever entered Pulse," Leon-Davis wrote on the Fusion website, "Everything changed. Pulse was where I learned to love myself as a gay man." And there were hundreds like him, as the social media reaction to his article proved. Pulse was the first gay bar they had visited, or, as one man put it: "Pulse saw me grow from a closeted individual to an out proud gay man."
Jeremy Joseph, the owner of G-A-Y on Old Compton Street, and of Heaven nightclub, can tell similar stories. "There is a complete bond with Pulse" he says. "I have people coming up to me and saying 'Thank you for running this place. I come from a small town. There are no gay bars there. This is my only escape.' These places are safe havens, as well as bars."
"When you live in London," he adds, "you sometimes forget how good things are."
Although even here, in London, there is a limit to how good things are. Many Soho venues show a palpable nervousness about their names being published, about standing out too much. And that is not all about the Pulse attack. It's partly an ingrained, fatalistic caution, a recognition that violent homophobes were around long before Isis. Mark recalls that he walked past the Admiral Duncan pub 10 minutes before it was bombed, with the loss of three lives, in 1999. So no, he doesn't want us to know his surname.
Jeremy Joseph, as much one of the organisers of Monday's solidarity ceremony as anyone can be of something so spontaneous, says that waking up to the news of the Pulse massacre was "my worst nightmare come true: "We are living in a time where, as a venue, we are facing constant threat. He stresses, however, that the threat is faced by all London venues, not just LGBT ones: "In Madrid they targeted a train. In Paris they struck against a concert hall. Everyone is under threat."
He hopes to revisit Pulse one day. He urges others to do the same, to make the club a safe haven once more. "I hope Pulse re-opens and re-opens strong," he says. "I don't know how they will recover, but they will. Because you have to. Pulse has to be part of the community again."
When they hold hands in Old Compton Street, it will be about community, paying respects to those who died, those who were wounded and their families. It will never be about the killer. "The murderer hasn't won," explains Joseph. "He will never win."
In Old Compton Street, after all, they are not just out, but out and proud. Finishing his lunchtime pint, Mark looks me straight in the eye. "I would rather die gay," he says, "Than live as a terrorist."
Join our new commenting forum
Join thought-provoking conversations, follow other Independent readers and see their replies