Osama bin Laden's family members killed in plane crash at Hampshire's Blackbushe Airport
Saudi media said the late al-Qaeda leader's stepmother and half-sister died
Lizzie Dearden
Saturday 01 August 2015 22:21 Comments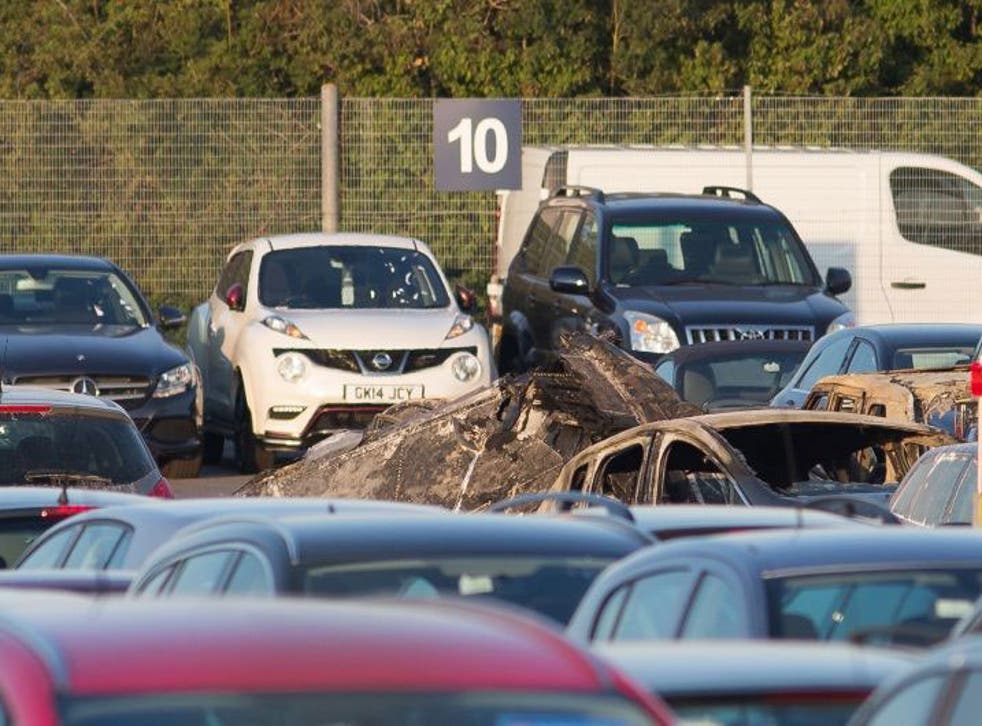 Osama bin Laden's stepmother and half-sister were among four people killed in a plane crash in Hampshire, it has emerged.
The women were among three passengers and a pilot on the private Saudi jet when it crashed into a car auction site at Blackbushe Airport, exploding into flames.
Saudi Arabia's ambassador to the UK, Prince Mohammed bin Nawaf bin Abdel-Aziz, offered his condolences to the Bin Laden family in a statement, which did not identify the crash victims by name.
"His royal Highness…offered his condolences to the sons of the late Mohammed bin Laden and their relations for the grave incident of the crash of the plane carrying members of the family at Blackbushe airport," he said, according to a translation by Al Jazeera.
Saudi media identified Osama bin Laden's stepmother and half-sister as among those killed in the accident.
Their Embraer Phenom 300 jet crashed after attempting to land on the airport runway on its arrival from Milan at around 3.10pm on Friday.
Aerial images showed that the plane hit parked cars metres from the tarmac, destroying around 15 vehicles on impact.
Andrew Thomas, who was paying for a car at the time, told BBC Surrey that the plane "nosedived" and "exploded on impact".
Barry Wright, who was also at the auction site, told the broadcaster that the plane "went up in a ball of flames...followed by several explosions".
Police, who said there were no survivors, said no one on the ground was injured and appealed for witnesses to come forward.
Osama bin Laden, the Saudi-born leader of al-Qaeda, was shot dead in a covert US military operation at his home in Pakistan in 2011.
His wealthy family, who are prominent in Saudi Arabia because of their large business empire, severed all ties after he turned to jihadism and disowned him before the 11 September attacks.
Police have launched a joint investigation with the Air Accidents Investigation Branch.
Additional reporting by PA and AP
Register for free to continue reading
Registration is a free and easy way to support our truly independent journalism
By registering, you will also enjoy limited access to Premium articles, exclusive newsletters, commenting, and virtual events with our leading journalists
Already have an account? sign in
Join our new commenting forum
Join thought-provoking conversations, follow other Independent readers and see their replies