Owl survives after spending night with head stuck in car's front grill
"We deal with a lot of owls injured in road accidents, but I've not seen something like this before," said Dolly Cook, from Suffolk Owl Sanctuary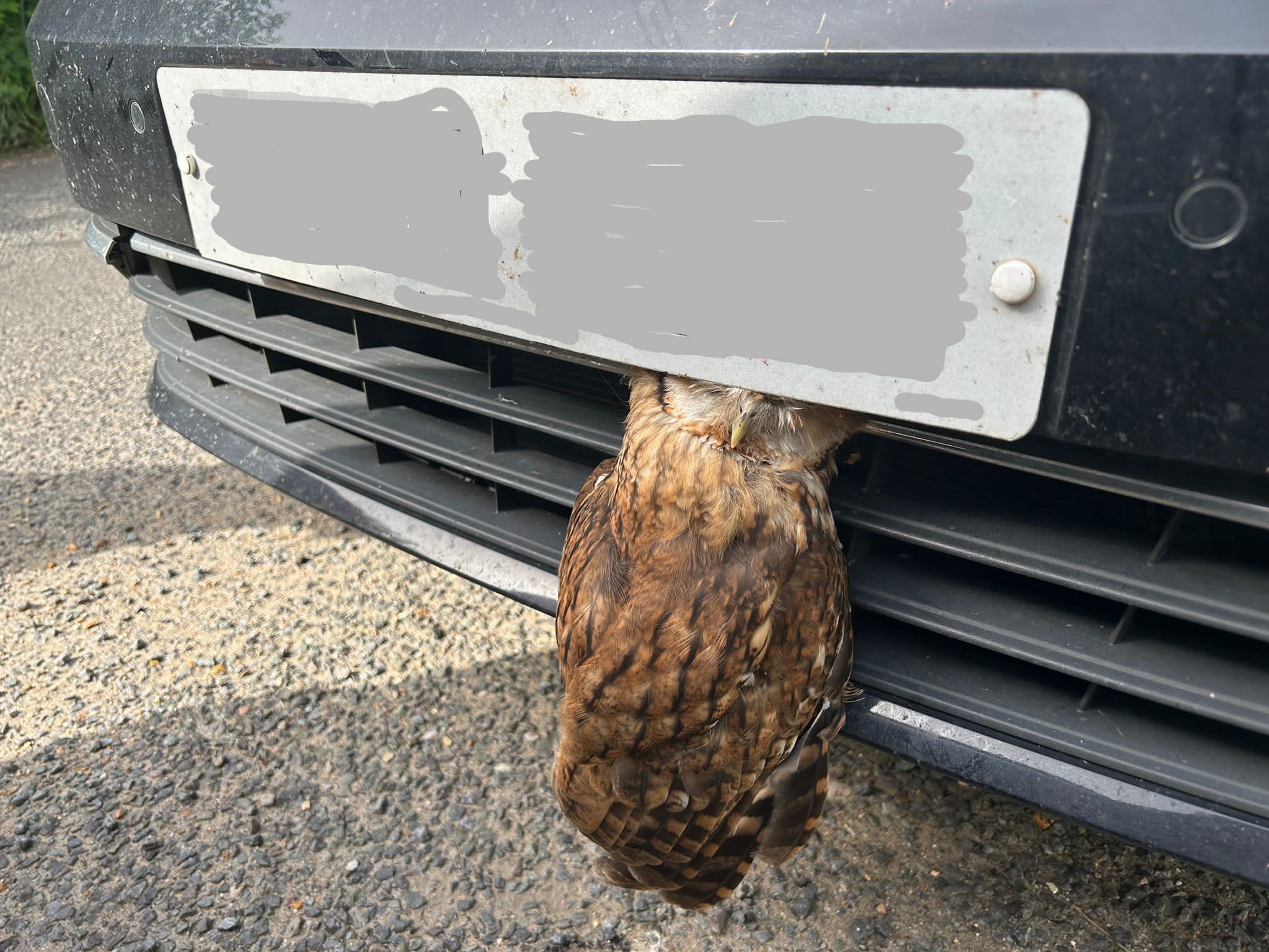 A tawny owl has made a miraculous recovery after getting its head stuck in the grill of a car overnight.
Suffolk Owl Sanctuary in Stonham is no stranger to badly injured owls that are brought into the centre after being hit by cars.
However, Dolly Cook, the Sanctuary's animal and bird trainer, was surprised when a holidaying couple brought in a tawny owl that had got stuck in the grill of their car.
Ms Cook said: "The couple saw the owl fly down into the road but didn't feel an impact so thought that the owl was fine.
"The theory is that it must have taken off straight into the grill of the car and got its head wedged.
"He spent the night hanging from the car like this until the couple found him the next morning and brought him into us.
"We deal with a lot of owls injured in road accidents, but I've not seen something like this before. It is very unusual that the owl survived."
The tawny owl had suffered severe bruising and swelling around its head during the incident and was initially kept in the peace and quiet of the on-site Raptor Hospital.
But after a few days, staff at the hospital have managed to nurse it back to health and it is due to be released back into the wild soon.
Ms Cook added: "He is now outside in the aviary, hopping around and eating, so his eyesight seems to be fine.
"The swelling has gone down and he is doing really well.
"We plan on releasing him in the next few days near Laxfield - but away from the road."
Ms Cook asks that people who rescue injured birds are asked to take them to a professional sanctuary where they can be better cared for than by people tending to them in their own homes.
Join our commenting forum
Join thought-provoking conversations, follow other Independent readers and see their replies