Owner of Gloucestershire mansion featured in Sherlock chooses to live in smaller home
Sir David McMurtry hosts charitable events, and fashion and film shoots at the property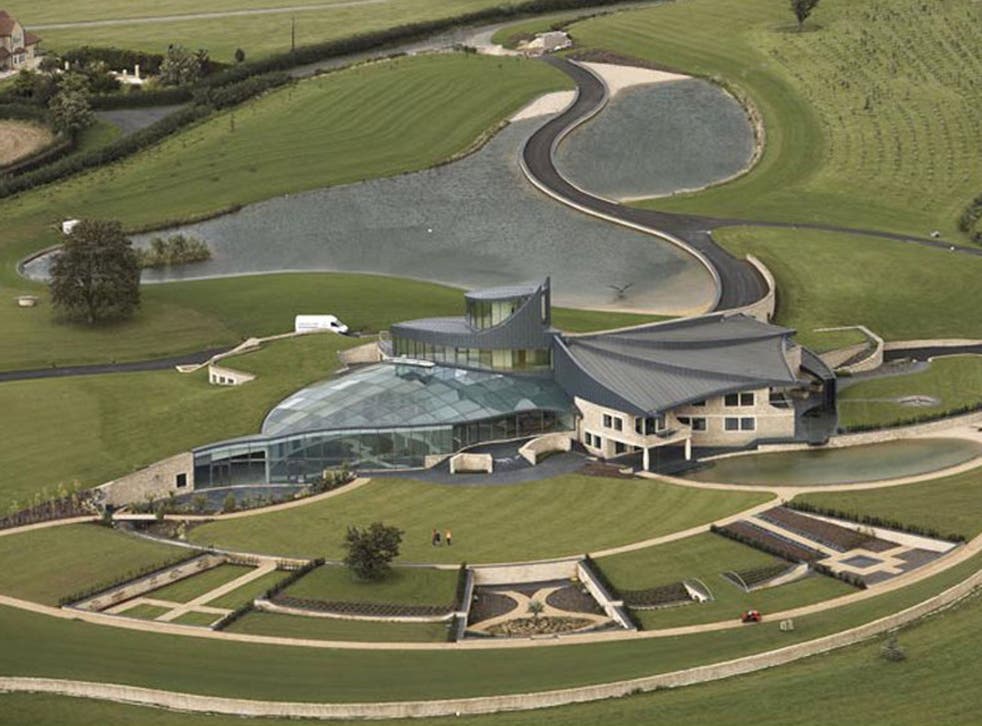 The owner of the futuristic villain's mansion used in the final episode of the BBC's Sherlock does not live in the property, as his wife thinks the estate is too flashy.
Swinhay House in Gloucestershire, renamed Appledore in the BBC drama, is owned by Sir David McMurtry – the boss of the precision engineering firm Renishaw.
Sir David, who was knighted in 2001, told The Telegraph that his wife Terry prefers more modest living instead of the Cotswold stone and metal-clad mansion, whose atrium alone spans twenty six metres.
The fictional home to the villain Charles Augustus Magnussen in Sherlock boasts 10 floors across three wings, with a bowling alley, a squash court, panorama room, a 14.5 metre high viewing tower, and an adjustable 25 metre floating-floor swimming pool.
It also has eight bedrooms, an eight bay underground garage, and a fully enclosed, and glazed winter garden. A highly sophisticated computer controls the house's environmental systems.
Sir David helped architects design the 30,000sq ft residence. It was given planning permission as a so-called Millennium Mansion in 2000, which saw houses of exceptional architectural interest be built within green belt land.
Sherlock series three in pictures

Show all 17
As well as a setting for Sherlock, the mansion has been used for fashion shoots and last year staged an open-air performance of A Midsummer Night's Dream.
The mansion is frequently used to host charity fund-raising events hosted by Sir David.
Sir David and Renishaw co-founder John Deer manufacture metrology devices that are crucial to every car on the road and plane in the skies.
He donated the proceeds from recording the drama at his property to charitable causes.
Video: Sherlock - series 3
Register for free to continue reading
Registration is a free and easy way to support our truly independent journalism
By registering, you will also enjoy limited access to Premium articles, exclusive newsletters, commenting, and virtual events with our leading journalists
Already have an account? sign in
Register for free to continue reading
Registration is a free and easy way to support our truly independent journalism
By registering, you will also enjoy limited access to Premium articles, exclusive newsletters, commenting, and virtual events with our leading journalists
Already have an account? sign in
Join our new commenting forum
Join thought-provoking conversations, follow other Independent readers and see their replies