Oxford is the least affordable city in the UK, where houses cost 11 times local salaries
The university city topped a list compiled by Lloyds Bank, which looked at the ratio of house prices to earnings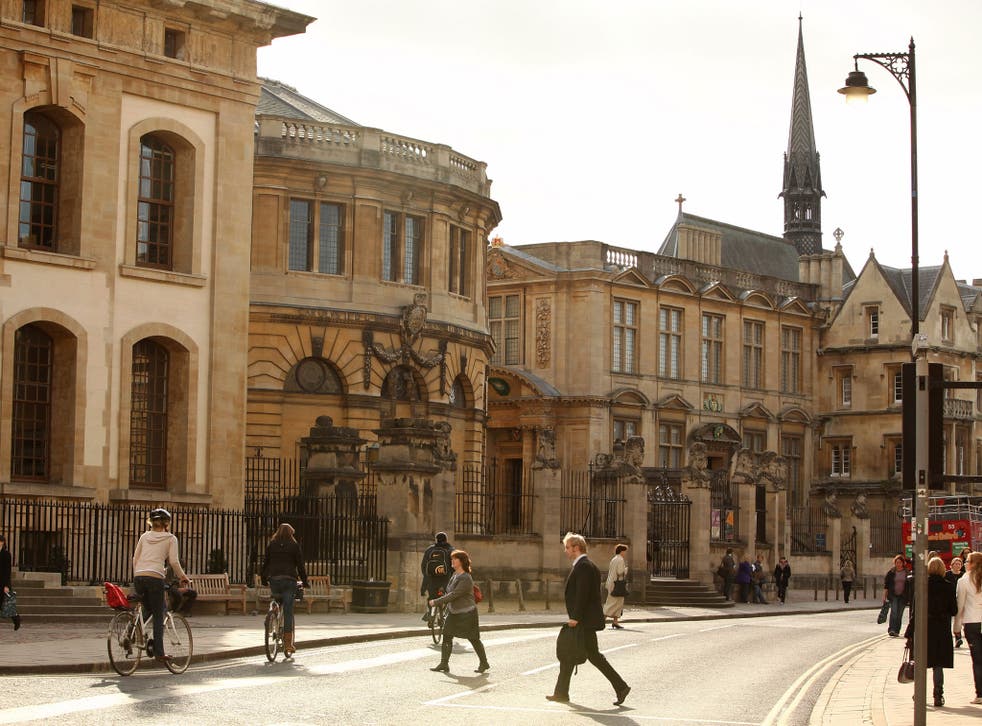 Living in a city is becoming increasingly less affordable as house prices recover, a report has found.
On average, homes in British cities now cost 5.8 times the typical local salary, according to the research by Lloyds Bank. This is up from 5.6 times last year, and markedly above the levels common in the 1980s and 1990s.
The average property now costs £184,215.
The university city of Oxford was named the least affordable city, with the average property costing 11.25 times earnings, or £340,864.
However, the report pointed to the large numbers of people living in Oxford who commute to London to work as part of the reason why house prices there are particularly out of step with local wages. A year ago, a house in Oxford cost 9.8 times local earnings.
Winchester came second on the list, with houses costing on average 9.65 times earnings. Truro, Bath and Brighton and Hove completed the top five most expensive cities in which to purchase property.
The UK's top 10 least affordable and top 10 most affordable cities

Show all 21
The highest performing area in London was Westminster, which came in at seventh place, with homes costing on average 7.6 times local salaries.
The most affordable city to live in was Stirling, where homes cost on average 3.3 times earnings, or £132,734.
This was followed by Londonderry, Newry, Belfast and Bradford.
The gap in affordability between north and south is continuing to widen. Lloyds said the top 15 affordable cities in which to purchase property are in Scotland, Northern Ireland or the north of England, and the next five on the list are in the midlands or Wales.
The top 20 list of least affordable cities contained only three metropolises outside of the south: Lichfield, Leicester and York.
The UK housing market has picked up sharply in some areas over the last year amid Government schemes such as Help to Buy, which have unleashed a wave of fresh demand into the property market from people who had previously struggled to get access to a mortgage.
But critics of Government mortgage initiatives have argued that the supply of homes coming to the market is not keeping up with growing demand, which they say is putting an upward pressure on house prices and putting some buyers in danger of over-stretching themselves.
Pundits have said mortgage borrowers should start thinking now about how they will cope when the Bank of England base rate eventually starts to climb back up again. The bank rate has been at a historic low for five years, helping to keep mortgage payments relatively affordable.
Despite affordability worsening over the last year, the cost of buying a city home has improved compared with the peak of the market in 2008, when property prices in cities cost around 7.2 times earnings. Affordability is also slightly better than 10 years ago, with urban property prices costing 5.9 times wages typically in 2004.
And although wages have risen slowly for most workers in recent years, Lloyd's said that average earnings for people living in cities have risen by 23 per cent over the last decade, compared to a 22 per cent increase in city property prices.
"Over the last five to ten years, affordability has marginally improved in most UK cities, as increases in earnings have kept up with house price rises in that time," Marc Page, Lloyds Bank mortgages director, said.
"However, the economic and lifestyle benefits often associated with residing in cities are continuing to drive demand, especially in the south of England.
"With city house prices continuing to rise, affordability deteriorated slightly last year, but the trend since 2009 is positive for the majority of UK cities."
Housing Minister Kris Hopkins said: "We're determined to ensure anyone who works hard and wants to get on the property ladder has the help they need to do so wherever they live, which is why we've introduced schemes like Help to Buy, which enable people to buy with a fraction of the deposit they would normally need.
"Since 2010, we've been helping over 110,000 people become homeowners through our schemes, and our efforts to cut the record deficit we inherited has helped keep interest rates at a record low, and home ownership is now at its most affordable since 2007.
"Leading developers have said they'll build more as a direct result of this increased demand, on top of the 420,000 new homes we've delivered since 2010."
Lloyds used the house price database of sister bank Halifax for its research as well as Office for National Statistics (ONS) earnings figures.
Halifax reported last week that house prices across the whole of the UK lifted by 7.9 per cent year-on-year in February, marking the strongest annual growth seen since 2007. But it also said that UK-wide, house prices are still sitting at around 10 per cent below their pre-financial crisis peak.
Lloyd's analysed 62 large towns and cities across the UK. The City of London, Wells, Armagh, Ripon, St Davids, St Asaph and Bangor were excluded due to small sample sizes.
The UK affordability index
Ratio of house prices to earnings
Least affordable
1. Oxford, 11.25
2. Winchester, 9.65
3. Truro, 8.57
4. Bath, 8.05
5. Brighton And Hove, 7.94
6. Chichester, 7.71
7. Westminster, 7.60
8. Salisbury, 7.40
9. Cambridge, 7.32
10. Southampton, 7.15
Most affordable
1. Stirling, 3.30
2. Londonderry, 3.56
3. Newry, 3.90
4. Belfast, 4.12
5. Bradford, 4.15
6. Lancaster, 4.28
7. Lisburn, 4.29
8. Salford, 4.45
9. Glasgow, 4.51
10. Durham, 4.60
Additional reporting by Press Association
Join our new commenting forum
Join thought-provoking conversations, follow other Independent readers and see their replies