Oxfordshire fishery facing legal action over 'No Eastern Europeans' sign
Owner of the lake insists he is 'doing the right thing' by banning 'thieves'
Benjamin Kentish
Tuesday 19 December 2017 18:12 Comments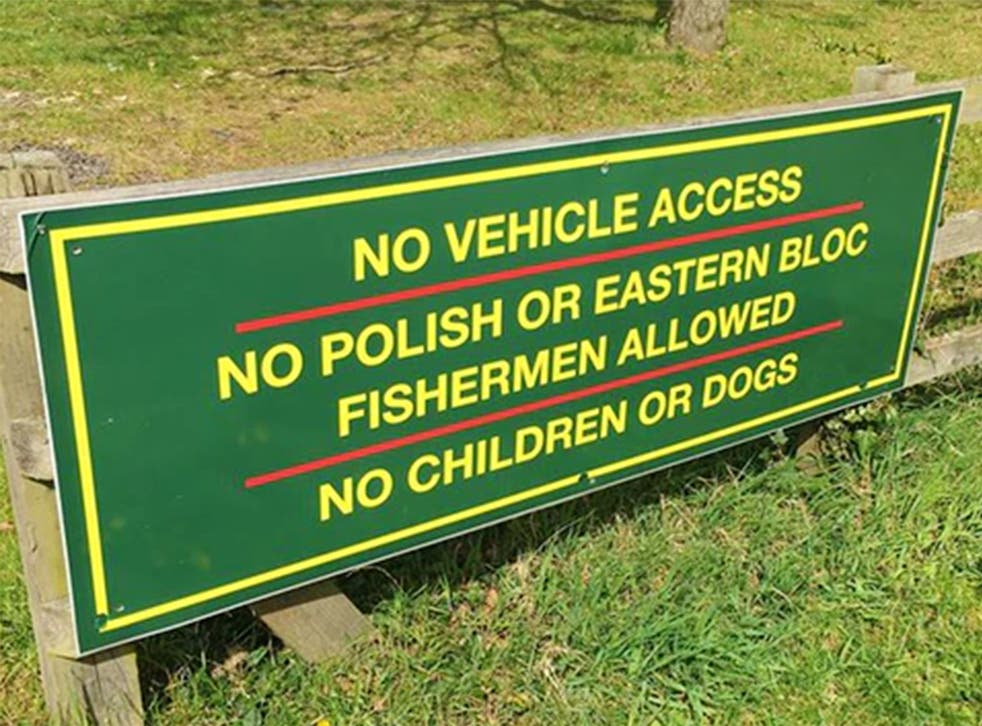 The owners of a fishing lake in Oxfordshire are facing legal action after banning Eastern Europeans from using the site.
Field Farm Fisheries, near Bicester, displays a large sign declaring: "No Polish or Eastern Bloc fishermen allowed. No children or dogs".
After refusing to remove it, the owner is now being taken to court by a Polish angler named Rado Papiewski.
He says the fishery, which describes itself as "picturesque, tranquil and idyllic", has not replied to letters from him or the Equality and Human Rights Commission (EHRC) requesting that the sign is removed.
Mr Papiewski works for the Angling Trust, which has contributed £2,000 towards the cost of his legal battle. He hopes to raise a further £5,000 by 9 January and estimates that, in total, the case could cost up to £11,000.
The keen fisherman has set up a crowdfunding page, which has already seen more than 300 people donate a total of almost £6,300.
On the page, Mr Papiewski wrote: "Recently I came across a very disturbing and discriminatory sign that said 'No Polish or Eastern Bloc fishermen allowed'. The sign was displayed at a private fishery, which made many fellow law-abiding migrant anglers and me very upset and angry.
"This disturbing sign should have never been displayed as it clearly discriminates against people from Poland and other Eastern European countries."
Mr Papiewski said he had spoken with the owner of the fishery who had refused to remove the sign and said he did not want migrants using the site because he believes they will steal from him.
The police told him it was not a matter for them and communication from the Equalities and Human Rights Commission (EHRC) failed to remove the sign, he said, forcing him to pursue a private prosecution.
He said: "I believe this sign is very discriminatory to all migrant anglers who live and fish in this country. I felt that I need to take some action - and I promised anglers that I will do everything I can to have it removed."
UK news in pictures

Show all 50
His lawyers are expected to claim that the sign is a breach of the Equality Act 2010, which bans discrimination on the grounds of race and nationality.
Mr Papiewski runs a project called "Building Bridges" that aims to build connections between English anglers and those from other countries. There are sometimes misunderstandings between groups because European anglers are used to keeping the fish they catch, whereas Britons generally throw them back.
In an update posted on Facebook, Mr Papiewski said his lawyers are "starting to work on further actions" and thanked all those who had donated so far.
"The power of common problem-solving is huge", he added.
But Billy Evans, the former Conservative councillor who owns the fishery, refused to back down.
He told the BBC: "I shall still stand up for what I believe in.
"If they want to call me a racist for stopping thieves from coming on my private property that's what they'll do.
"I know I'm right and I'm doing the right thing."
Register for free to continue reading
Registration is a free and easy way to support our truly independent journalism
By registering, you will also enjoy limited access to Premium articles, exclusive newsletters, commenting, and virtual events with our leading journalists
Already have an account? sign in
Join our new commenting forum
Join thought-provoking conversations, follow other Independent readers and see their replies