Paper publishes Nazi-style salute picture of British soldiers in Afghanistan
One MP dubs the picture an 'insult to the memory of those who gave their lives to stop the Nazis'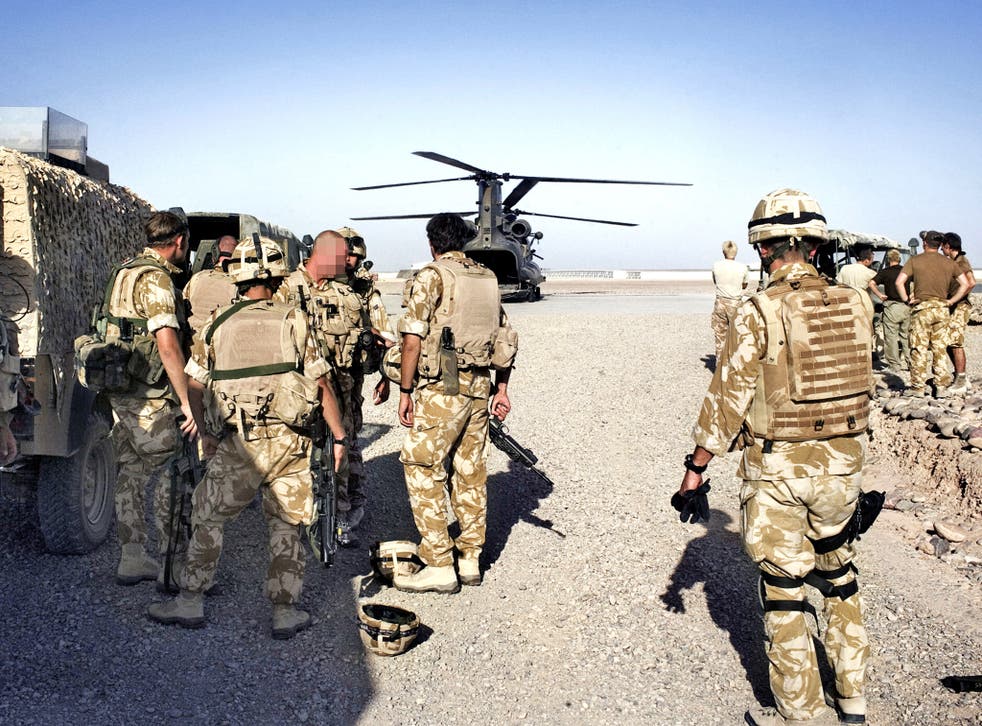 A Sunday newspaper has published pictures of British soldiers making what appears to be a Nazi salute whilst serving in Afghanistan.
The Mail on Sunday's front-page image show four soldiers standing in front of a union flag and a Northern Ireland flag. In it, two of the men are making the salute.
The Ministry of Defence confirmed that the men were serving soldiers when the photo was taken, adding that the pictures were more than three years old and had been available on the internet for some time. The ministry said the soldiers were dealt with by their chain of command, but is not known if they were dismissed.
Whether a Nazi salute was intended was not immediately clear. As well as the Northern Ireland flag in the background, the Union Flag which the men stand it front of has written on it: "Invicta Loyal," the name of a Kent-based supporters club for Scottish football team Rangers.
The club has a long history of Northen Irish Loyalism, and were investigated by Uefa in 2007 over similar salutes made by their travelling fans at a match in Tel Aviv, Israel.
The club told Uefa it was a Loyalist gesture, a sign of the Red Hand of Ulster. Though that explanation was accepted and no further action taken, the club urged fans to stop making the symbol, for fear of misinterpretation.
But Sammy Wilson, a Democratic Unionist MP, said: "This is not a salute made by marching bands (in Northern Ireland).
"It is not clear what the context is but I do not think it can be explained away as some type of Red Hand of Ulster salute."
And Jeffrey Donaldson MP, of the Democratic Unionist Party, added: "Anyone who would imitate a Nazi salute in front of the Union Flag or wearing the uniform dishonours these flags and the British Army.
"Any symbolism associated with fascism has no place in the Unionist tradition or any regiment of the British Army.
"We do not know to which regiment these soldiers belong, but the Royal Irish Regiment, with which I am associated, has a proud record of fighting fascism."
John Mann, chairman of the Commons' All Party Group Against Anti-Semitism, told the newspaper: "This is an insult to the memory of those who gave their lives to stop the Nazis.
"These idiots need to be re-educated and they should be sent to visit Auschwitz and see what happened there and witness the evil which so many people fought to stop."
Register for free to continue reading
Registration is a free and easy way to support our truly independent journalism
By registering, you will also enjoy limited access to Premium articles, exclusive newsletters, commenting, and virtual events with our leading journalists
Already have an account? sign in
Register for free to continue reading
Registration is a free and easy way to support our truly independent journalism
By registering, you will also enjoy limited access to Premium articles, exclusive newsletters, commenting, and virtual events with our leading journalists
Already have an account? sign in
Join our new commenting forum
Join thought-provoking conversations, follow other Independent readers and see their replies