Paris attacks: Cafe Bonne Biere re-opens after Isis massacres
The manager of la Bonne Biere said local people were 'bouncing back', adding: 'We're showing we are stronger than them'
Lizzie Dearden
Friday 04 December 2015 14:16 Comments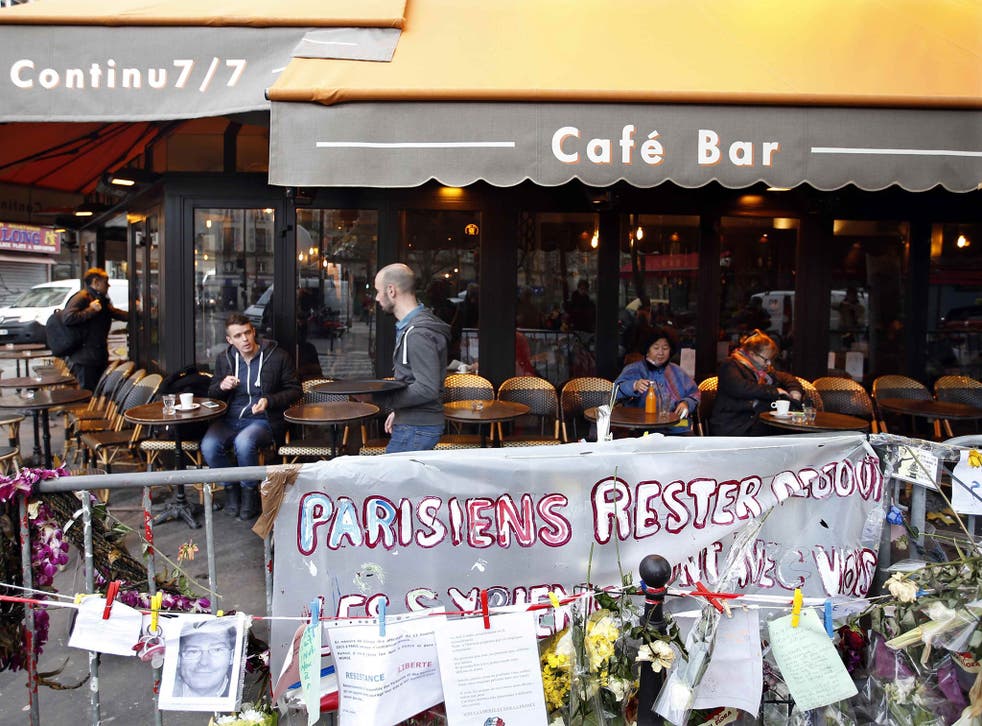 Defiant Parisians were eating and drinking at one of the cafes targeted by terrorists once more today as it became the first to reopen following last month's attacks.
The shattered windows have been replaced, bullet holes removed, wreckage swept away and piles of tributes pushed back at the Café Bonne Biere, which is open for business once more.
Five people were killed as they enjoyed an evening there with friends on 13 November, as a group of Isis militants sprayed diners in the 10th and 11th arrondissements with bullets during the Paris attacks.
New video shows carnage outside Paris attacks bar
Surveillance footage showed two gunmen approaching la Bonne Biere, aiming their fire at its outdoor tables before turning back towards their getaway car to move on to the next target.
In the wake of the carnage, the café became a hub for Parisians to express their collective grief, piling up tributes outside and posting messages and flowers in the bullet holes riddling its windows.
"We have done some work – it was necessary for psychological reasons," manager Audrey Billy told Le Parisien.
"Having erased the scars of this nightmare, the Café Bonne Biere is a place of meeting, conversations and sharing. That is our goal today."
Ms Billy told journalists staff want to show Isis "we are stronger than them – we want to get going again, to revive this area, to bounce back".
But all is not forgotten. A blackboard leaning against the café's entrance says everyone is still thinking of the families affected, the victims and everyone present on that night.
The message offers the café's thanks to emergency services and finally to customers and supporters, finishing: "It is time for us to gather together, united, and advance without forgetting."
The world mourns Paris attacks - in pictures

Show all 25
Paule Zlotnik, a neighbouring shopkeeper, praised the decision to re-open.
"It's time they open and that we continue life as it was before," he said.
Other targeted restaurants, as well as the Bataclan concert hall, are expected to re-open gradually over the coming months.
Francois Hollande, the French President, had called for French people to return to normal life in defiance of the terror in Paris.
"We will not yield to fear or hatred," he said. "They have a cult of death but we have love - the love of life."
Additional reporting by AP
Register for free to continue reading
Registration is a free and easy way to support our truly independent journalism
By registering, you will also enjoy limited access to Premium articles, exclusive newsletters, commenting, and virtual events with our leading journalists
Already have an account? sign in
Join our new commenting forum
Join thought-provoking conversations, follow other Independent readers and see their replies