Woman murdered after parole board released ex-boyfriend who was serving time for killing former partner
Chris Scott believes Janet would still be alive had authorities acted on warnings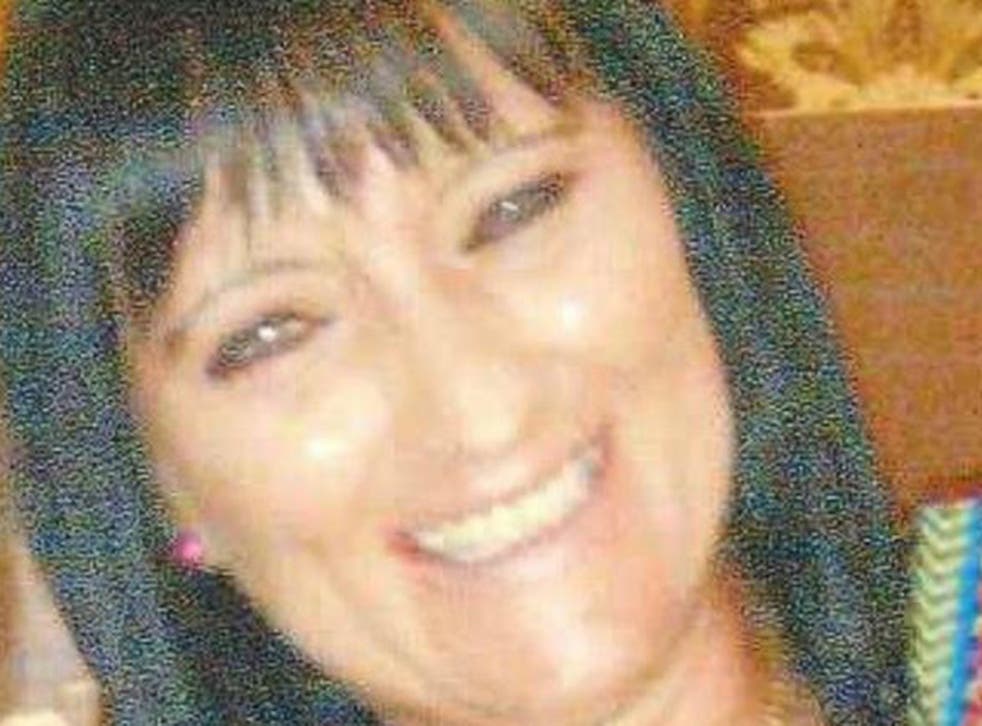 A bereaved husband has blamed the probation service for the death of his wife after she was killed by a former partner who had already served prison time for murder.
Chris Scott said he believed Janet Scott would still be alive had authorities acted on warnings and sent convicted murderer Simon Mellors, from Nottingham, back to prison.
"If the probation service had done something and informed the police and had Mellors arrested my wife would still be alive," Mr Scott told the BBC.
Mellors, who was released from prison in 2014, stabbed Ms Scott at her home in Nottinghamshire before driving her towards Nottingham city centre.
After she escaped and ran towards a police officer, Mellors rammed both of them with his car, killing her instantly and injuring the officer.
Mr Scott said Mellors, who was in a relationship with Ms Scott during a brief separation from her husband, had threatened to kill both of them and followed his wife to work before she died.
"She knew it was coming," he said. "I said 'Look, you've got nothing to worry about, I'm here, I'm going to protect you, nothing is going to happen'."
Justice Secretary David Guake on Worboys case: 'I have accepted Nick Hardwick's resignation'
"This has hit me so hard it has just ripped my life apart."
Mellors was initially jailed for the murder of another former partner, Pearl Black, in 1999. He battered her repeatedly with an iron bar before strangling her with cable ties.
He was sentenced to 14 years in prison, reduced to 12 on appeal, and released on licence in 2014 after the Parole Board deemed it safe to do so.
George and Mary Black, Pearl's brother and sister, told the BBC they wrote to the Parole Board before Mellors was released from prison, warning he would kill again.
Ms Black said: "The Parole Board have let us down totally. The justice system has let us down by not listening to us when we warned them this man would commit murder again."
Ms Scott's sister, Susan Thomson, said the Lidl worker had complained to Mellor's probation officer about his behaviour after he refused to accept the end of their relationship.
"I feel that Simon should have been told, or pulled in, or something done about it, while he was stalking my sister."
UK news in pictures

Show all 50
Mr Scott also said his wife had contacted Mellors' probation officer numerous times, including over a threat shortly before Christmas, in which Mellors said he was going to kill both of them.
Because Mellors was released on licence, he could have been recalled to prison at any time if it was deemed he was a risk to the public.
A Ministry of Justice spokesperson said: "This is a tragic case and our sincere condolences are with the victim's family and friends.
"Serious further offences such as this are very rare, but each one is taken extremely seriously and investigated fully.
"A full review into this case is underway, and we will carefully consider the findings to make sure all possible lessons are learnt."
The Parole Board has come under increasing pressure in recent months after judges overturned the body's decision to release black cab rapist John Worboys.
Victims argued the board overlooked "critical evidence" in recommending the release of someone police believe committed crimes against 105 women between 2002 and 2008.
The decision led to the resignation of Nick Hardwick, its former chairman and a review of the body's rules "in their entirety".
Mellors died in prison after he was charged with Ms Scott's murder. It is thought he killed himself.
The families of Ms Scott and Ms Black have launched a petition for a register that would allow people to find out if someone is a convicted murderer before entering a relationship with them.
Register for free to continue reading
Registration is a free and easy way to support our truly independent journalism
By registering, you will also enjoy limited access to Premium articles, exclusive newsletters, commenting, and virtual events with our leading journalists
Already have an account? sign in