Parsons Green explosion: 'I heard a boom and there were flames all around'
Several people have been injured and police are treating the explosion as a terrorist incident
Harry Cockburn
Friday 15 September 2017 11:11 Comments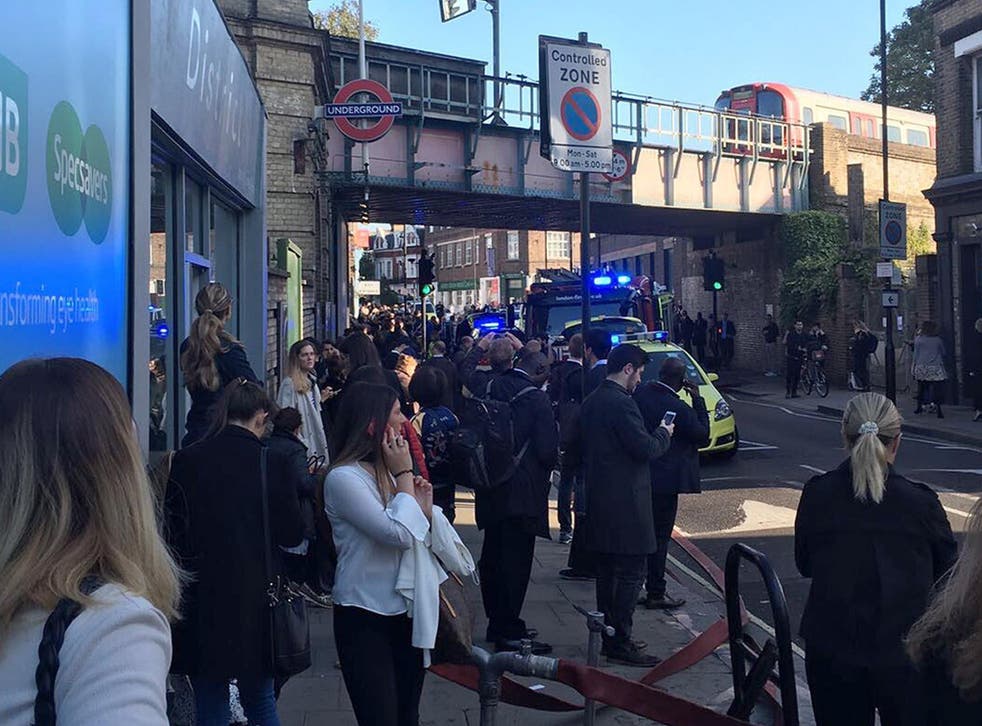 Passengers have described the scenes of panic and confusion after an explosion sent flames through a packed morning commuter train at Parsons Green in west London.
Several passengers were injured in the explosion, including some who reportedly suffered facial burns. Many people are thought to have been hurt as they rushed to escape the smoke and flames.
The explosion is being treated as a terrorist incident, police confirmed.
Sylvain Pennec, a software developer from Southfields, near Wimbledon, was around 10 metres from the source of the explosion when fire filled the carriage.
"I heard a boom and when I looked there were flames all around," he said.
"People started to run but we were lucky to be stopping at Parsons Green as the door started to open."
He described the scene of panic as commuters struggled to escape the carriage, "collapsing and pushing" each other.
Mr Pennec stayed behind to take a closer look at what he believed was the source of the explosion.
:: Follow our liveblog for the latest updates
"It looked like a bucket of mayonnaise," he said. "I'm not sure if it was a chemical reaction or something else, but it looked home made. I'm not an expert though."
London Underground explosion: Footage shows bag on fire
Prime Minister Theresa May will chair an emergency COBRA meeting in Whitehall this afternoon.
Mayor of London, Sadiq Khan released a statement saying London "will never be intimidated or defeated by terrorism'.
He said: "The Metropolitan Police have confirmed that the explosion on a train at Parsons Green Station this morning is being treated as terrorism. Our city utterly condemns the hideous individuals who attempt to use terror to harm us and destroy our way of life. As London has proven again and again, we will never be intimidated or defeated by terrorism. I am in close contact with the Metropolitan Police, Transport for London, Government and other emergency services who are responding at the scene and leading the investigation."
Terror attack at Parson's Green – in pictures

Show all 23
He added: "I will be attending the emergency COBRA meeting in Whitehall this afternoon with the Prime Minister. My sincere gratitude goes to all our courageous emergency responders and the TfL staff who were first on the scene. I urge all Londoners to remain calm and vigilant, and to check TfL's website for travel advice."
Register for free to continue reading
Registration is a free and easy way to support our truly independent journalism
By registering, you will also enjoy limited access to Premium articles, exclusive newsletters, commenting, and virtual events with our leading journalists
Already have an account? sign in
Join our new commenting forum
Join thought-provoking conversations, follow other Independent readers and see their replies