Passenger planes at risk from Russian bombers, says former head of armed forces
Air Chief Marshall Lord Stirrup said Russia is playing 'a very dangerous game of cat and mouse' after Russian bombers were escorted out of British airspace
James Dunn
Sunday 22 February 2015 15:44 Comments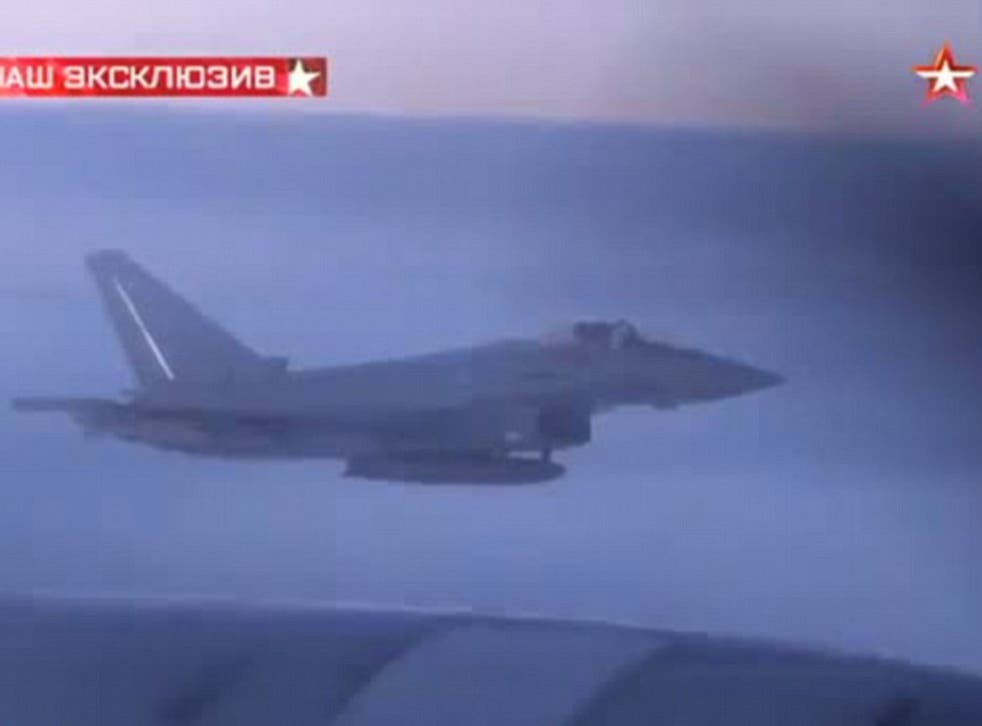 Passenger planes are in danger of being hit by Russian jets unless Britain increases spending and stands up to an aggressive country that's "testing our defences", the former head of the armed forces has said.
Air Chief Marshall Lord Stirrup said that Russia is playing "a very dangerous game of cat and mouse" after two Russian bombers were escorted out of British airspace last week.
In the past four years, Royal Air Force planes have been scrambled more than 40 times to deter Russian military aircraft from venturing into British airspace.
Lord Stirrup told Sky News' Murnaghan programme that the long flights to Britain weren't just "joyrides" – they are "mission rehearsals" by Russia.
He went on to urge the Prime Minister, David Cameron, to increase defence spending and think "very carefully" about arming Ukraine in their battle against pro-Russian rebels.
He said: "They are testing our defences and they are engaging in a game of chicken. That's very dangerous. We are seeing the possibility of mid-air collision between Russian aircraft and civilian aircraft increasing."
Last week, David Cameron had to make a public address to reassure the British public after two Typhoons from Coningsby, Lincolnshire, had to be scrambled after two Russian planes were detected off the coast of Cornwall.
Tensions between Russia and the Western world

Show all 8
The Ministry of Defence said that the jets, operating under the command of Nato, intercepted the two long-range Russian Bear bombers and escorted them outside the "UK area of interest".
On the same day, Defence Secretary Michael Fallon warned that Russia's president Vladimir Putin posed a "real and present danger" to three Baltic states, that fear they may too become a victim of Russia's expansionist ideas.
It's currently backing – and arming – pro-Russian rebels in the Ukraine in an on-going civil war against the Government. Should the rebels win, it would effectively be a Russian land-grab, allowing the nation to expand its border with the former Soviet state westwards.
Lord Stirrup said that Putin regards the West as increasingly "weak", encouraging Cameron to arm the Ukrainian Government, a move endorsed by former defence secretary Liam Fox.
He said: "We have to remember that we're talking about Putin. In terms of the international community and in terms of security in the international community we in the west depend on Nato and collective security. Nato has over the years in the eyes of Putin at least become weak. Our response to Putin and Putin's actions in the Crimea and Eastern parts of the Ukraine need to be strategic responses. Part of that is being strong and making sure Putin understands we are strong."
He also warned against swathing cuts to the forces since the 2010 Strategic Defence and Security Review. He said they'd left the forces "right on the limit". Lord Stirrup was the head of the armed forces before that review.
"The 2010 defence review was predicated on defence expenditure increasing in real terms every year after 2015. The Prime Minister acknowledged that when he announced the outcome of the review in the House of Commons," he said.
"We now have to make sure that those undertakings are kept. It was important in 2010. It is much more important now."
Register for free to continue reading
Registration is a free and easy way to support our truly independent journalism
By registering, you will also enjoy limited access to Premium articles, exclusive newsletters, commenting, and virtual events with our leading journalists
Already have an account? sign in
Join our new commenting forum
Join thought-provoking conversations, follow other Independent readers and see their replies