PDSA unveils the fat pets battling to be crowned winner of the 2015 Pet Fit Club competition
A dog that weighs as much as a middleweight boxer, a podgy pug, and a morbidly obese rat - all competing to be crowned the animal slimmer of the year
Doug Bolton
Thursday 18 June 2015 15:47 Comments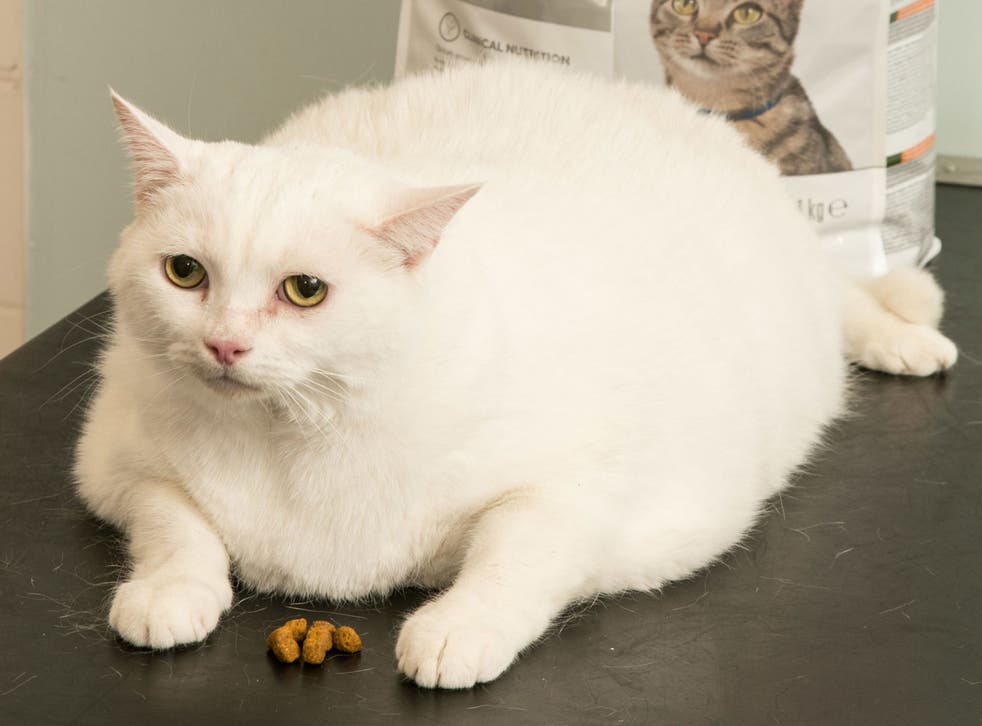 The veterinary charity PDSA has unveiled the contenders for its annual animal slimming competition, Pet Fit Club.
Battling it out in the prestigious competition this year are a host of pets, including Hooch, the obese Rottweiler who weighs more than a middleweight boxer, Guy, a literal fat cat who weighs twice his healthy weight, and Spider, an overweight rat with a penchant for eating his cagemates' food.
Between them, the 17 pets taking part in the competition, now in its tenth year, are carrying 203 kilograms in excess weight between, almost the weight of three average-sized men.
Amongst this year's entrants is Boycus, a cat with the bad habit of eating the food of the several other cats who live in the same house. His owner has tried to stop him by putting the other cats' food in containers that are too small for Boycus to get into - but he always finds a way.
Britain's fattest pets

Show all 16
Also in the line-up is Rolo, a pug who has been known to chase after people carrying shopping bags, in the hope that they'll give him a treat. According to his owner, his favourite trick is pulling off the tablecloth and eating the food that falls on the floor.
Rolo weighs in at a hefty 13 kilograms, but his healthy weight is only 9 kilograms.
The competion may be light-hearted, but it carries a more serious message. Animals who are obese and overweight are more at risk of deadly conditions like heart disease, cancer and diabetes, as well as debilitating conditions like arthritis that can severely impact their quality of life.
A 2014 PDSA report showed that out of a group of 572 veterinary professionals, around 80 per cent had seen an increase in pet obesity cases in the previous two years.
Obesity is the number one health concern amongst vets, but worryingly, nearly half of pet owners are not aware that it's a major issue.
Most of the polled veterinary professionals said that they think there will be more overweight pets than healthy weight pets in five years' time.
Nicola Martin, Head of Pet Health and Welfare at PDSA, said: "Just as human waistlines are expanding, sadly our pets are facing a similar fate too."
She said that when considering how much to feed their pets, many owners simply use 'common sense' to make a decision, rather than looking at the nutritional information on the pet food packets, or considering the weight and body shape of their pet.
She added: "All the pets taking part in Pet Fit Club this year are taking the first step towards a longer, healthier life. Anyone concerned about their pet's weight should speak to their veterinary practice who can offer the right advice and support."
The competing animals will embark on a strict diet and exercise regime, with the pet that has lost the biggest percentage of body weight being crowned the winner.
Good health won't be the winner's only reward - the winning cat, dog and small pet will receive a year's free supply of healthy pet food, with the overall champion's owner winning a pet-friendly holiday.
The PDSA is the UK's leading veterinary charity, and operates 51 pet hospitals and 380 practices across the country.
Register for free to continue reading
Registration is a free and easy way to support our truly independent journalism
By registering, you will also enjoy limited access to Premium articles, exclusive newsletters, commenting, and virtual events with our leading journalists
Already have an account? sign in
Join our new commenting forum
Join thought-provoking conversations, follow other Independent readers and see their replies