Pedestrian badly hurt after car flips on to pavement
Police arrest 25-year-old local man on suspicion of drink-driving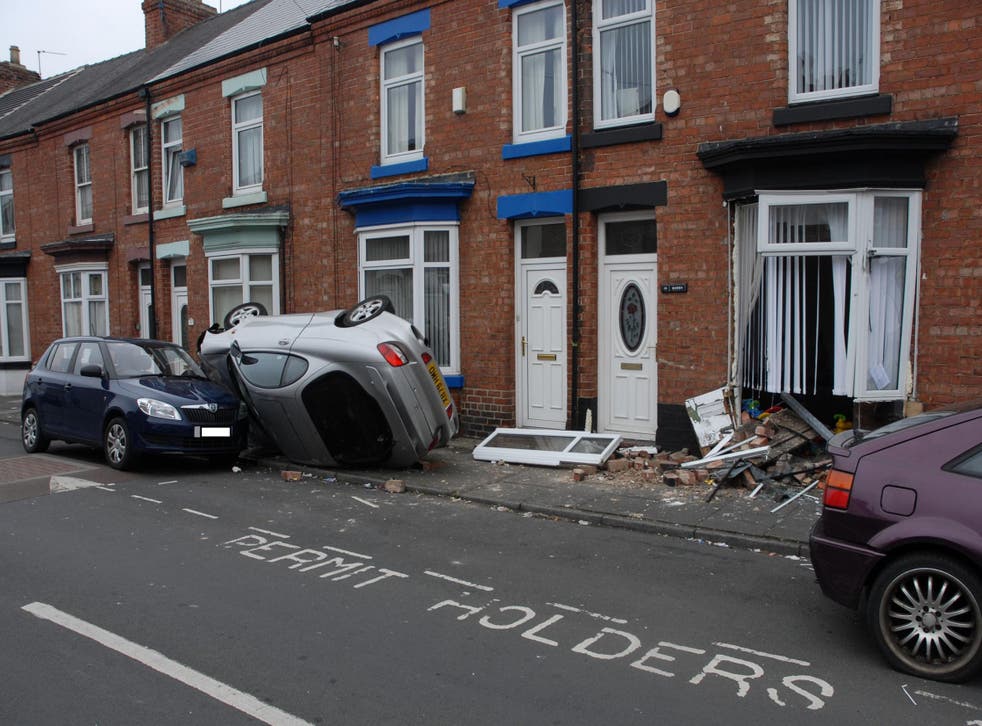 A pedestrian was critically injured when she was hit by a car that flipped over on to the pavement.
The incident happened in Easson Road, Darlington, just before 5pm on Monday when a Hyundai Coupe car left the road, flipped on to its side and crashed into the victim as she walked on the pavement.
The car also collided heavily with two parked vehicles and the front of a house in the street, causing "considerable damage", Durham Police said.
A photo issued by police shows the car on its side and a house nearby with a wrecked bay window.
Police arrested a 25-year-old local man on suspicion of drink-driving and being a disqualified driver. He remains in custody at Darlington police station.
The victim, who is thought to be aged in her 40s, is in the James Cook University Hospital, Middlesbrough.
Police have not yet been able to confirm her identity or home address.
Sgt Jonathan Morgan said: "We understand there may have been other witnesses, including people who assisted the victim at the scene.
"If we haven't already spoken to you, please contact us in the unit so we can get the relevant details."
Anyone with information should call 0191 375 2159.
Register for free to continue reading
Registration is a free and easy way to support our truly independent journalism
By registering, you will also enjoy limited access to Premium articles, exclusive newsletters, commenting, and virtual events with our leading journalists
Already have an account? sign in
Register for free to continue reading
Registration is a free and easy way to support our truly independent journalism
By registering, you will also enjoy limited access to Premium articles, exclusive newsletters, commenting, and virtual events with our leading journalists
Already have an account? sign in
Join our new commenting forum
Join thought-provoking conversations, follow other Independent readers and see their replies