Pegida in London: British supporters of anti-'Islamisation' group rally in Downing Street
Pegida UK was outnumbered by counter demonstrators in Whitehall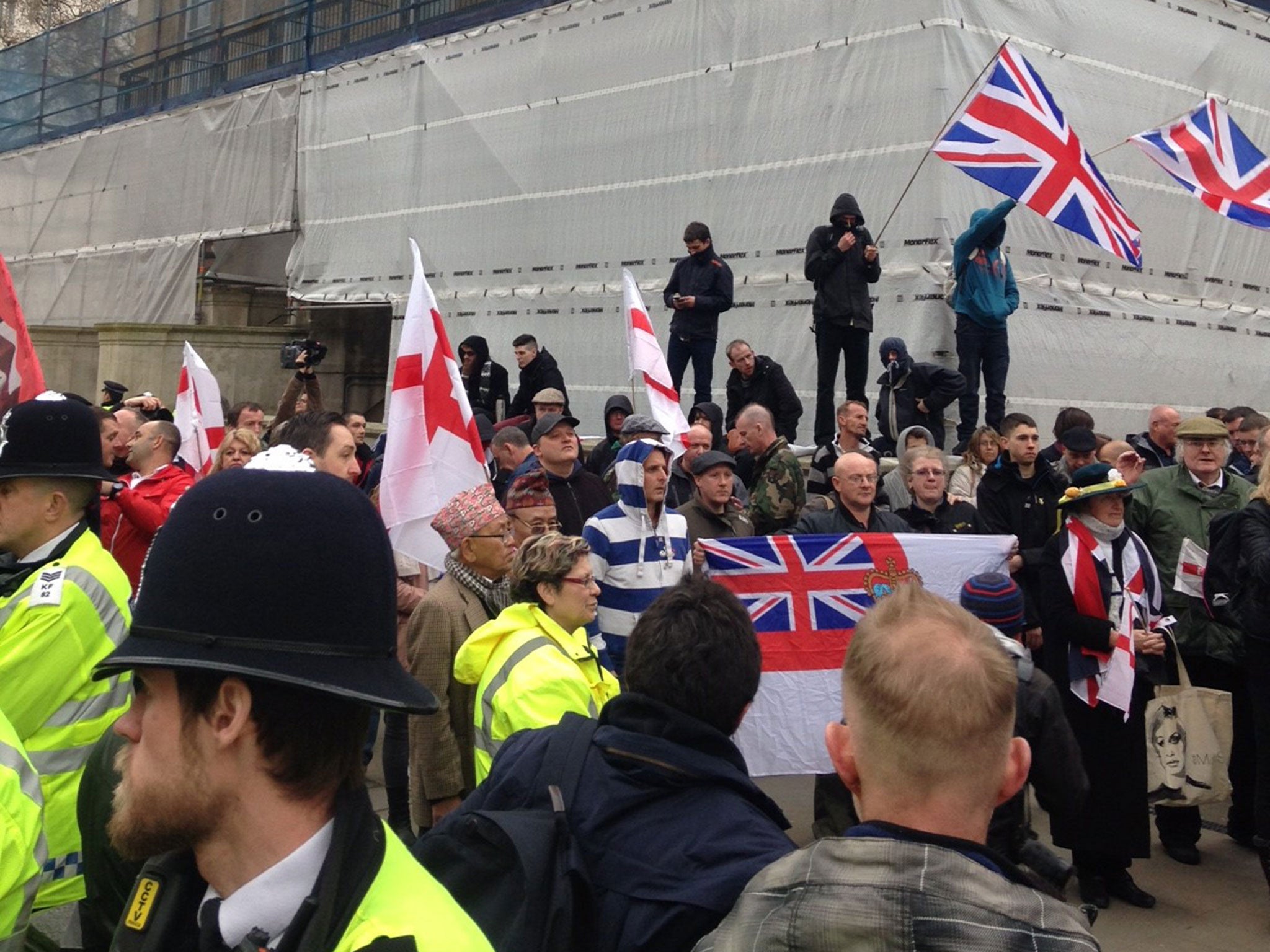 The British offshoot of German anti-"Islamisation" group Pegida held its first protest in London this afternoon, marching to Downing Street.
Pegida UK said the rally intended to "raise awareness of the detrimental affect radical Islam and slack border controls/mass immigration are having on our country".
Fewer than 100 supporters waving the Union Flag and St George's cross were met by anti-fascist counter demonstrators as the two groups were separated by a heavy police presence.
They traded songs, chants and insults across a line of officers as ambulances and riot police stood by to intervene.
A spokesperson for the Metropolitan Police said the force had an "appropriate policing plan in place" and would close roads if necessary.
Members of Pegida UK had planned to lay a wreath at the Cenotaph in Whitehall, hear speeches and finish with a candlelit vigil "in memory of all those that have died at the hands of extremists".
Among the speakers expected to attend was Zahid Khan, a German author behind self-published books including The Criminal Acts of the Prophet Mohamed.
On his website, Mr Khan describes visions where he believes he encountered angels and God, who supposedly told him to travel to Germany on a "mission" to reveal His "secrets".
Encouraging people to join the protest on Facebook, a Pegida UK member wrote that it would show "the world peacefully that the UK will never be dominated by Islam".
The event came after members were vastly outnumbered by thousands of counter-protesters in Newcastle in February, which saw five people arrested.
Police said scuffles broke out as around 375 people supporting Pegida UK were met by 2,000 protesters from the Newcastle Unites group.
Unite Against Fascism (UAF) called a counter-demonstration on Saturday to stop "Islamophobes (who) aim to recreate the hatred of their allies elsewhere in Europe".
A spokesperson on the Facebook event page wrote: "German anti fascists have responded brilliantly in taking the potential threat of Pegida seriously and continue to mobilise in their thousands against them. UAF stands completely in solidarity with German brothers and sisters."
Earlier this year, Pegida UK told the BBC it was separate from Pegida in Germany, although today's event was advertised on the original group's official Facebook page.
The group, whose name stands for "Patriotic Europeans against the Islamification of the West", has drawn huge public criticism in Germany and counter-demonstrations tens of thousands of people strong as part of a huge public backlash.
Its rapid growth from weekly marches numbering the hundreds in October last year to tens of thousands in January sparked nationwide resistance, from Angela Merkel condemning "hatred in their hearts" to politicians dubbing its leaders "Nazis in pinstripes".
Pegida has sought to distance itself from the far-right, saying in its position paper posted on Facebook that it is against "preachers of hate, regardless of what religion" and "radicalism, regardless of whether religiously or politically motivated."
It has also banned any neo-Nazi symbols and slogans at its rallies, although critics have noted the praise and support it has received from known fascist groups.
In pictures: Anti-Pegida protesters
Show all 10
But its main focus is the preservation of "Judeo-Christian Western culture" against what they claim is the rise of "radicalism" and "parallel societies with Sharia police".
Saturday's Pegida UK protest came a day after far-right activists demonstrated outside a London mosque as hundreds of Muslims attended Friday prayers.
Around 100 members of the English Defence League (EDL) and Britain First gathered outside the London Central Mosque and Islamic Cultural Centre, where radical cleric Anjem Choudary was due to speak outside.
The protesters, some of whom were dressed in pig-head masks and niqab veils, chanted anti-Islamic messages, while waving banners, placards and Union Jack and St George flags.
Additional reporting by Jamie Campbell
Join our commenting forum
Join thought-provoking conversations, follow other Independent readers and see their replies