Phone-hacking: The Piers Morgan connection - Mirror admits some stories during Morgan's tenure may have been obtained by illegal means
Company's admission reflects badly on Morgan's 'Mirror'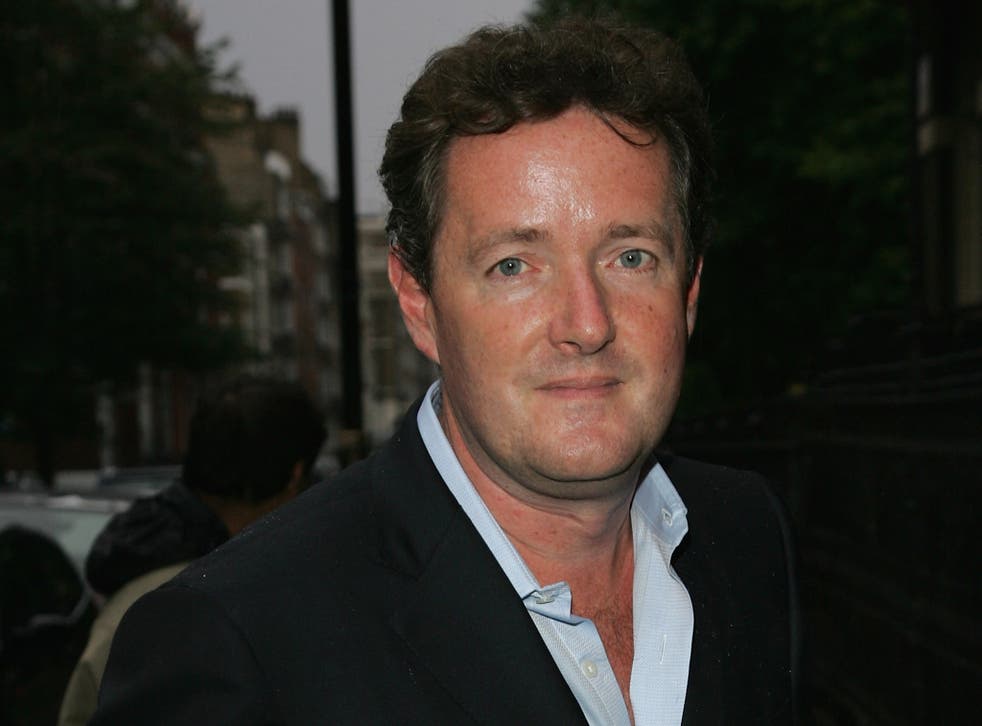 The publisher of the Daily Mirror has admitted for the first time that articles likely to have been the product of illegal phone hacking appeared in editions of the newspaper during the period when Piers Morgan was its editor.
In new defence documents produced by Mirror Group Newspapers (MGN), the company accepts that several stories which appeared in the Daily Mirror between 2002 and 2004 were likely to have involved "unlawful interceptions of voicemails" and the blagging of call data.
The publisher is currently fighting dozens of civil claims which allege a "widespread and habitual" use of hacking inside its three national titles.
The new admission relates to claims by Robert Ashworth, a former producer of Coronation Street. He alleges that between 2002 and 2004 – when Mr Morgan was at the helm of the Daily Mirror – all three of MGN's national titles published articles containing private information relating to him and his family life with the actress Tracy Shaw, then one of the soap's leading stars. Mr Morgan was editor of the Mirror when three stories about the actress and producer were published – one story appeared in January 2002 and two in May 2003.
He resigned from the Mirror in 2004 following the publication of fake photos that purported to show Iraqi war prisoners being abused by British soldiers. He went on to carve out a high-profile career in television, and was appointed the Mail Online's US editor-at-large last month.
Mr Morgan was questioned by police over hacking allegations last year but has consistently denied knowingly publishing any story obtained through the method.
The People, then edited by Mark Thomas, ran three Ashworth stories – while the Sunday Mirror, then edited by Tina Weaver, published seven articles on the couple.
Hacking trial: The verdicts in full

Show all 7
MGN's admission, that all of the 13 Ashworth articles were likely, at least in part, to have involved the unlawful acts alleged by Mr Ashworth, is a major departure for the publisher. The company now clearly admits that "unauthorised acts" by some employees involved in the unlawful practice of intercepting phone messages did take place, and that specific stories were the result of hacking. The company however says it "cannot establish" and "does not know" the scale of the illegality.
In the wake of the phone-hacking scandal at the rival publisher News International, Paul Vickers – secretary and group legal director for Trinity Mirror, the holding company that owns MGN – told the Leveson inquiry in 2011 that he had held an internal inquiry into whether similar practices could have taken place within his company.
This consisted of writing to 43 senior executives who were asked if they had knowledge of illegality among their staff. His inquiry concluded that "no issues had been raised".
The company has spent most of the last three years denying hacking was practised by Mirror journalists. Last month, however, the publisher admitted liability and announced it would be paying out compensation to 10 hacking claimants including the former England manager Sven-Goran Eriksson and the actor Christopher Eccleston. MGN said it had set aside just under £10m to cover the costs of future claims.
Other hacking claims MGN has accepted liability for include those by the former creative director of the BBC, Alan Yentob, and the EastEnders soap stars Shane Richie and Lucy Benjamin.
Although MGN wanted its admission of liability to end the matter, the judge hearing the civil actions, Mr Justice Mann, ordered the company to set out clearly what acts of hacking it was admitting to, those which it denied, and when they took place. A civil trial remains scheduled for February next year.
MGN's response to the Ashworth claim and others which alleged illegality across all Mirror titles will challenge Mr Morgan's assertion that the Daily Mirror he ran did not employ Fleet Street's "dark arts". Those practices saw the conviction of the former News of the World editor and Downing Street spin doctor, Andy Coulson, of involvement in a conspiracy to phone hack earlier this year.
Dan Evans, the former Sunday Mirror and News of the World journalist, who gave evidence at the hacking trial at the Old Bailey, pleaded guilty to hacking when he was working both at MGN and NI.
Mr Ashworth's claim says the stories about him and his partner were based on information obtained through hacking. He states the private details they contained caused "tension and arguments" during a period when Ms Shaw was suffering from health-related issues. He later alleged in media interviews that his former wife was battling alcohol-related problems.
Until last month, MGN described claims against it as "wholly unsubstantiated" with senior executives insisting that "no wrongdoing" had taken place inside any Mirror newsroom and that "all our journalists work within the criminal law". The Independent contacted Trinity Mirror to ask for further clarification about its admissions. The company declined to comment.
Tainted news? The suspect articles
Articles in Robert Ashworth's hacking claim against Mirror Group
"Coro star future is not Shaw"
Daily Mirror, January 2002. Editor: Piers Morgan
"24/7 – Rovers and Out; Husband prang's Corrie Tracy's MG"
Sunday Mirror, March 2003. Editor: Tina Weaver
"24/7 – Tracy Shaw"
Sunday Mirror. March 2003. Editor: Tina Weaver
"Husband is divorcing TV's Tracy"
The People, March 2003. Editor: Mark Thomas
"Tracy glows every time she speaks to Ashley..."
Sunday Mirror, April 2003. Editor: Tina Weaver
"Tracy's marriage hit rocks over baby bid"
The People, April 2003. Editor: Mark Thomas
"Door shut on Tracy's love hope"
Daily Mirror, May 2003. Editor: Piers Morgan.
"Are you Shaw Tracy?"
Daily Mirror, May 2003. Editor: Piers Morgan
"It breaks my heart but he loves Tracy"
Sunday Mirror, May 2003 Editor: Tina Weaver
"Tracy drinks mini-bar dry"
The People, July 2003. Editor: Mark Thomas
"Tracy's retreat: Star's with husband at health farm"
Sunday Mirror, July 2003. Editor: Tina Weaver
"Tracy checks into booze clinic"
Sunday Mirror , August 2003. Editor: Tina Weaver.
"Radar: Rob's back… gingerly"
Sunday Mirror, May 2004. Editor: Tina Weaver.