Ping-pong comes home - in style
The game invented in Britain is gaining new fans and going upmarket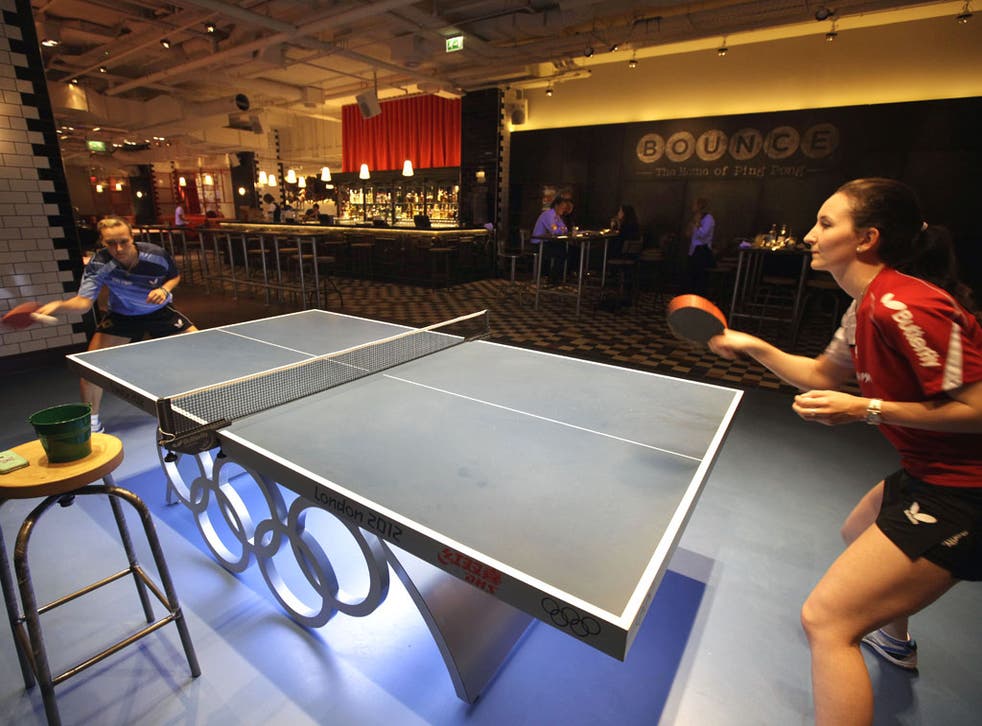 Few things bring supermodels and award-winning novelists together in one place. Table tennis, it seems, is one of them. Elle Macpherson and Salman Rushdie will be two of the first people to set foot inside Europe's "first social ping-pong club", which opens in London this weekend. They are among thousands of people being swept up in the great British ping-pong revival.
There are now more than 100,000 people who play table tennis once a week, according to Sport England, a number that has almost doubled over the past six years. Star-studded venues such as Spin in New York and Dr Pong in Berlin have been the trendy standard bearers of the game but, as London's mayor, Boris Johnson, put it before the Olympics: "Ping-pong is coming home." In the past year, the first corporate ping-pong company was launched in the capital and the English Ping Pong Association (EPPA) re-formed after more than a century.
Richard Yule, chief executive of the English Table Tennis Association (ETTA), said British involvement in the sport was "massive in the 1950s, '60s and '70s" and is now being "rediscovered by a different audience".
Ping!, a project to boost recreational table tennis, is credited with helping to bring the game to the streets. About 300 tables were set up in the summer at London landmarks such as the British Library, Canary Wharf and the Roundhouse, as well as in Liverpool, Bristol, Sheffield, Birmingham, Leicester, Hampshire and Brighton – attracting more than 300,000 participants. The ETTA has spent £200,000 on bringing concrete tables to schools.
Mr Yule is now in talks with leading sporting agencies on ways to promote table tennis, and is looking into a new project, called "pink pong", focusing on getting female players involved in the game. Enthusiasts can head to the second International Ping Pong Congress, known as Pongress, next month in Newcastle's Cumberland Arms – home to the UK's longest-running ping-pong night.
For Andy James, co-founder of EPPA, the attraction of the game comes down to its simplicity. "You can pick up a bat and ball and play. It doesn't exclude anyone," he said. "You can now play in old converted warehouses, in fancy dress, with music or film, and some people are starting to make money from it."
Bounce, a 12,500sq ft central London venue with a £2.5m price tag, hopes to exploit all this. It has a 95-seater restaurant and 40ft bar, but also 17 ping-pong tables. Joe Jaques, the great-grandson of the game's inventor, John Jaques III, and a consultant to the new club, claimed it epitomises how the "ping-pong revolution has been reborn".
Co-founded by Adam Breeden, the new club will charge teams £26 to book an hour on its tables. Kelly Sibley, Britain's second highest-ranked female table tennis player, gave the venue her approval. She "could never have dreamt of something like this" when she started out. "It's great. It will only bring more publicity to the sport."
Register for free to continue reading
Registration is a free and easy way to support our truly independent journalism
By registering, you will also enjoy limited access to Premium articles, exclusive newsletters, commenting, and virtual events with our leading journalists
Already have an account? sign in
Register for free to continue reading
Registration is a free and easy way to support our truly independent journalism
By registering, you will also enjoy limited access to Premium articles, exclusive newsletters, commenting, and virtual events with our leading journalists
Already have an account? sign in
Join our new commenting forum
Join thought-provoking conversations, follow other Independent readers and see their replies