Plummeting milk price prompts 'stealth' rise of 2,000-cow 'mega-dairies' in UK
Exclusive: American-style factory dairies where cows feed rom troughs emerge as farmers seek to industrialise production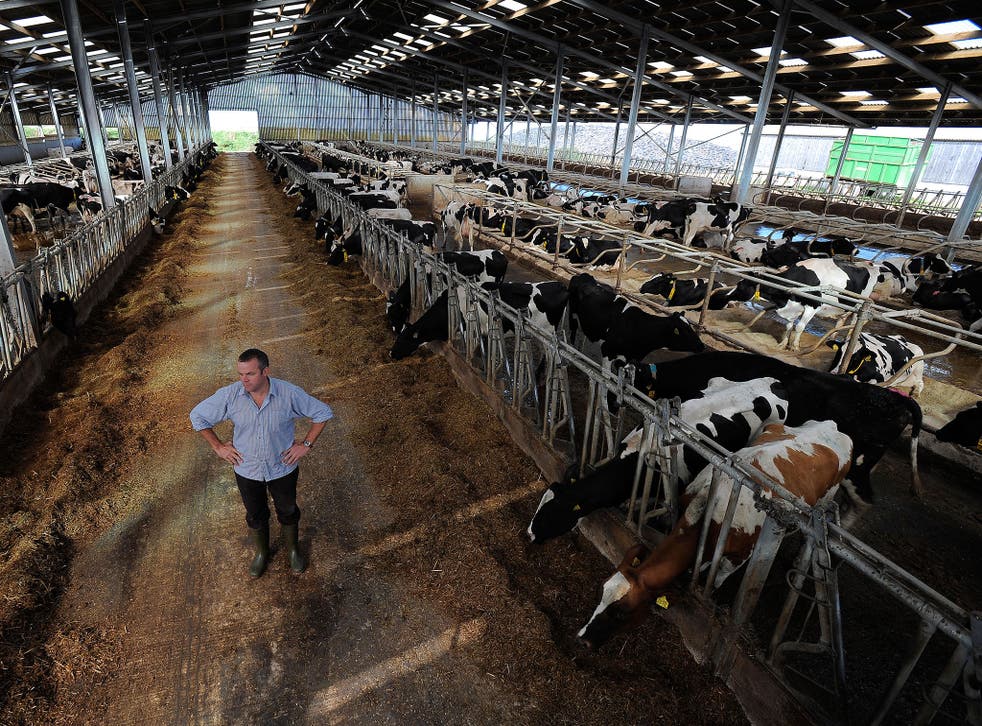 The British countryside is being quietly populated with indoor "mega-dairies" each housing up to 2,000 cows without free access to pasture as farmers respond to plummeting milk prices by industrialising production, The Independent can reveal.
Data gathered from public and industry records shows that there are now 20 American-style factory dairies across the country with herds of 700 or more cows kept year-round, in some cases in giant open-sided sheds and 50 smaller "confinement units" where animals are fed from troughs rather than in open fields.
The spread of intensified milk-production methods comes amid the crisis in the British dairy industry caused by a dramatic drop in the milk price to as little as 23p per litre - significantly less than the production cost of about 28p. Despite efforts by supermarkets to offer a higher price, small-scale dairy farmers have been going out of business at a rate of about one per day for the last 12 months as they struggle to overcome the problem of milk that costs more to produce than it can be sold for.
Supporters of intensification argue that it offers high standards of welfare and is one of the few ways left open to British dairy farmers to earn a living by using a method which vastly increases - by up to 50 per cent - the yield of cows kept indoors. A cow kept in optimum indoor conditions can produce 11,000 litres of milk a year, compared to the 4,000l per annum that was the average 40 years ago.
Milk and cheese produced from "mega-dairies", also known as Concentrated Animal Feedlot Operations or CAFOs, is supplied to major dairies and sold at multiple retailers.
But politicians and campaigners have warned that the rise of the mega-dairy raises serious environmental and welfare concerns, and risks transforming the British countryside if dairy farmers move away en masse from the traditional method of grazing smaller herds in pasture. Residents who live close to some of the CAFO-style farms have complained of noise and disturbance caused by vehicle movements and muck spreading while documents released under the Freedom of Information Act show that the authorities have investigated seven incidents of pollution at one of Britain's largest mega-dairies.
Kerry McCarthy, the shadow farming minister, told The Independent: "I don't think intensification is the right answer, I don't think people want it. Partly you've got the environmental impact. I think people are also concerned about animal welfare - they want to think that the milk they drink is produced by cows frolicking in green pastures.
"I certainly don't think they want to see thousands of cows housed together and not going outside."
Industrial-scale dairy farming first came to British shores five years ago when plans were put forward for a 8,100-cow facility at Nocton in Lincolnshire. The proposals were eventually dropped following an outcry over the scale of the facility and concerns that waste could pollute water supplies.
But campaigners argue that large-scale dairy farming is being introduced to Britain by stealth with a succession of farms where herd sizes have been increased incrementally and structures built to house cows which have only been given planning permission retrospectively.
The Department for Environment, Food and Rural Affairs (Defra) does not collect data on the number of the dairy farms which operate intensively.
But using information from sources including FOI requests and trade journals, The Independent has established there are now at least 20 CAFO-style farms with herds of 700 cows or more which are kept indoors the year round in many cases and 50 similar sites with smaller herds. The farms are centred around the traditional centres of Britain's dairy industry in the South West and North West England.
"Mega-dairies" were first established in America, where the largest house as many as 36,000 cows and are held up as models of modern farming by recycling waste to produce natural gas and fertilisers.
Supporters of the system say it allows cows to be kept in high-quality conditions and fed a precise mixture of nutrients while reducing the incidence of diseases such as mastitis.
But opponents are sharply critical, saying the removal of cows from their natural environment in large numbers and placing them in manmade sheds places an excessive burden both on the welfare of the animals and the surrounding environment. Campaigners living close to some CAFO-type dairies have complained of sharp increases in traffic and fields spread with slurry generated by thousands of cows at a time being turned into "open sewers". The claims are disputed by farmers who say they use systems which inject rather than spray waste.
Campaign group World Animal Protection said The Independent's investigation highlighted the risks of allowing intensification in the dairy sector to continue unchecked.
Ian Woodhurst, of WAP, said: "This means increasing numbers of cows will spend the majority, if not all, of their lives housed in sheds."
The industry rejects such claims, pointing out that only around ten per cent of Britain's 1.8m dairy cows live in herds larger than 500 and the traditional methods of putting cows out to pasture between spring and autumn remains in place. The average size of a UK dairy herd is 125.
Mike King, vice chairman of the Royal Association of British Dairy Farmers, said: "The move towards larger scale dairies is inevitable given the economics and price pressure within the dairy farming sector. However, this trend should not lead to the demise of smaller efficient family farms." The Government said that an over-supply of milk on the world market was partly to blame for the sharp fall in milk prices and therefore increasing production was "not the answer".
A Defra spokesman said: "It's about increasing the great things we do with that liquid milk, such as turning it into higher value products like cheese. In turn we're working to support the industry by opening up new export markets."
Join our new commenting forum
Join thought-provoking conversations, follow other Independent readers and see their replies