Police actions killed Tomlinson, not heart attack, inquest is told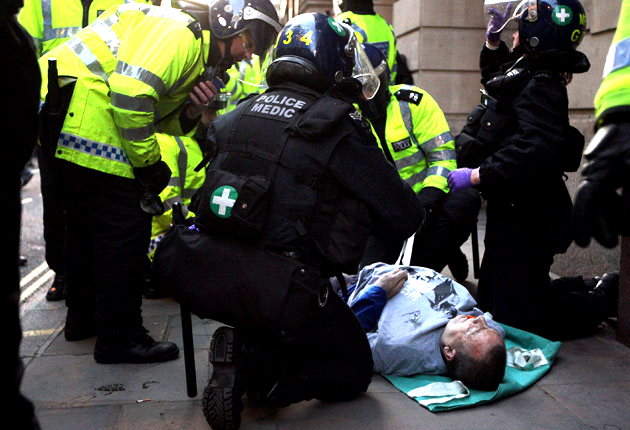 Significant new evidence proves that Ian Tomlinson died from injuries caused by the trauma of being pushed to the ground and not from natural causes, his inquest heard yesterday.
The 47-year-old newspaper seller collapsed at the G20 protests in London in 2009. A film later emerged showing PC Simon Harwood, of the Metropolitan Police's Territorial Support Group, pushing him to the ground and led to an angry debate over police tactics.
Yesterday, Mr Tomlinson's inquest heard new evidence which contradicted earlier suggestions that he died of a spontaneous arrhythmic heart attack.
Professor Kevin Channer, from the Royal Hallamshire Hospital in Sheffield, produced a report on ECG (electrocardiogram) readings taken by paramedics as they tried to revive him, concluding that they were inconsistent with this type of heart attack. His evidence contradicted the findings of the original pathologist, Dr Freddy Patel.
Another pathologist, Dr Nat Cary, agreed with Professor Channer, insisting the new report was crucial. "Mr Tomlinson did not die due to a so-called heart attack, or arrhythmic heart attack, due to coronary artery disease," he said.
Instead Dr Cary said there was only one realistic possibility; that he had died from internal bleeding. He also concluded that a mark on Mr Tomlinson's left thigh was the result of a "classic baton strike" and had not been caused by a fall, as Dr Patel had suggested.
Being questioned by Patrick Gibbs QC, counsel for PC Harwood, Dr Cary disagreed that Mr Tomlinson's liver damage could have been the result of rigorous resuscitation by medics. He described the findings of Dr Patel as "wrong".
When Judge Peter Thornton asked him whether he believed internal bleeding was likely to have been caused by the fall, he replied: "Yes, because I saw no other evidence for any other trauma capable of causing intra-abdominal bleeding."
Dr Graeme Alexander, a liver specialist, said that, while the newspaper seller had suffered from serious liver disease, it was unlikely this would have led to major bleeding. He concluded that this was the result of a trauma exacerbated by high blood pressure.
Returning to the stand for the last time, Dr Patel speculated on a new cause of death, not mentioned in his earlier report. Pressed on Professor Channer's findings that the ECG chart was inconsistent with a heart attack, Dr Patel said Mr Tomlinson may have died from "hypoxia mixed with acidosis" – his body had been deprived of adequate oxygen. Paramedics earlier ruled out suggestions of hypoxia.
Matthew Ryder QC, representing the Tomlinson family, said: "I am sorry to say, Dr Patel ... I suggest you are reaching for options because you know, now, or you realise now, the conclusion that you have put forward is not a solid one, and cannot be sustained. That is what I suggest, I'm afraid to say."
The pathologist replied: "I do not agree with that at all".
Two weeks ago, PC Harwood apologised in court to Mr Tomlinson's family, insisting that he had only pushed him to encourage him to move away and was amazed when he fell to the ground. He denied using unreasonable, unnecessary or excessive force.
The police officer said: "If it is the case that in any way I have caused Mr Tomlinson's death, I am very sorry."
Last week, judges at the High Court ruled that controversial kettling tactics used against peaceful G20 protesters were illegal and that officers had used "unjustified force".
Join our commenting forum
Join thought-provoking conversations, follow other Independent readers and see their replies