Police officer awarded bravery accolade for fighting terrorist in Westminster attack 'wouldn't have made a fuss', friend says
Late PC Keith Palmer and PC Charlie Guenigault, who fought London Bridge attackers, jointly honoured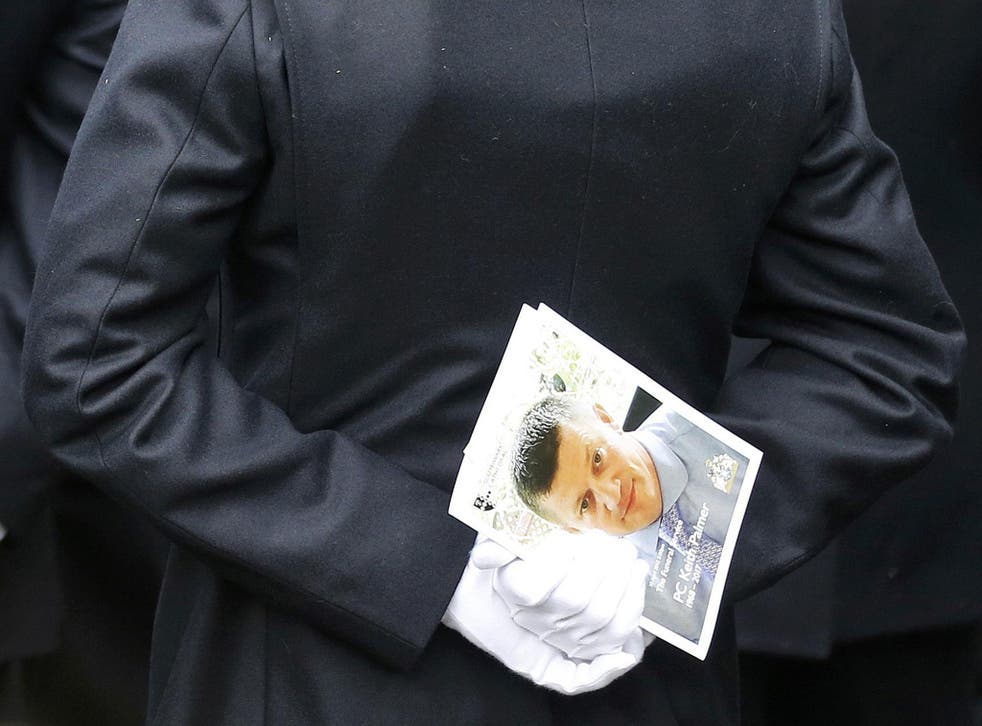 PC Keith Palmer "wouldn't have made a fuss" about stopping a terrorist gaining access to the Houses of Parliament, his friend said as he was posthumously honoured for bravery.
The unarmed Metropolitan Police officer was stabbed to death by Isis supporter Khalid Masood after he rammed his car into pedestrians in Westminster Bridge and ran towards parliament armed with knives.
The 48-year-old was jointly awarded the national Police Bravery Award with another officer who fought the London Bridge attackers and was put in a coma by his injuries.
Receiving the accolade on PC Palmer's behalf, PC Shaun Cartwright described his best friend as the "perfect policeman".
"He wouldn't have made a fuss at all – doing his job, that was Keith…it's a dangerous job but everybody does the job and that's how Keith would have viewed it," he told officers and politicians gathered at an award ceremony in London.
"It's a shame that all the accolades that he gets now he's not here to receive them in person, because he truly deserves them."
PC Palmer, who was married with a young daughter, has also been posthumously awarded the George Medal for gallantry and tens of thousands of people lined the route of his funeral procession.
His colleague and best friend PC Cartwright told how he was getting changed ready to take over his guard post at the gates to the Houses of Parliament when the attack took place.
He emerged to see PC Palmer gravely injured on the ground as police officers, security guards, politicians and paramedics worked to save his life.
Police line London streets in memory of Pc Keith Palmer
By confronting Masood, he had bought time for armed officers to shoot the terrorist, and both were pronounced dead at the scene.
"If there was somebody that was going to stand in the way it would have been Keith, he was that brave person that would stand his ground and he bought time for everybody else who was inside the building," PC Cartwright said.
Metropolitan Police Commissioner Cressida Dick said both PC Palmer and PC Charlie Guenigault, who survived the injuries he sustained during the London Bridge attack, had "put their lives on the line to confront armed terrorists".
"We will never forget the terror brought to our shores in 2017 and the extraordinary acts by so many officers and so many other people," she added.
PC Guenigault was on his way home from a drink with friends when the London Bridge attackers ploughed a van into pedestrians on London Bridge and started a knife rampage in Borough Market last June.
"Suddenly I heard a man saying 'I've been stabbed'," he recalled. "I looked over and it was one, two, three of them in a row and I saw the knives in their hands…I just went running over and barged into the entire group."
PC Guenigault was stabbed and slashed in the back, head, face and eye, sustaining injuries that left him in a coma for three days and caused his spleen to be removed.
London Bridge Terror Attack

Show all 16
But he worked his way back to health and ran the London Marathon earlier this year.
PC Guenigault paid tribute to PC Palmer for making the "ultimate sacrifice", adding: "It's nice to be here and be recognised, but at the end of the day I'm alive, I still get to see my friends and my family get to see me. To me that's the biggest thing."
Wayne Marques, an unarmed British Transport Police officer, also fought the London Bridge attackers and sustained severe injuries.
The chair of the Police Federation of England and Wales, which hosted the awards, praised the officers as "true heroes [who] ran towards a situation that most of us can't even imagine".
In pictures: Westminster attack

Show all 9
Calum Macleod added: "These awards are a chance to showcase the exceptional bravery that officers protecting our country show day in, day out. The heroic deeds we have heard about today did not happen by accident; they were borne of dedication, selflessness and an overwhelming commitment to keeping the public safe."
Nominees attended a reception at Downing Street on Thursday and politicians including the home secretary, policing minister, shadow policing minister and chair of the Home Affairs Committee were at the awards evening.
Sajid Javid, who quipped that he was "still the home secretary as we speak", told audience members they were "truly the best police service in the world".
"We are deeply indebted and immensely proud of the courageous policemen and women who regularly risk their own safety to protect the people of Britain," he said.
"The last couple of years have put the bravery of all police forces in England and Wales to the test and I would like to pay special tribute to PC Keith Palmer who paid the ultimate price defending our Parliament.
"The Police Bravery Awards celebrate the commitment, dedication and resilience of the entire police service – and all officers nominated stand as an example to us all."
The regional winners were:
North West
Greater Manchester Police: PC Mohammed Nadeem jumped 8ft into a fast flowing, icy river to save a man.
North East
Northumbria: PCs Gary Sharpe and Victoria Threadgold confronted and disarmed a man waving a 4ft samurai sword at them and later a handgun.
Midlands
West Mercia: PC Kimberley Morris gave vital first aid to a stabbing victim, while keeping the suspected attacker talking and in view while back up arrived.
Eastern
Norfolk: A man came at lone officer PC Frances Peters with a sword in each hand. Using her Pava spray and personal safety skills she restrained and handcuffed him until other officers arrived.
South East
Thames Valley: Off duty officer Sergeant Mark Allmond and PC Alex Quigley followed and detained a man who had killed a stranger in Poundland. The man was walking the streets still clutching the knife and making threats when the officers intervened.
South West
Wiltshire: Inspector Ian Stevenson pulled a vulnerable woman off a railway track just as a train was approaching. The train missed them by a couple of feet in a scene his colleague described as "like something out of a movie".
Wales
North Wales: PCs David Hall and Rhys Rushby were attacked by a wanted murder suspect with a claw hammer. The offender was biting and punching, screaming that he had a gun and was going to kill - before thrusting an unknown object underneath PC Rushby's throat. The object was a nine inch kitchen knife.
Register for free to continue reading
Registration is a free and easy way to support our truly independent journalism
By registering, you will also enjoy limited access to Premium articles, exclusive newsletters, commenting, and virtual events with our leading journalists
Already have an account? sign in
Register for free to continue reading
Registration is a free and easy way to support our truly independent journalism
By registering, you will also enjoy limited access to Premium articles, exclusive newsletters, commenting, and virtual events with our leading journalists
Already have an account? sign in
Join our new commenting forum
Join thought-provoking conversations, follow other Independent readers and see their replies