Police plan to give free heroin in bid to get addicts off drugs and tackle criminal gangs
Durham Constabulary chief constable Mike Barton says scheme makes 'good sense'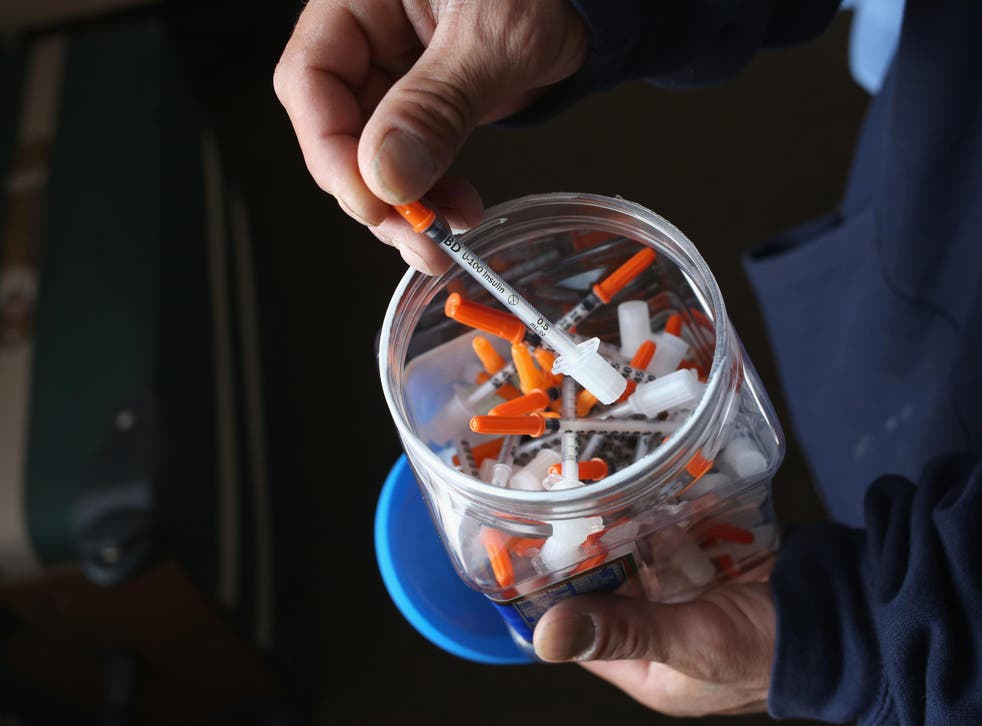 Police in Durham will start giving free heroin to addicts in a bid to stifle the profiteering of criminal gangs and ease users off the drug.
The first force in the UK to write up detailed plans for the Class A drug to be given to users in a controlled environment, Durham Constabulary's Chief Constable Mike Barton told The Mail on Sunday that it will reduce crime.
Addicts will neither steal or go to dealers to feed their habit, he said.
"We need to get over our moral panic about giving people heroin as part of a treatment plan," he added. "Our primary concern is to prevent crime. If we've got people who are addicted to Class A drugs committing crime, it makes good sense to get that person off drugs.
"Addiction is a medical problem, not a criminal justice problem."
A similar plan to set up a "shooting gallery" in Scotland, to ease an estimated 500 heroin users in Glasgow off the drug, was agreed in principal by the local health board, city council and police in October.
Australia, Germany, France and Switzerland have also introduced comparable schemes.
A trial by the National Treatment Agency for Substance Misuse in 2009 said programmes should be set up nationwide in the UK and would cost around £15,000 per head.
Alex Cavendish, a former inmate and author on prisons, said: "At last, some common sense."
Methadone is currently prescribed by GPs to help stop addicts injecting themselves, but Chief Constable Barton said he believed it was highly addictive and pushes users towards legal highs.
"What I would want is a facility for a small number of people to be provided with heroin rather than methadone," he added.
UK news in pictures

Show all 50
"It's not for everybody as I recognise that this is controversial. But there have been plenty of peer-reviewed experiments that have been reported in The Lancet that show this is an effective form of treatment."
Professor Neil McKeganey, director of the Centre for Substance Use Research, said there was a "worry" that these centres will only increase addiction.
David Burrowes, the MP for Enfield Southgate in North London, said the public will be "dismayed".
Durham police has reduced officer numbers from 1,716 in 2006 to 1,115 in 2016, leaving one full time officer for every 561 residents, because of budget cuts.
Nationally an estimated 149,807 people are addicted to opiates, and at least 1,201 died from heroin-related deaths in 2015.
Possession of Class A drugs, including ecstasy and magic mushrooms, carries a maximum seven-year sentence, and supply and production carries a maximum life sentence.
Durham police have reportedly asked the public health department at the county council for a "costed options paper". The force does not need approval from the Home Office or Department of Health.
Durham police declined to comment, but Durham Police and Crime Victims Commissioner Ron Hogg said: "I have asked our local public health departments to suggest a series of options which might lead to the introduction of a Heroin Assisted Treatment Clinic in the Durham area.
"The aim would be to enable people who have become addicted to heroin to follow a programme that would stabilise their addiction in a controlled environment, and reduce their dependency on heroin until they stop taking it. They would also follow a conventional drug addict support programme.
"The aim of the initiative is to save the lives of addicts, shut down drug dealers and reduce acquisitive crime. It would also reduce demand on police time, and the courts, and I believe it should also help lower the prison population."
A spokesman for Mr Hogg also said the force is expecting cost papers on the scheme within the next few weeks and that the treatment centres could be set up before the end of the year.
The Independent has contacted The Home Office for comment but none had arrived at the time of publication.
Register for free to continue reading
Registration is a free and easy way to support our truly independent journalism
By registering, you will also enjoy limited access to Premium articles, exclusive newsletters, commenting, and virtual events with our leading journalists
Already have an account? sign in
Register for free to continue reading
Registration is a free and easy way to support our truly independent journalism
By registering, you will also enjoy limited access to Premium articles, exclusive newsletters, commenting, and virtual events with our leading journalists
Already have an account? sign in
Join our new commenting forum
Join thought-provoking conversations, follow other Independent readers and see their replies