Police hope for peaceful end to Notting Hill Carnival after two stabbings yesterday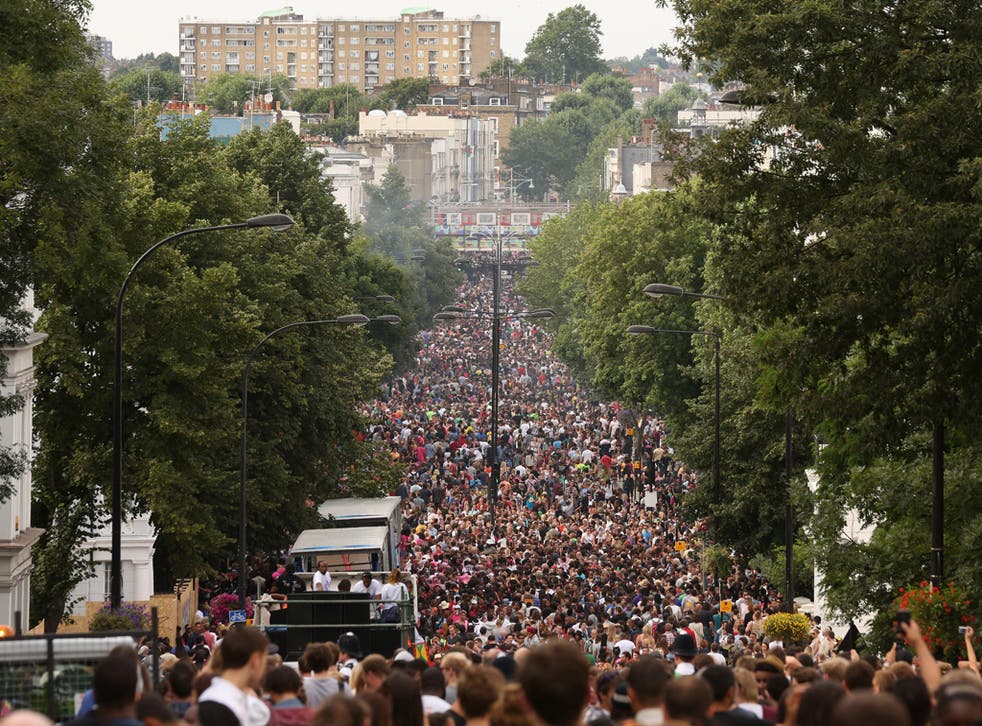 Police overseeing Europe's biggest street festival were hoping for a peaceful climax to the Notting Hill Carnival today despite at least two stabbings.
Hundreds of thousands of revellers were flocking to the capital for the carnival's headline day.
Bank Holiday Monday sees a parade of floats and brightly-dressed performers snake their way through the streets of London as part of the annual Caribbean-inspired celebration.
Yesterday's festivities were largely peaceful but one 20-year-old man was left in a serious but stable condition after being stabbed in the back and buttocks in Ladbroke Grove.
Metropolitan Police said a 14-year-old boy was slashed with a sharp object in Golborne Gardens.
And a 16-year-old girl was also treated but discharged herself from hospital after sustaining what police described as a superficial leg wound in Wornington Road.
An extra 2,000 police officers will be drafted in to support the event today, bringing the total to 7,000.
Scotland Yard arrested 96 people yesterday, mainly for drug and public order offences as well as robbery and assault.
Officers have been granted stop and search powers within the area where the carnival takes place, while the force has advised visitors to only use mobile phones when absolutely necessary.
Commander Christine Jones said: "Mobile phones, especially expensive ones, are a glittering prize for thieves.
"Don't give them a head start by displaying them openly and only use them if it's absolutely necessary. Pick up one of our maps instead and pre-arrange meeting points with family and friends."
Three men were stabbed in a fight in North Pole Road - close by but outside the carnival's footprint.
Scotland Yard said two men were arrested and one was left in a critical condition.
Rows of African food stalls, dance stages and sound systems will line the route of the vibrant procession with a number of after-parties keeping the carnival fever pumping until the early hours.
Although some showers are predicted, forecasters said London will be mainly dry with sunny spells throughout the day.
Yesterday, young performers with huge grins, covered in feathers, jewels and waving flags, danced their way along the sunny route to the sound of steel drums and calypso music to cheers from huge crowds.
Care assistant Michaela Popescu, 30, from Ashford, Kent, joined in the fun with her friend's twin daughters Victoria and Theadora Trosheva, seven.
"It has been a brilliant day, the music is fantastic - I can feel the rhythm in my heart," she said.
"The girls have had a lot of fun and been dancing along, it's a totally different culture for them to enjoy."
PA
Register for free to continue reading
Registration is a free and easy way to support our truly independent journalism
By registering, you will also enjoy limited access to Premium articles, exclusive newsletters, commenting, and virtual events with our leading journalists
Already have an account? sign in