Police urge government to scrap plans for 'damaging' force league tables
'We have backed the police with funding and officers and now we want to see results,' says Home Office source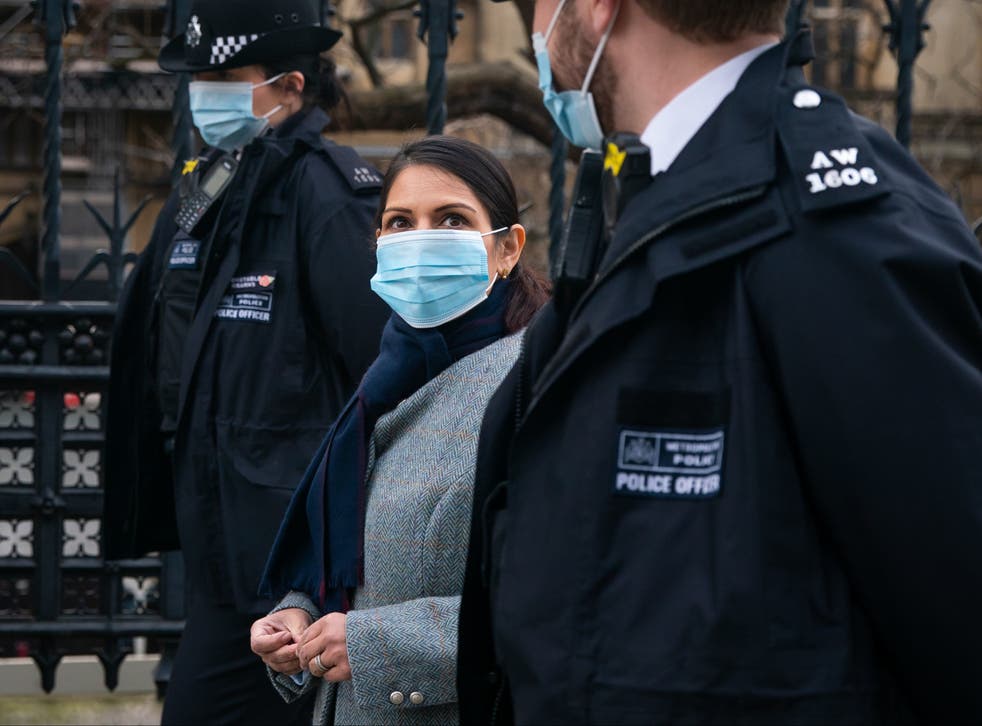 Police officers have called for the government to scrap planned league tables for regional forces they fear would spark the "return to a damaging, target-driven culture".
In a letter to police chiefs originally reported by The Times, policing minister Kit Malthouse announced that forces would be assessed on their ability to reduce homicide, serious violence, drug supply, neighbourhood violence and cybercrime, as well as on victim satisfaction.
New benchmarks will incorporate recorded crime, hospital admissions for stabbings, referrals to drug treatment programmes and other figures.
A Home Office source told The Independent the plans were "not targets, but metrics".
"We have backed the police with funding and officers and now we want to see results," he added.
The Police Federation of England and Wales, which represents rank-and-file officers, said the plans would "result in a return to a damaging, target-driven culture" and urged the government to reconsider.
Chair John Apter said: "Mechanisms for holding individuals and forces to account are in place, and we are already amongst the most scrutinised professionals in the world.
"My message to the government would be to stop and think before returning to the mistakes of their predecessors. Targets in policing are not new, and we have seen before that when resources become scarce, forces focus on targets to the exclusion of other issues."
"While it is absolutely right policing should be accountable and demonstrate the value of the service we provide, enforced targets set by central government will not deliver what is best for policing and communities," he added.
The Police Federation said targets introduced under the last Labour government, which were scrapped, drove arrests for petty offences.
It drew up a 2007 dossier of "ludicrous" examples, including a man cautioned for being "found in possession of an egg with intent to throw", and a child who was arrested after removing a slice of cucumber from a sandwich and throwing it.
Police officer almost faints during Boris Johnson speech
Targets at the time were also driven by the government's desire to see results of increasing police resources, and the expectation of a corresponding rise in prosecutions for burglary, theft from cars and other offences.
In his letter, Mr Malthouse said the government's crime priorities needed to be addressed after it started a programme to recruit 20,000 more police officers and increase police funding by £600m this financial year.
However, police leaders have pointed out that the 20,000 uplift will not bring officer numbers back to pre-2010 levels, and that the Conservatives caused staffing levels to fall with their own austerity programme.
The new proposals proved universally unpopular among officers voicing their opinions on social media on Thursday.
One serving officer, who blogs anonymously as "DetSgt Magnet", said he "couldn't give a f***" about the targets.
He wrote on Twitter that police would "get on with same job, which is still poorly resourced, which still tries its best and will still come up short of unrealistic expectations".
A prominent police blogger, Inspector Gadget, said: "Once we start nicking people because we have a 'league table' and not because they need nicking, it's a dark road. We've been here before."
The Liberal Democrats called on Priti Patel not to impose the metrics, claiming it "would be a grave mistake" and could undermine police officers.
UK news in pictures

Show all 50
A letter to the home secretary said police should not be "micromanaged by ministers in Whitehall", and reiterated demands for the government to focus on restoring community policing.
Harvey Redgrave, chief executive of the criminal justice consultancy, Crest Advisory, said there was nothing wrong in principle with publishing performance information comparing different police force areas.
But he said that "purely outcome-based measures are a poor way to hold policing to account", adding: "Crime could go up in a high-performing force and vice versa.
"It is mch better to try and measure a police force's distinct contribution to cutting crime."
At a police conference in February last year Ms Patel told chiefs cutting crime was "non-negotiable" and there must be "no weak spots" in efforts to do so.
She told them she was "unequivocal" in her support for officers but added: "I will be unapologetic about holding you to account."
It prompted National Police Chiefs' Council (NPCC) chairman Martin Hewitt to set a three-year target for results, saying improvements in tackling crime must be felt by the public by April 2023 or "we will have failed".
The NPCC declined to comment on how the new proposals will be implemented.
Register for free to continue reading
Registration is a free and easy way to support our truly independent journalism
By registering, you will also enjoy limited access to Premium articles, exclusive newsletters, commenting, and virtual events with our leading journalists
Already have an account? sign in
Register for free to continue reading
Registration is a free and easy way to support our truly independent journalism
By registering, you will also enjoy limited access to Premium articles, exclusive newsletters, commenting, and virtual events with our leading journalists
Already have an account? sign in
Join our new commenting forum
Join thought-provoking conversations, follow other Independent readers and see their replies