Police ordered to arrest Assange 'under all circumstances' if he leaves embassy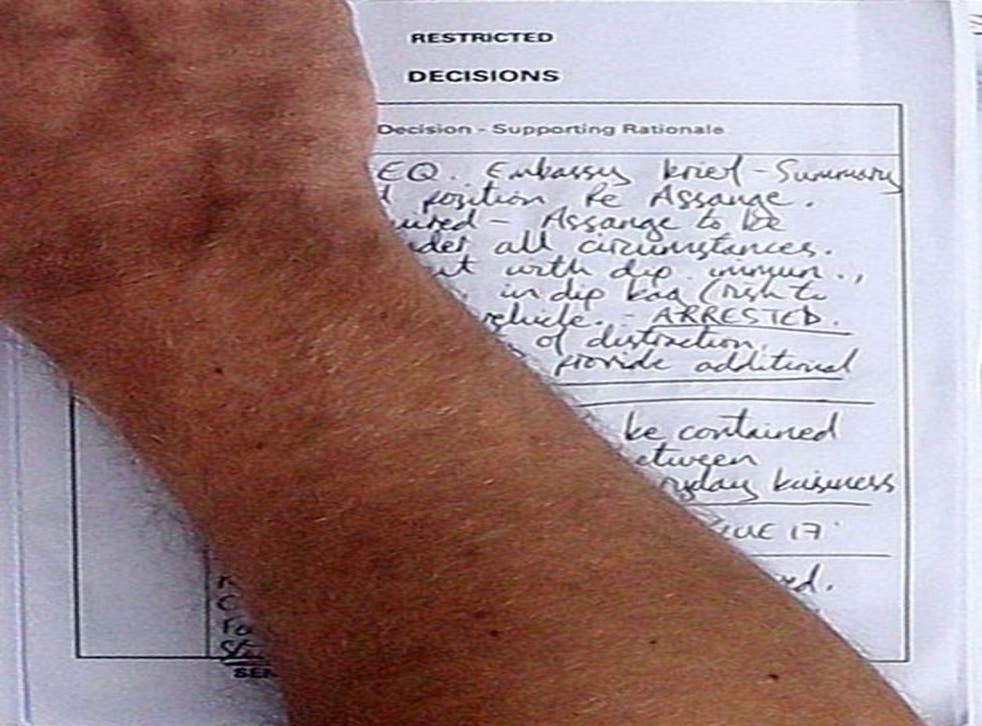 Police have been ordered to arrest WikiLeaks founder Julian Assange "under all circumstances" if he leaves the Ecuadorean embassy, where he has been holed-up for more than two months while claiming asylum.
A briefing note handed to officers orders them to make the arrest if he attempts to leave in a diplomatic bag or vehicle.
The emergence of the note underlines the determination of the British to arrest Mr Assange once he leaves land protected by diplomatic immunity and carry out his extradition regardless of his asylum status.
An image of the document detailing the orders was captured by press photographer Lewis Whyld today. They were in the hands of a police officer outside the Ecuadorean Embassy. Inside this afternoon, 20 ambassadors to London from South American nations gathered in a show of solidarity with the nation which has granted Mr Assange asylum.
Their meeting was timed to coincide with a meeting of the Organization of American States called to discuss the WikiLeaks founder's case. [sic] A spokesman for the Ecuadorean government said: "This display of support by South American Ambassadors is a clear indication of the level of support Ecuador has amongst counties in America and a clear statement opposing the UK Government's threats against the integrity and sovereignty of its embassy in London."
The meeting is being held in Washington DC this afternoon and the decision to place Mr Assange on the agenda has attracted the anger of the American government, which insisted it was not the appropriate forum to discuss the issue. The US government has steadfastly refused to divulge whether or not it will seek Mr Assange's extradition but a spokesman this week criticised him for spreading what she called "wild assertions" about the its position.
A spokesman for the Metropolitan Police confirmed the documents were the officer's notes taken during a briefing. The spokesman said: "Our objective is to arrest Julian Assange for breach of bail. Under no circumstances would any arrest be made which was in breach of diplomatic immunity."
Join our new commenting forum
Join thought-provoking conversations, follow other Independent readers and see their replies