Police recruit Ariel Atom in clampdown on dangerous motorbike riders
Sadly the vehicle – which looks incredible – won't actually be used in high-speed pursuits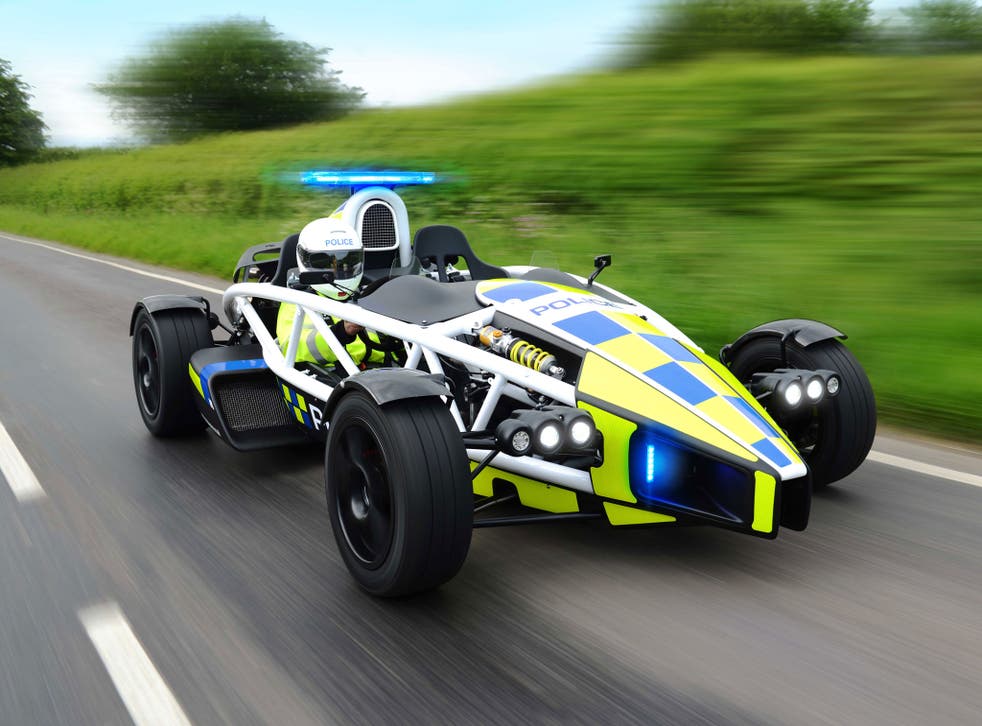 In the endless arms race between police and rogue drivers, the vehicles keep getting quicker, lighter and more powerful.
At first glance, then, it would seem as though Avon and Somerset Constabulary has just taken the upper hand.
The force's latest recruit is a brand new custom Ariel Atom 3.5R – which they have affectionately nicknamed the PL1 – that has been brought in to "deal with" the region's motorcyclists.
Boasting a supercharged 350bhp Honda engine as well as the latest aerodynamic Hella pursuit lights and striking law-enforcement livery, it can go from 0-60mph at a time of 2.5 seconds and beat just about anything in the world on the track.
Sadly, however, that's the only place the PL1 is going to be used. Rather than getting involved in (very) high-speed chases, the car has been provided by Ariel as part of a safety campaign to get motorcyclists thinking about the way they ride.
Despite only making up 1 per cent of total road traffic, motorcyclists account for a staggering 20 per cent of all road user deaths, said Avon and Somerset Roads Policing Sergeant Andy Parsons.
He said: "Modern motorcycles are capable of extraordinary performance, with supercar levels of acceleration, braking and cornering. Unfortunately with this level of performance comes an increased risk of death or serious injury as a result of inexperience, lack of training and rider error."
Ariel have joined forces with the police for the Safer Rider campaign, as part of which the PL1 will be making its debut appearance at a motorbike awareness and training day in Somerset on Sunday 8 June.
Simon Saunders, the company's director, said that they wanted to promote a message of road safety for bike users ahead of the launch of a new Ariel motorcycle.
He said: "Our business is about going fast, very fast, but there is a time and a place. The Atom is designed to be driven to a race track, where you can drive to your limits in safety and in a professional environment designed for the purpose. The road really isn't the place to explore your or your vehicle's limits.
While Avon and Somerset's Atom won't see active service, this isn't the first time a police force has made a show of adding a seriously powerful piece of motoring kit to its arsenal.
In April last year officers in Dubai unveiled a kitted-up, specially modified $550,000 (£359,000) Lamborghini Aventador, capable of speeds up to 217mph.
That, too, was essentially for the cameras, and was stationed in tourist areas to show "how classy Dubai is".
And last month Lamborghini showed they were so happy to be seen as the police favourite that they put a brand new Huracan out on the streets of Rome. Though not quite as flashy as Dubai's Aventador, it has been equipped with a gun holster and a fridge for life-saving organs, and will actually be patrolling the streets from the end of this month.
Join our new commenting forum
Join thought-provoking conversations, follow other Independent readers and see their replies