Poll finds overwhelming support for gay marriage in Northern Ireland, despite political opposition
Although 68 per cent back gay marriage, a motion to recognise it was struck down by the Northern Ireland Assembly in April
Doug Bolton
Monday 06 July 2015 23:53 Comments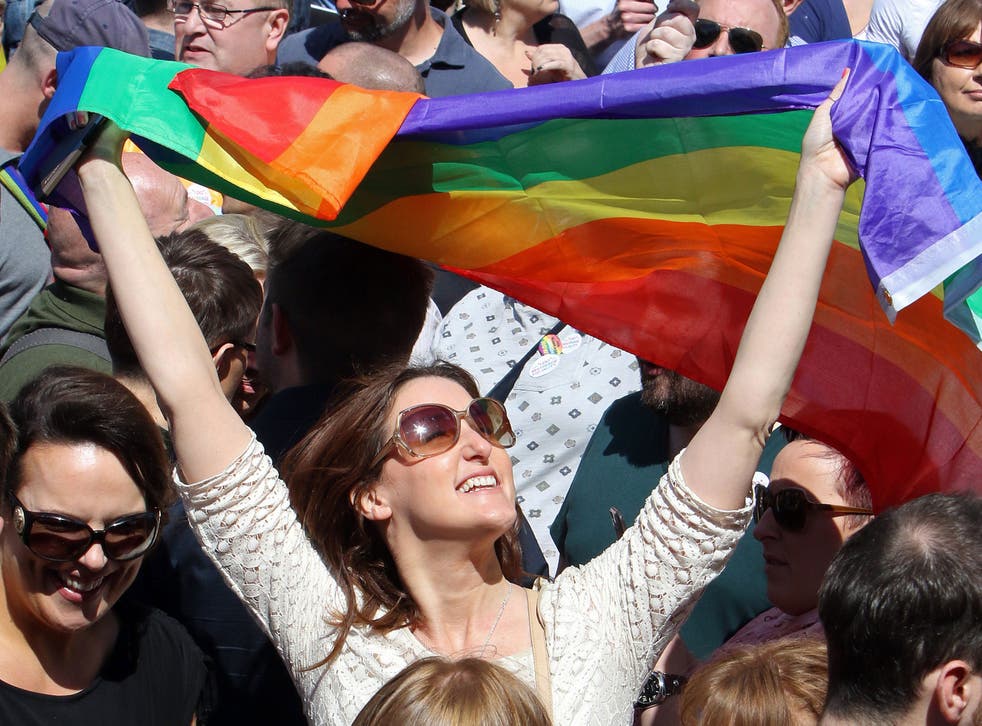 A new poll has shown that support for the legalisation of gay marriage in Northern Ireland currently sits at almost 70 per cent, despite a recent Northern Ireland Assembly motion to recognise it being voted down.
The poll, conducted by Ipsos MORI, found that 68 per cent of people in Northern Ireland support the right of gay couples to marry.
The question, "To what extent do you agree that homosexual couples should be allowed to marry each other?" was asked to 1,000 people over 16 years of age across Northern Ireland earlier this year.
82 per cent of the 16 to 24 age group supported it, compared to 75 percent amongst 35 to 54-year-olds and 47 per cent for those above 54.
In the capital city of Belfast, support was highest, at 75 per cent. However, the lowest it fell to in other areas was 63 per cent.
Despite the high levels of backing for gay marriage across the country, the Northern Ireland Assembly has consistently opposed legalising gay marriage.
While civil partnerships are recognised, same-sex marriage is still not permitted. In April this year, a motion to make it possible for same-sex couples to marry was brought forward by Sinn Féin. However, it was narrowly defeated, with 49 votes against, and 47 in favour.
MLAs from Sinn Fein, the Social Democratic and Labour Party and the Alliance party supported the motion, but it was defeated by the conservative Democratic Unionist Party (DUP).
Irish gay marriage vote results: In pictures

Show all 11
There was a large division in support for same-sex marriage along religious lines - Ipsos MORI found that 75 per cent of Catholics supported it, compared to 57 per cent of Protestants.
When broken down by party support, Sinn Fein voters were most likely to support same-sex marriage, with 80 per cent being in favour. The lowest levels were amongst DUP voters, at 45 per cent.
Read more: Emotional scenes as Ireland vote passes
'No' campaign concede defeat in marriage referendum
The best and worst reactions to gay marriage in America
The poll took place from 20 May to 8 June this year, meaning many of those were questioned in the wake of the referendum in the Republic of Ireland, in which the public voted overwhelmingly to legalise gay marriage.
A YouGov poll carried out before the legalisation of same-sex marriage in England and Wales in 2013, found that 54 per cent of Britons supported a change in the law. And in the Republic's recent referendum, around 62 per cent of voters wanted to legalise it.
However, even though support in Northern Ireland is currently much higher than both of these figures, it seems unlikely that a motion to recognise it would pass in the Assembly while the DUP continue to oppose it.
Northern Ireland is currently the only nation in the UK where same-sex marriage is not allowed.
Register for free to continue reading
Registration is a free and easy way to support our truly independent journalism
By registering, you will also enjoy limited access to Premium articles, exclusive newsletters, commenting, and virtual events with our leading journalists
Already have an account? sign in
Register for free to continue reading
Registration is a free and easy way to support our truly independent journalism
By registering, you will also enjoy limited access to Premium articles, exclusive newsletters, commenting, and virtual events with our leading journalists
Already have an account? sign in
Join our new commenting forum
Join thought-provoking conversations, follow other Independent readers and see their replies