Trust in British institutions varies significantly between haves and have-nots, survey reveals
CEO of Edelman, who conduct annual public attitudes study, says disparity in trust levels tells 'a tale of two Britains'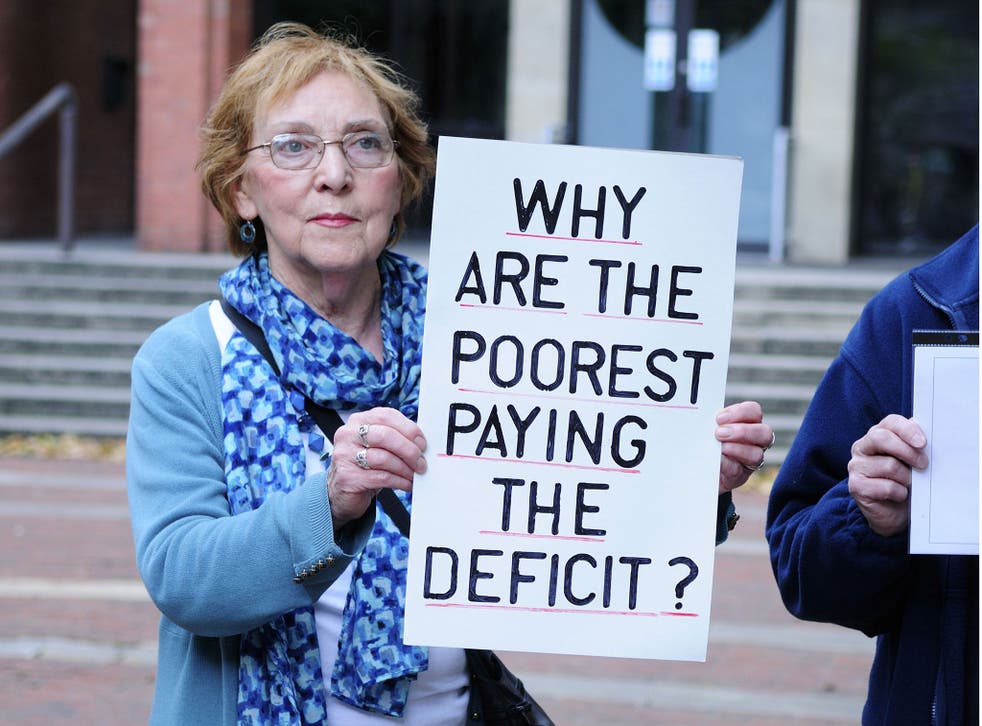 A gulf in levels of trust in Government, business and media has emerged between the haves and have-nots in British society, an influential annual survey of public attitudes has revealed.
The findings uncovered an almost "Upstairs Downstairs" split which prompted observers to draw comparison with Victorian era inequality depicted by Charles Dickens and may have shed light on the popularity in some quarters of Jeremy Corbyn's "new politics".
The Edelman Trust Barometer, which divided respondents into the "Informed Publics" (university-educated, high earners with a declared interest in politics and news) and the rest, found that the disparity in trust levels between the two groups had doubled in a year. Among the wealthier and better-educated there was a 57 per cent trust in British institutions, but among poorer respondents this fell to 40 per cent.
The gap was notably stark on the question of Europe, with 61 per cent of the Informed Publics wanting to stay in the European Union, compared to only 34 per cent in poorer households.
The findings told a "Tale of Two Britains", said Ed Williams, the UK CEO of Edelman, the global communications company which conducts the annual survey. "Better-off Britons see it as almost the best of times; those who have suffered more through austerity see it as closer to being the worst of times."
The study showed that among "high net worth individuals" (a subset of the Informed Publics earning more than £100,000 and with over £650,000 in liquid assets) trust in Government is at 54 per cent, compared to 26 per cent for those with household incomes of under £15,000.
Expectations are that the gulf between rich and poor, and the disparity in attitudes of the two groups, will grow wider in 2016. Only 10 per cent of low income households anticipate that their circumstances will have improved in a year's time, and 44 per cent believe they will be worse off. By contrast, 90 per cent of high net worth individuals believe their circumstances will be maintained or will improve.
The findings follow a succession of reports by bodies including the Social Mobility Commission and the King's Fund, a medical charity, showing signs of increasing inequality in British life.
UK news in pictures

Show all 50
But the barometer found that, compared to 2015 and buoyed by the confidence of wealthier elements of society, overall levels of trust in institutions are growing. Overall trust in Government as an institution is at 37 per cent (compared to 34 per cent last year). David Cameron is the most trusted leader nationally (on 40 per cent), well ahead of Jeremy Corbyn and Tim Farron (both 18 per cent). UKIP's Nigel Farage has seen his trust score decline seven points to 21 per cent since last year. The SNP's Nicola Sturgeon was up eight points to 28 per cent (51 per cent in Scotland).
Questioned on the "Brexit" issue, 48 per cent of respondents backed continued membership of the EU (compared to 35 per cent who wanted to leave). The "In" vote was up from 46 per cent last year.
Trust in business is surging among the educated and wealthy. Some 60 per cent of the Informed Publics group expressed confidence in business, compared to 52 per cent last year and 37 per cent in the immediate wake of the financial crisis of 2008. Among high net worth individuals, trust levels rose to 67 per cent. This compared to 35 per cent of people in low income households.
When respondents were asked what businesses should do to improve trust, the most popular response was "paying expected levels of tax", followed by "responsible behaviour" and "increased transparency".
Trust in traditional media has risen sharply among the most well-educated and better off with renewed confidence in established news brands.
The Edelman Trust Barometer found that trust of traditional media rose sharply by 14 percentage points to 52 per cent among "Informed Publics" in 2016. The results indicated a recovery from the 22 per cent low point registered in 2011 at the height of the phone-hacking scandal.
When respondents were asked to give reasons for the renewed trust, the most popular response was that, with the state of world affairs in 2016, "we all need more trustworthy information". Some 78 per cent agreed that "There is a lot of bad news in the world and I want to be sure I am getting reliable information about it." Some 59 per cent of respondents agreed that social media was less trustworthy than the news sources they grew up with.
"Even with new ways of finding news and entertainment online, the traditional media are still at the heart of people's consumption," said Ed Williams, CEO of Edelman UK, which conducted the survey. "Even by following search engines or using social media they are still coming across the same familiar media brands, especially in news."
But the idea that the public has forgiven the media for illicit practices was not supported by the study. The least popular explanation for increased trust in established brands was the notion that "the media's conduct and ethics are less of an issue than in recent years".
Register for free to continue reading
Registration is a free and easy way to support our truly independent journalism
By registering, you will also enjoy limited access to Premium articles, exclusive newsletters, commenting, and virtual events with our leading journalists
Already have an account? sign in
Register for free to continue reading
Registration is a free and easy way to support our truly independent journalism
By registering, you will also enjoy limited access to Premium articles, exclusive newsletters, commenting, and virtual events with our leading journalists
Already have an account? sign in
Join our new commenting forum
Join thought-provoking conversations, follow other Independent readers and see their replies