'Poppy tree' goes on display in Salisbury, prompting widespread bemusement
'Christmas and Remembrance Sunday, together at last in one oddly conceived package,' tweets member of the public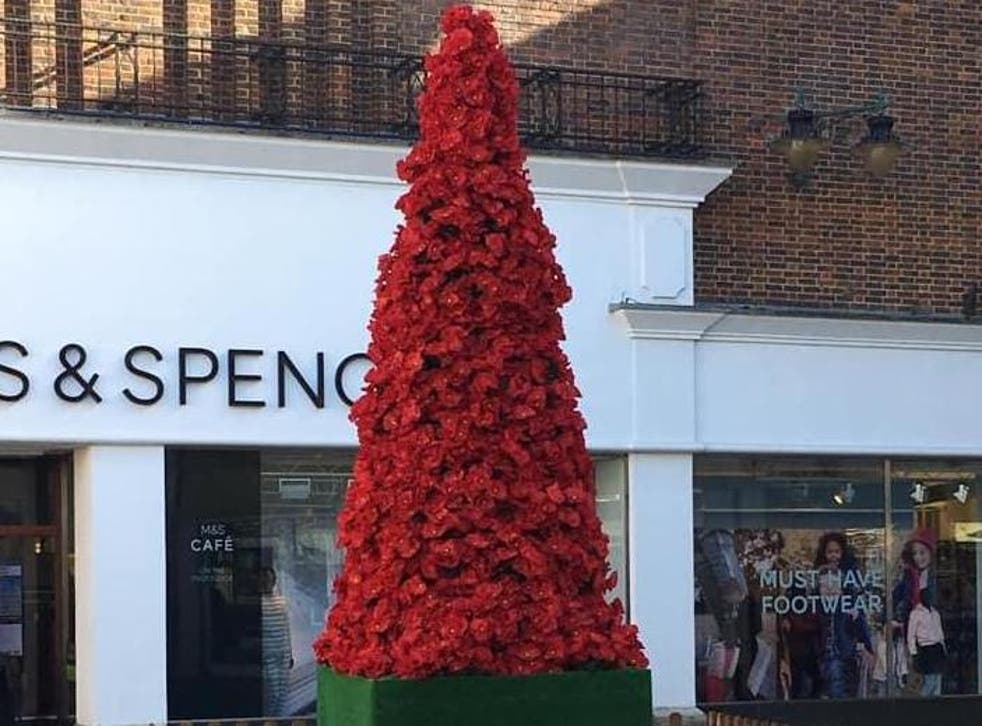 Each autumn, it seems, Britain's patriots think of creative new ways to deploy poppies in honour of the country's war dead.
And this year, it is a curious blend of Remembrance Day and Christmas on display at a Salisbury shopping centre.
Old George Mall's "poppy tree" forms part of First World War centenary events planned to take place in the Wiltshire city.
The centre's manager, Jon Osgood, said he hoped the display would "not only inspire people to donate to the Royal British Legion, but to learn more about the war".
It has also inspired a fair amount of bemusement, with the reaction on social media ranging from ridicule to offence.
One Twitter user described the tree as "undignified to the point of being disrespectful".
"People are really starting forget the meaning of remembrance," wrote another, Dominic Cox. "Things like this turn it into a joke."
A third Twitter user said: "Christmas and Remembrance Sunday, together at last in one oddly conceived package."
In others, the tree inspired new adaptations of classic seasonal songs.
Not everyone was unimpressed. The Salisbury Business Improvement District said the poppy tree was "looking fantastic".
Tom Sykes added: "I think it's fab! Anything that tastefully remembers our brave solders has my blessing."
Support free-thinking journalism and attend Independent events
Each year, the use of poppies prompts controversy and debate ahead of Remembrance Day on 11 November.
Some feel the wearing of the flower has become political, and public figures who choose not to have been accused lacking of respect.
In 2015, Asda removed a tribute depicting a dead soldier lying next to a tree of poppies from one of its supermarkets after it was branded "disgusting" and in "bad taste".
Join our new commenting forum
Join thought-provoking conversations, follow other Independent readers and see their replies