'Shocking' rise in number of potholes as Britain's roads get worse, says RAC
'The sheer size of the increase is further proof the condition of our roads is worsening'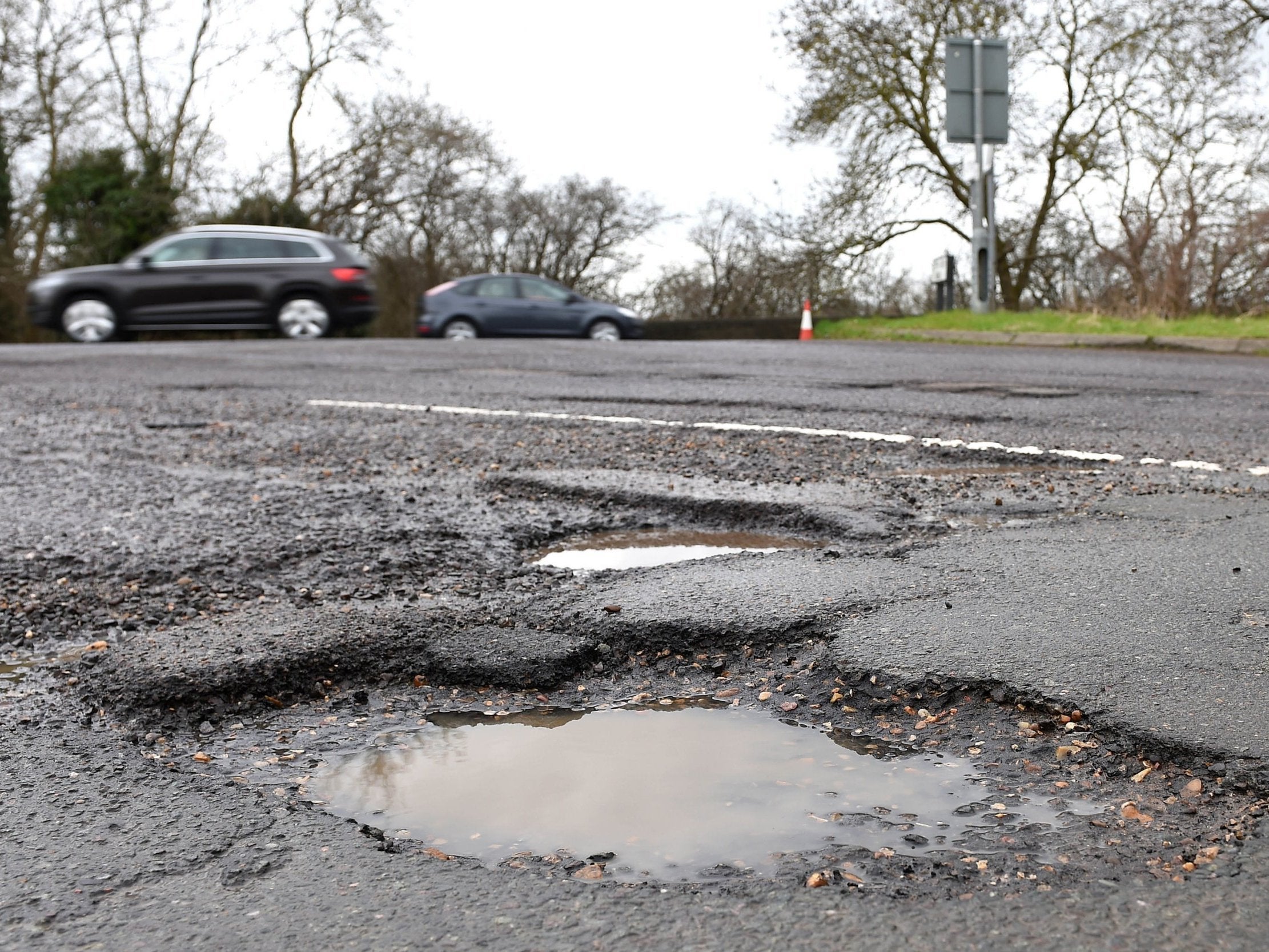 There has been a "shocking" rise in the number of potholes on British roads with half a million reported to local authorities over 2017, research by the RAC has revealed, an increase of 44 per cent in two years.
A freedom of information request put in by the motoring organisation to the 212 councils in England, Scotland and Wales found 512,270 potholes were reported last year to 161 authorities.
This compared with 356,432 reported to 152 councils in 2015.
East Sussex was the worst affected area according to the RAC data. Between 2015 and 2017 the number of potholes reported to the council rose by 173 per cent. Staffordshire was the second worst affected county with an increase from 2015 of 159 per cent.
North Yorkshire, Essex and the Isle of Wight were among the areas which saw fewer potholes reported.
In London there was an increase in potholes reported from 2015 to 2017 of 21 per cent.
"It is shocking to see the number of reported potholes in Britain has risen by nearly 50 per cent in two years," said RAC head of roads policy Nicholas Lyes. "Our own analysis of breakdown data shows the damage suffered by motorists is a constant source of frustration and expense, but the scale of the problem is obviously far greater than the numbers show."
The RAC said when they extrapolated the numbers to take account of the likely reports from the authorities who were unable to provide the RAC with data, the overall number of potholes reported in 2017 was likely to be around 674,229, suggesting a slightly more modest total increase of 33 per cent.
"Perhaps motorists are more inclined to report pothole defects than they were a few years ago, but we believe the sheer size of the increase is further proof the condition of our roads is worsening. With over half a million potholes reported in 2017 and a more accurate figure for all authorities, including those that didn't provide data, likely to be in excess of 674,000, this is sadly just the tip of the iceberg as thousands will go unreported every year."
He added: "We urge everyone to report potholes so that motorists, motorcyclists, cyclists and other road users don't suffer the consequences of poorly maintained road surfaces, whether that's damage to their vehicles, motorbikes or bicycles, or worse still a collision."
The RAC said it dealt with 14,220 damaged shock absorbers, broken suspension springs and distorted wheel breakdowns in the year to end of October 2018, representing 1.5 per cent of all call-outs.
Support free-thinking journalism and attend Independent events
This was the second highest percentage ever recorded since the organisation started analysing this data in 2006.
In October, Chancellor Philip Hammond announced £30bn of funding for new roads and road repairs, hailing it "the biggest-ever cash injection for England's largest roads".
He also promised an extra £420m to fix potholes and repair damaged roads.
Martin Tett, the Local Government Association's Transport spokesman, said: "Keeping roads safe for all users is one of the most important jobs councils do and is reflected in the fact that local authorities are fixing a pothole every 21 seconds.
"While the extra £420m funding announced in the Budget will help, only long term, consistent and fairer government investment in local road maintenance can allow councils to embark on the widespread improvement of our roads that is desperately needed."
He added: "The LGA has been calling on the government to annually reinvest a portion of existing fuel duty into local road maintenance which would generate much needed funding for councils to spend on addressing the £9.3bn roads repair backlog which would give all road users better roads that are safer and more resilient to potholes."
A Department for Transport spokesperson said: "Potholes are a huge problem for all road users and the Government is taking action, providing local authorities with more than £6.5 billion for roads maintenance and pothole repair in the six years to 2021."
Join our commenting forum
Join thought-provoking conversations, follow other Independent readers and see their replies