Potholes repair bill 'to reach £14bn by 2020', amid warnings this year will be 'tipping point'
'It is wrong and unfair that the Government allocates almost 40 times more to maintaining national roads, which it controls, compared with local roads, which are overseen by councils'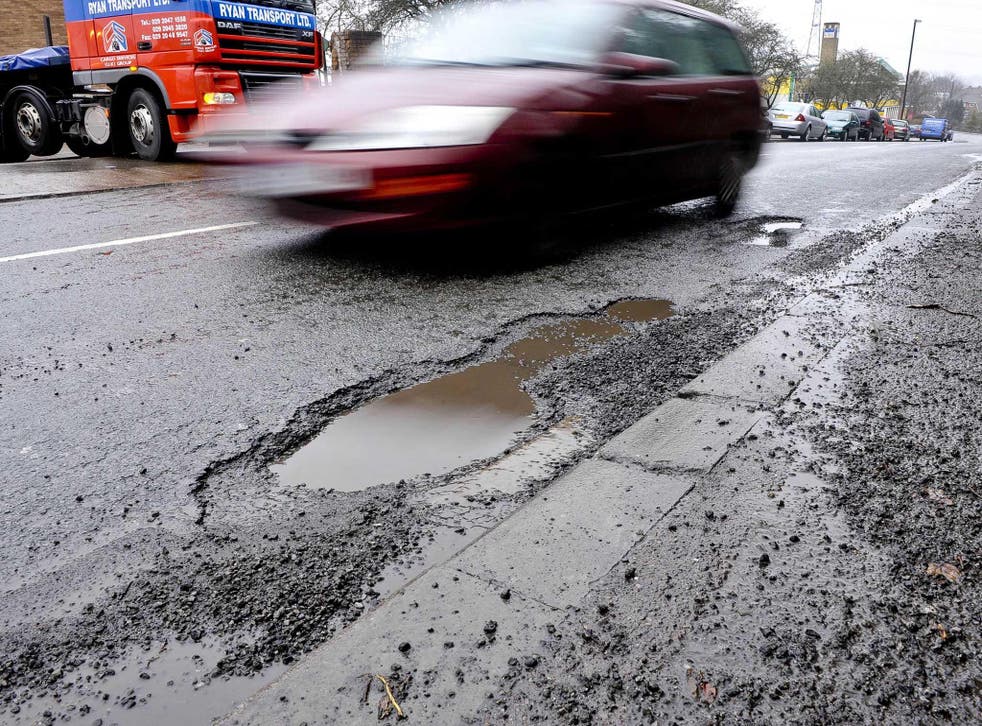 Councils have warned that 2017 could be a "tipping point" for tackling potholes.
Analysis by the Local Government Association (LGA) showed the bill for repairing roads in England and Wales could reach £14bn within two years.
This is several times more than councils' entire annual revenue spending on highways and transport, which was £4.4bn in England during 2016.
Statistics from the Asphalt Industry Alliance (AIA) show the amount needed to repair roads rose from £9.8bn in 2012 to £11.8bn last year.
To reverse this trend the LGA has called for the Government to inject a further £1bn a year into roads maintenance, which it claimed could be achieved by investing two pence per litre of existing fuel duty without increasing pump prices.
LGA transport spokesman Martin Tett said: "This year could be a tipping point year regarding potholes.
"Councils have experienced significant budget reductions and now face the looming prospect of a bill of £14bn to bring the nation's roads up to scratch.
"It is wrong and unfair that the Government allocates almost 40 times more to maintaining national roads, which it controls, compared with local roads, which are overseen by councils. It is paramount this funding discrepancy is swiftly plugged."
UK news in pictures

Show all 50
He added that councils fixed a pothole every 15 seconds last year, but warned that funding cuts mean they are trapped in a "frustrating cycle" as they are only able to "patch up" roads.
Alan Mackenzie, chairman of the AIA, said: "Prolonged under-investment, coupled with wetter winters, increased traffic and an ageing network, means that the resilience of our local roads is at a low point.
"Clearing the maintenance backlog is impossible without a significant increase in funding."
The Department for Transport has committed £6bn for English councils to improve local roads over the current Parliament, in addition to a £50m-a-year fund specifically for tackling potholes.
Steve Gooding, director of motoring research charity the RAC Foundation, said: "Our roads are a national asset and as much a vital utility as the energy, water and telecoms networks. We need to ensure they are treated with the same importance."
PA
Join our new commenting forum
Join thought-provoking conversations, follow other Independent readers and see their replies