Fifth of UK population now in poverty amid worst decline for children and pensioners in decades, major report reveals
Hard-fought progress towards tackling poverty is in peril, the Joseph Rowntree Foundation says as the Government's entire Social Mobility Commission quits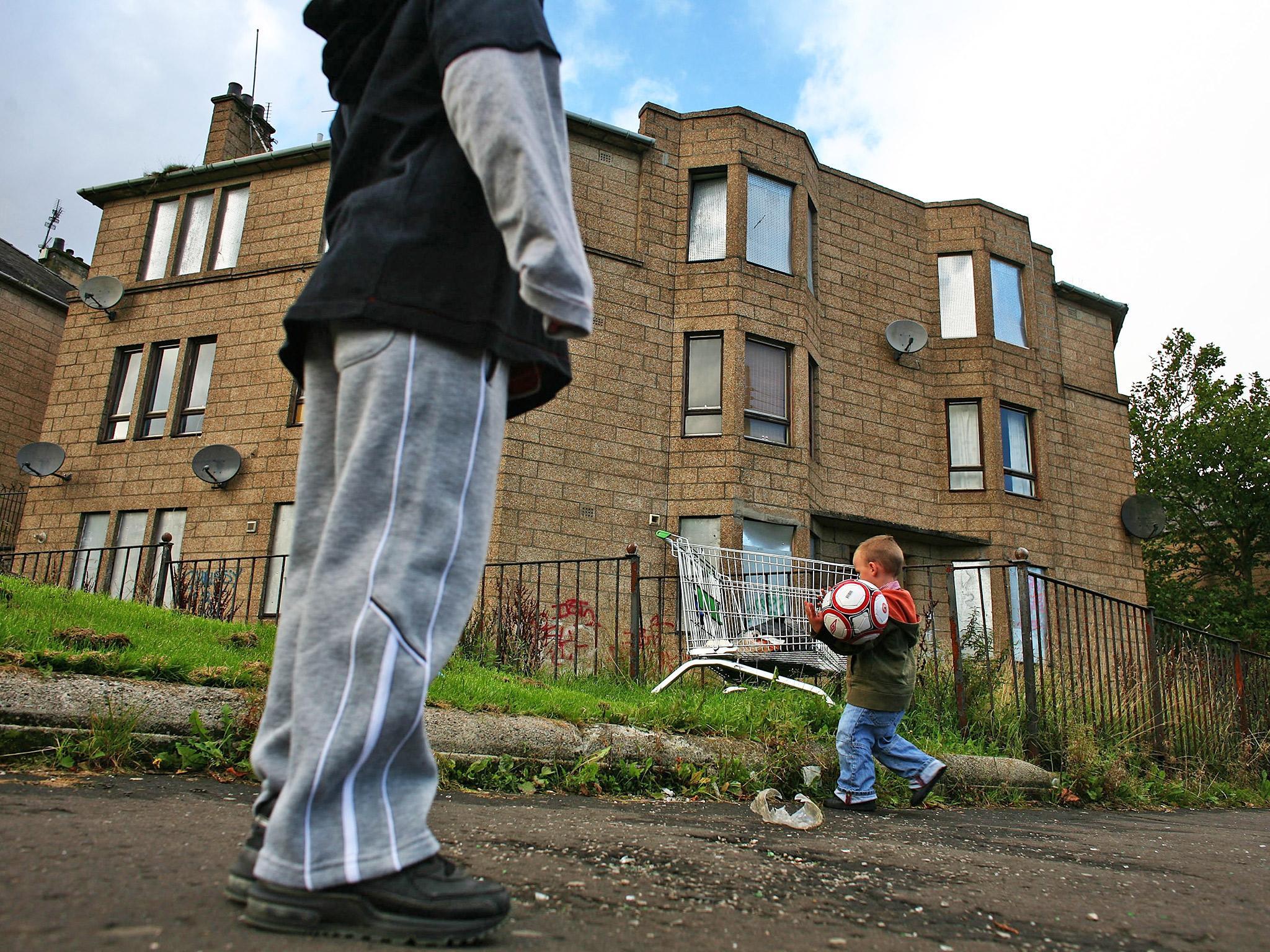 Britain's record on tackling poverty has reached a turning point and is at risk of unravelling, following the first sustained rises in child and pensioner poverty for two decades, a major report has warned.
Nearly 400,000 more children and 300,000 more pensioners are now living in poverty than five years ago, during which time there have been continued increases in poverty across both age groups – prompting experts to warn that hard-fought progress towards tackling destitution is "in peril".
The report, by the independent Joseph Rowntree Foundation (JRF), shows that a total of 14 million people in the UK currently live in poverty – more than one in five of the population. While poverty levels fell in the years to 2011-12, changes to welfare policy – especially since the 2015 Budget – have seen the numbers creep up again.
UK to experience longest fall in living standards for over 60 years
The findings will fuel challenges currently facing Theresa May over failure to improve equality in the UK, after the entire board of her social mobility commission quit over the weekend at the lack of progress towards a "fairer Britain".
Alan Milburn, the Government's social mobility tsar, who has chaired the commission since 2012, announced on his resignation after months of "indecision, dysfunctionality and lack of leadership", adding there was "little hope" of Ms May's administration delivering a more equal society.
The high-profile resignation also eclipsed the Government's mental health announcement on Sunday and Justine Greening, the Education Secretary, was forced to defend the Government.
She refused to be drawn on whether she had fought for Mr Milburn's reappointment, simply saying: "He has done a fantastic job but his term had come to an end. I think it was about getting some fresh blood into the commission."
Opposition parties branded the move a vote of no confidence in the Government's policies, with Liberal Democrat leader Sir Vince Cable accusing ministers of being "too preoccupied" by internal infighting and Brexit to tackle social injustice.
The report echoes the concerns of the commission, warning that significant reductions in poverty levels – which researchers measured by the proportion of people in households with an income lower than 60 per cent of the median household income – are at risk of being reversed without immediate action.
It warns that the squeeze on living standards now risks storing up problems for the future, with people being caught in a "standstill generation" – unable to build the foundations for a decent, secure life.
Debbie Abrahams MP, Shadow Work and Pensions Secretary, said the 700,000 increase in the number of children and older people in poverty was "totally unacceptable", adding: "The past seven years of flat-lining wages and austerity cuts, now combined with sharply rising costs of household essentials, is a truly terrifying prospect for millions trying to make ends meet.
"The cuts to universal credit, which were not addressed in the recent Budget and mean that 'work does not always pay', will push even more children and working-age adults into poverty. Even the Government's own social mobility commission has resigned over their failure to act."
The report shows that people on low incomes are increasingly struggling to afford a home, with almost half on the lowest incomes – 3.2 million working-age people – now spending more than a third of their income on housing. Falling homeownership also means more elderly people are likely to rent and have higher housing costs in retirement.
Another threat to poor households are rising costs, which have seen people in the poorest fifth of the population experience a higher rate of inflation than the rest of the country in every year since 2003 except 2010, the report states.
Because of this, many are falling behind with bills and unable to put away for a secure retirement. More than two million of the poorest households have "problem debt" and 70 per cent of people in work in the poorest fifth of the population are not contributing to a pension – amounting to around 2.3 million people.
The JRF is now calling on the Government to end the four-year freeze on working-age benefits and tax credits, saying this is the single biggest policy driver behind rising poverty. It is also urging ministers to invest in a more ambitious house-building programme and do more to drive up adult skills.
Campbell Robb, chief executive of the JRF, warned that the figures indicate that Britain is at a "turning point" in the fight against poverty, saying political choices, wage stagnation and economic uncertainty mean hundreds of thousands more people are now struggling to make ends meet.
"This is a very real warning sign that our hard-fought progress is in peril," he said. "Action to tackle child and pensioner poverty has provided millions of families with better living standards and financial security. However, record employment is not leading to lower poverty, changes to benefits and tax credits are reducing incomes and crippling costs are squeezing budgets to breaking point."
"The Budget offered little to ease the strain and put low income households' finances on a firmer footing. As we prepare to leave the EU, we have to make sure that our country and our economy works for everyone and doesn't leave even more people behind."
Liberal Democrat leader Sir Vince Cable said the report "sounds the death knell for Theresa May's claim to be building a country that works for everyone."
He added: "Instead of tackling social injustice, the Government's policies are worsening inequality and hitting the poorest in society hardest ... With this kind of record, it's little surprise that those leading the Government's Social Mobility Commission have quit."
Responding to the findings, Ryan Shorthouse, director of liberal conservative think tank Bright Blue, said that while it is "both morally and economically right" for the Government to cut the structural budget deficit, the burden has fallen "disproportionately and unnecessarily" on working-aged benefits since 2010.
"Although there has been some real progress in reducing material poverty among certain social groups in recent decades, poverty is now rising again, especially among families with children, which will thwart life chances and cost society billions," he said.
He added: "Government expenditure should prioritise the poorest. The Government needs to focus tax cuts on those on the lowest incomes and restore, at least in part, the work allowances in universal credit. The Government's vision for welfare should not be cost-cutting, but to build a contributory-based system."
Alison Garnham, chief executive of Child Poverty Action Group, described the growing number of children in poverty as "bewildering", saying: "As today's report shows, we know how to reduce child poverty in the UK – we've done it before.
"Yet at the start of a sustained rise in the rate of child poverty – bewilderingly – there is inaction. The question the report begs is why are we not investing in our children? Families with children have had a decade of cuts to their incomes and the damage is showing."
Rachael Orr, Oxfam's head of UK programmes, meanwhile said it was "deeply concerning" to see more evidence that having a job in today's labour market is not enough to escape poverty. She added: "It's not just working adults who are affected, but their children too, and it's a real worry to see progress on child poverty going into reverse."
A Government spokesperson said: "We are spending an extra £4.2bn on pensioners, carers and disabled people next year, and continue to spend around £90bn a year supporting people of working age, including those who are out of work or on a low income.
"Since 2010 the number of people in absolute poverty has fallen by more than half a million, pensioner poverty remains close to historically low levels and we are supporting parents with the cost of bringing up children by doubling free childcare.
"We have given the lowest earners a significant pay rise through the national living wage, and are introducing universal credit to make sure it pays to be in work."
Join our commenting forum
Join thought-provoking conversations, follow other Independent readers and see their replies